First Republic gains after getting $30B in deposits from banks (update)
Mar. 16, 2023 3:56 PM ET
First Republic Bank (FRC)
BAC, JPM, GS, C, MS, WFC, USB, BK, STT, PNC, TFC, CO
By:

Joshua Fineman,

SA News Editor
409 Comments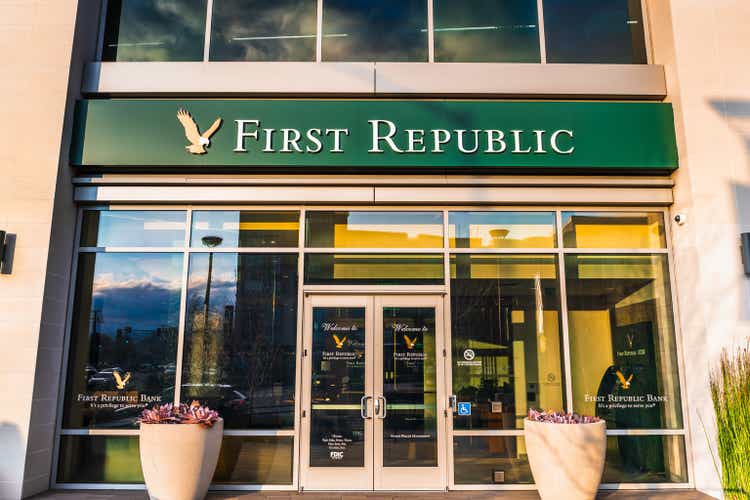 Update 4pm: Adds confirmation.
First Republic (NYSE:FRC) rose 10% after the nation's biggest banks agreed to deposit about $30 billion with the troubled lender.
The largest banks, including JPMorgan (JPM), Bank of America (BAC), Citi (C) and Wells Fargo (WFC) will contribute $5 billion of deposits each, while Goldman Sachs (GS) and Morgan Stanley will provide $2.5 billion each, according to a statement on Thursday. PNC Financial (PNC), Bank of New York Mellon (BK), Truist (TFC), U.S. Bancorp (USB) and State Street (STT) will each contribute $1 billion.
"This action by America's largest banks reflects their confidence in First Republic and in banks of all sizes," according to the statement.
First Republic (FRC) announced in a statement that it will suspend it stock dividend.
First Republic shares, which had earlier dropped as much as 36% after a Bloomberg report that the bank was exploring options, including a potential sale, reversed course on the news of the $30 billion in deposits.
The latest update comes after S&P cut the lender's rating to junk on outflow risk on Wednesday. Fitch Ratings also downgraded First Republic (FRC) and put the bank on negative rating watch.
On Sunday First Republic (FRC) announced it gained access to additional liquidity from the Federal Reserve Bank and JPMorgan Chase bringing its total available, unused liquidity to fund operation to more than $70B.
More on the bank crisis