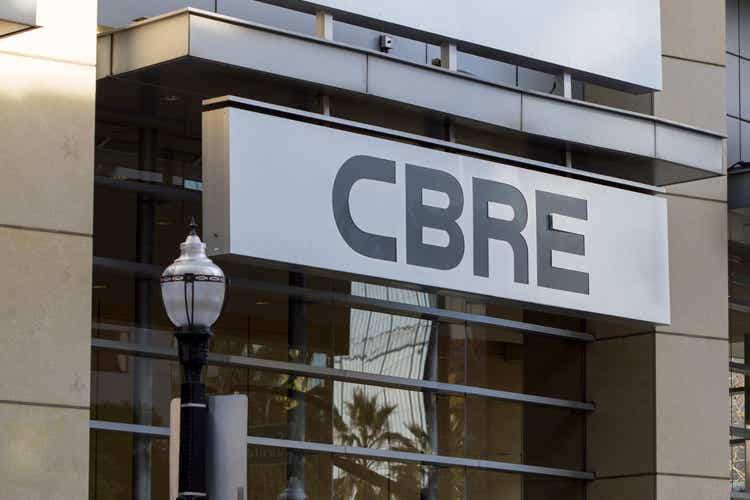 CBRE Group (NYSE:CBRE) stock jumped 7.8% in Thursday late morning trading after the commercial real estate services and investment company delivered slightly better than expected first-quarter earnings, "led by the cyclically resilient elements of our business and our cost management efforts, which more than offset a greater-than-expected decline in property sales," said President and CEO Bob Sulentic.
Still, Q1 profit is "down significantly from last year's strong first quarter," he added. "Although we anticipate pressure on our transactional businesses to intensify further this year, we are maintaining our earnings outlook for full-year 2023."
Q1 core EPS of $0.92, surpassing the average analyst estimate of $0.90, fell from $1.33 in the previous quarter and from $1.39 in the year earlier.
Revenue of $7.41B, exceeding the $7.09B consensus, decreased from $8.19B in Q4 2022 and rose from $7.33B a year before.
Revenue by segment:
Advisory Services: $2.61B -- down 29% Q/Q and 17.5% Y/Y.
Global Workplace Solutions: $5.29B -- up 0.8% Q/Q and 11.1% Y/Y.
Real Estate Investments: $224M -- down 23% Q/Q and 21.1% Y/Y.
Free cash flow stood at -$805M compared with $715M in Q4 2022 and -$436M in Q1 of last year.
Core EBITDA was $533M, down from $668M in Q4 2022 and from $732M in Q1 2022.
More on CBRE Group
CBRE Non-GAAP EPS of $0.92 beats by $0.02, revenue of $7.41B beats by $320M
CBRE Group: Resilience To Real Estate Headwinds Makes It A Buy (Rating Downgrade)