Weyerhaeuser Q1 earnings top expectations despite ongoing macro headwinds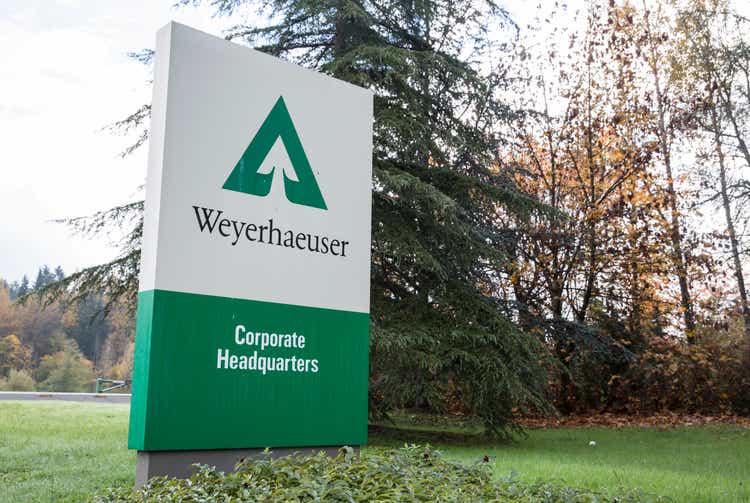 Weyerhaeuser Company's (NYSE:WY) outlook for its three segments were mixed as Q1 earnings breezed past Wall Street expectations but fell markedly from the prior quarter and from a year ago.
"Looking forward, we remain constructive on the longer-term demand fundamentals that will drive growth for our businesses, notwithstanding the current macroeconomic headwinds," said President and CEO Devin W. Stockfish.
Q1 adjusted EPS of $0.21, vs. $0.12 consensus, retreated from $0.24 in Q4 2022 and from $1.31 a year before. Net sales of $1.88B, vs. $1.86B average analyst estimate, slumped from $1.82B in the prior quarter and from $3.11B in Q1 2022.
Adjusted EBITDA came in at $395M, exceeding the $328.5M Visible Alpha consensus, advanced from $369M in Q4 2022 and dropped from $1.50B in the year-earlier quarter.
Timberlands adjusted EBITDA of $188M vs. $150M in Q4 2022. The segment's adjusted EBITDA is expected to decline by about $20M in Q2 vs. Q1 as forestry and road costs in the West and South are expected to be seasonally higher.
Real Estate, Energy & Natural Resources adjusted EBITDA of $89M vs. $46M in the previous quarter. For Q2, the unit's adjusted EBITDA will slide by $20M from Q1 due to the timing and mic of real estate sales.
Wood Products adjusted EBITDA of $148M vs. $197M in Q4 2022. The segment's adjusted EBITDA is expected to be slightly higher from Q1, excluding the effect of changes in average sales realizations for lumber and oriented strand board.
Conference call on April 28 at 7:00 a.m. PT (10:00 a.m. ET).
Earlier, Weyerhaeuser Non-GAAP EPS of $0.21 beats by $0.09, revenue of $1.88B beats by $20M.