First Republic Bank is seized, will be sold to JPMorgan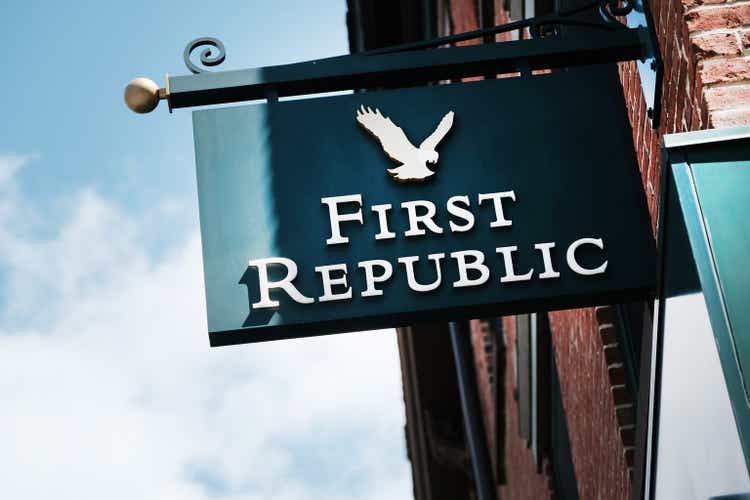 Regulators have taken possession of First Republic Bank (NYSE:FRC), resulting in the third failure of an American regional bank since the collapse of Silicon Valley Bank (OTC:SIVBQ) and Signature Bank (OTC:SBNY) in March. The Federal Deposit Insurance Corporation has been appointed as receiver and accepted a bid from JPMorgan (NYSE:JPM) to assume all deposits, including all uninsured deposits, and substantially all assets of First Republic Bank. That includes $173B in loans and about $30B of securities, though it will not assume First Republic's corporate debt or preferred stock. Premarket movement: FRC -32.8% to $2.36/share; JPM +3.6% to $143/share.
Fine print: "Our government invited us and others to step up, and we did," said JPMorgan (JPM) CEO Jamie Dimon. "Our financial strength, capabilities and business model allowed us to develop a bid to execute the transaction in a way to minimize costs to the deposit insurance fund" (which is estimated at about $13B). The FDIC will also enter into a loss-sharing agreement with JPMorgan (JPM) on single family, residential and commercial loans, and provide $50B in financing to the bank. Meanwhile, JPMorgan (JPM) is set to realize a one-time $2.6B gain from the deal, but expects to spend $2B on restructuring costs over the next 18 months.
It's been a wild ride for First Republic, which has teetered on the brink of failure for nearly two months. The bank's business model, which funded cheap mortgages to wealthy clients from little or zero-interest deposits, got hammered when rates rose rapidly. Clients then panicked and major paper losses ensued for its long-dated assets. Last week, First Republic revealed that deposit outflows totaled $70B in Q1, and put the spotlight on Wall Street institutions that deposited $30B at the bank on March 16 to stave off additional fallout to the industry.
Outlook: Is this the closing chapter of the banking turmoil that started in March, or just the next phase in the crisis? SA Investing Group Leader Lance Roberts discusses how things will end, Mott Capital Management explores the impact on rates, while contributor Bill Kort examines how flight-to-safety trades have played out since the turmoil. Other ongoing and systematic concerns are whether the nation's largest banks are getting even bigger, and how the tightening of the current lending environment will translate to the real economy.
More on the regional bank crisis