U.S. government could run out of money, measures by June 1, Yellen tells McCarthy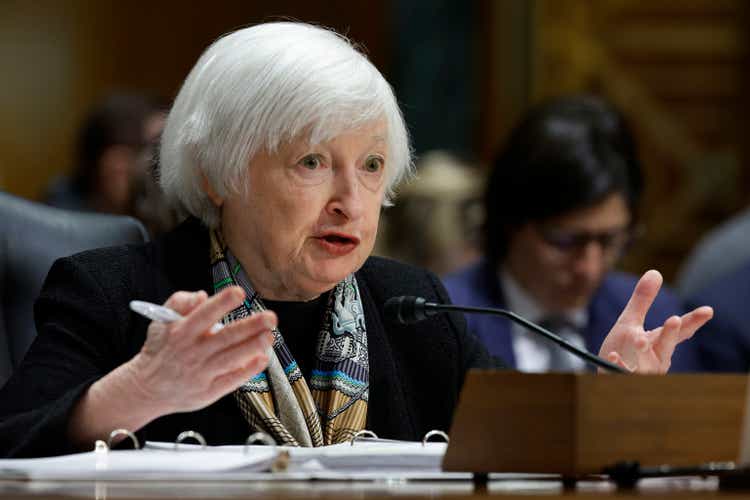 The Treasury Department could run out of extraordinary measures to pay the government's bills as early as June 1, if the government's debt limit is not raised or suspended, Treasury Secretary Janet Yellen said in a letter to House Speaker Kevin McCarthy and Congressional leadership on Monday.
That contrasts with her update in January that estimated it was unlikely to run out of cash and extraordinary measures before early June. The latest estimate was calculated after the Treasury Department reviewed recent federal tax receipts.
"Given the current projections, it is imperative that Congress act as soon as possible to increase or suspend the debt limit in a way that provides longer-term certainty that the government will continue to make its payments," she emphasized.
As part of the extraordinary measures, the Treasury is suspending the issuance of State and Local Government Series Treasury Securities, special purpose Treasury securities issued to states and municipalities that help them comply with certain tax rules. That move will "deprive state and local governments of an important tool to manage their finances," Yellen said.
She once again reminded Congressional lawmakers the importance of dealing with the debt limit before it's too late. "We have learned from past debt limit impasses that waiting until the last minute to suspend or increase the debt limit can cause serious harm to business and consumer confidence, raise short term borrowing costs for taxpayers, and negatively impact the credit rating of the United States," she said. Failing to increase the debt limit, "would cause severe hardship on American families."
Last month, McCarthy introduced a bill that proposed raising the $31.4T debt ceiling by $1.5T along with limiting federal spending.
Dear readers: We recognize that politics often intersects with the financial news of the day, so we invite you to click here to join the separate political discussion.