Hollywood writers strike for first time since 2007, with streaming in focus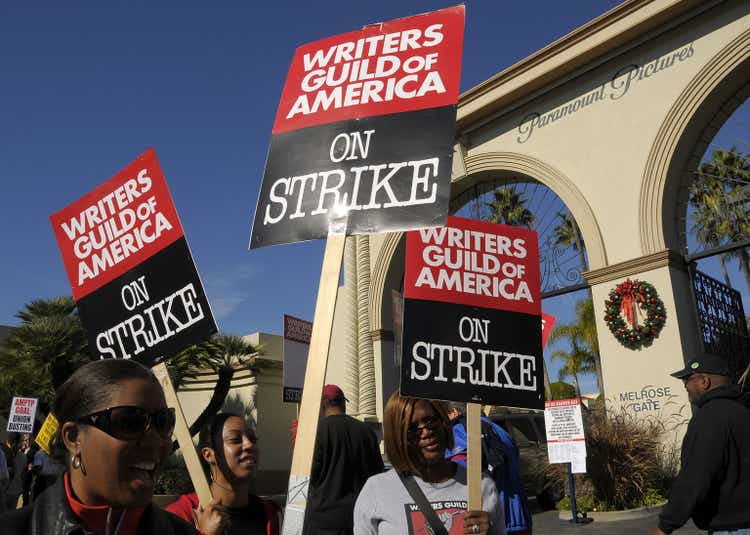 Hollywood writers voted Monday night to go on strike just after midnight Pacific Time -- the first such labor stoppage in the entertainment industry since the strike of 2007, and one that once again threatened to slow program production that had recovered from deep COVID-19 pandemic stoppages.
The Writers Guild of America West and Writers Guild of America East voted unanimously to authorize the strike and begin picketing Tuesday afternoon.
"The decision was made following six weeks of negotiating with Netflix (NASDAQ:NFLX), Amazon (NASDAQ:AMZN), Apple (NASDAQ:AAPL), Disney (NYSE:DIS), Warner Bros. Discovery (WBD), NBCUniversal (CMCSA), Paramount+ (PARA) (PARAA) and Sony (SONY) under the umbrella of the [Alliance of Motion Picture and Television Producers]," the WGA West said.
"The companies' behavior has created a gig economy inside a union workforce, and their immovable stance in this negotiation has betrayed a commitment to further devaluing the profession of writing," the Guild added.
Guild members will be prohibited from working on struck productions, and will be unable to sell or pitch scripts.
While network shows will see their pipelines start to empty, immediate effects will be felt on late-night talk shows, Deadline noted, with all set to go dark and replace their new programming with reruns starting Tuesday.
The 2007 strike, 100 days long, cost billions of dollars in lost output, and wiped out a quarter of prime-time programming for the network TV season. In the years since, much has changed about how people view television.
For one thing, streaming was brand new back then, and now it's at the center of negotiations, with writers seeking more inclusion in residuals and back-end payments.
Also notable in the new negotiations is (of course) AI, and how the union will be able to protect jobs amid the new technological tools. The union is also looking to curb the practice (fed heavily by the new streaming providers) of creating "mini-rooms," smaller groups of writers producing scripts in advance of the production of a series.