Paycom Software boosts year outlook; Q1 earnings top estimates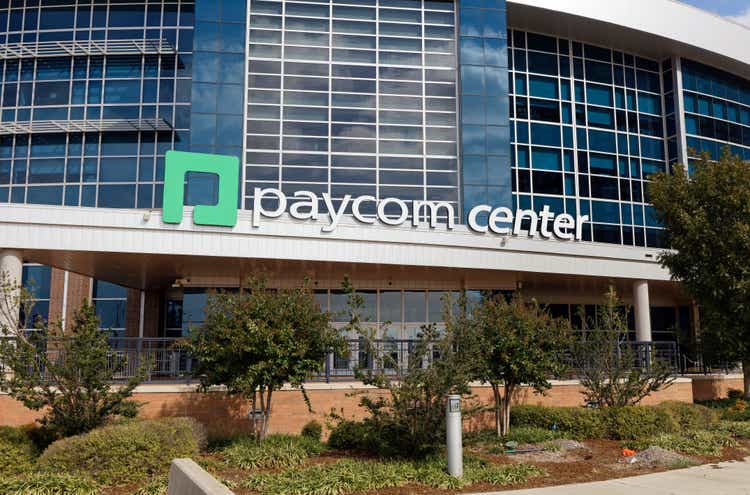 Paycom Software (NYSE:PAYC) stock perked up as much as 3.5% in extended trading on Tuesday after delivering revenue guidance for the full year above Wall Street expectations after topping first-quarter top and bottom line consensus estimates.
The company now expects 2023 revenue of $1.713B-$1.715B, vs. $1.70B average analyst estimate, compared with $1.700B-$1.702B in the prior target.
It sees full-year adjusted EBITDA of $717M-$719M, exceeding the Visible Alpha consensus of $701.2M, up from $700M-$702M in the previous guidance.
For the second quarter, revenue is expected to be $397M-$399M, up from the $393.3M consensus. Adjusted EBITDA for Q2 is expected to be $152M-$154M, compared with the Visible Alpha consensus of $149.7M.
To sum up the first quarter, results "were excellent," said Founder, Chairman and CEO Chad Richison, "with robust revenue growth from new clients and expanding margins, as demand for automation and our easy-to-use HCM solutions continues to increase."
Q1 adjusted EPS of $2.46, surpassing the $2.36 consensus, climbed from $1.73 in the prior quarter and from $1.90 a year before.
Revenue of $451.6M, beating the $444M consensus, drove higher from $370.6M in Q4 2022 and from $353.5M in Q1 2022.
Total operating expenses were $291.2M, up from $264.8M in Q4 2022 and from $227.3M in the year-earlier quarter.
Adjusted EBITDA of $220.5M rose from $163.9M in the previous quarter and from $170.1M in Q1 2022. Adjusted EBITDA margin came in at 48.8% vs. 44.2% in Q4 2022 and 48.1% in Q1 2022.
Conference call at 5:00 p.m. ET.
More on Paycom Software