Is the debt ceiling constitutional and has the U.S. ever defaulted?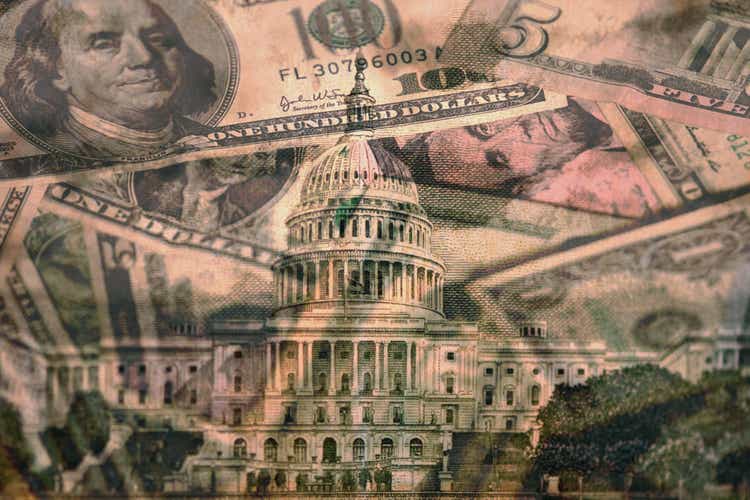 A standoff over the debt limit has prompted administration officials to once again explore the constitutionality of the ceiling as the U.S. inches closer to a catastrophic default. While President Biden has repeatedly said it is the job of Congress to raise the ceiling, what happens if a compromise cannot be reached? One such theory, which would surely expose the government to lawsuits, would see new debt continue to be issued under the 14th Amendment, which maintains that the "validity of the public debt of the United States... shall not be questioned."
Bigger picture: Lawyers at the White House, Treasury and DOJ have never issued formal opinions on the question, but expect the backlash to be immense if the option - once deemed as unthinkable - was used. Financial markets would also be roiled in such an event, with Moody's Analytics forecasting "spiking interest rates and plunging equity prices," as well as the freezing up of short-term funding.
"The Treasury could just ignore Congress and issue notes and bonds with coupons well above current yields," writes SA contributor James Baker, referencing a novel solution to the debt crisis. Another one that uses an accounting ploy, called the "trillion-dollar coin," has been previously referred to by Janet Yellen as a "gimmick."
Why does the U.S. even have a debt ceiling? The U.S. first instituted a statutory debt limit with the Second Liberty Bond Act of 1917, setting the aggregate amount of debt that could be accumulated through individual categories like bonds and bills. Later in 1939, Congress instituted the first limit on total accumulated debt over all kinds of instruments. The debt limit exists to ensure the "power of the purse" stays with the legislative branch and frees up Congress from approving each individual expenditure, though most countries do not have a limit and debate the funding of their spending during the budgetary process.
Has the U.S. ever defaulted? While the technicals are always debated, and some say the U.S. has never formally defaulted, there were some scenarios in the past that could resemble it. The first time was in 1790, when the U.S. defaulted on its external debt obligations, while during the Great Depression in 1933, America had another domestic debt default related to the repayment of gold-based obligations. Some consider President Nixon's decision refusal in 1971 to redeem dollars for gold to constitute a partial default, while the U.S. was said to default on some Treasury bills in 1979.
ETFs: NASDAQ:SHY, NYSEARCA:MINT, NASDAQ:VGSH, NYSEARCA:BIL, NASDAQ:SHV, BATS:NEAR, NYSEARCA:SCHO, BATS:ICSH, NYSEARCA:GBIL, NYSEARCA:SPTS, NASDAQ:FTSM, NYSEARCA:ULST, NASDAQ:FMHI, NYSEARCA:CLTL, NYSEARCA:RAVI, NYSEARCA:SGOV, BATS:BBSA, NYSEARCA:FTSD, NYSEARCA:BILS