Federal Reserve hikes by another 25 basis points, as expected, softens guidance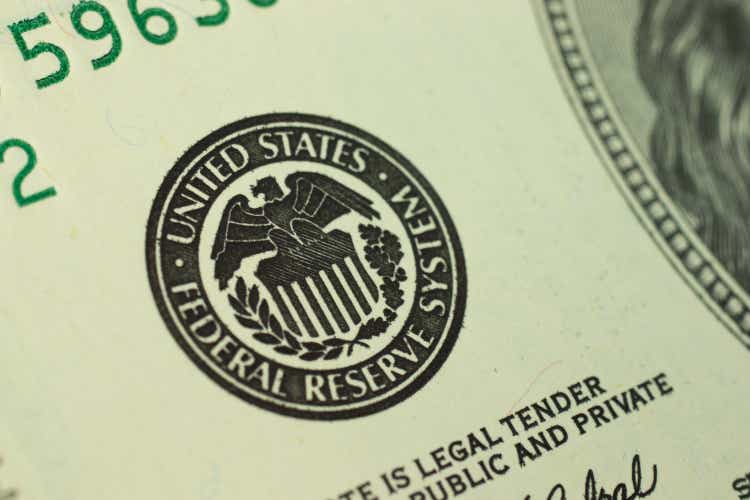 The Federal Reserve on Wednesday pushed its policy rate up another 25 basis points to 5.00%-5.25%, as expected, in its mission to drive down inflation even as recent bank failures roiled markets.
The central bank's monetary policy committee said it will closely monitor incoming information and assess its implications to determine "the extent to which additional policy firming may be appropriate to return inflation to 2 percent over time." The statement softened from its March statement that had expected additional firming, indicating that the Fed may pause rate hikes at its June meeting.
In 10 meetings over the course of 15 months, the Federal Open Market Committee has raised the federal funds rate target range by 525 basis points, from near zero an the onset of March 2022.
"The Fed has hiked to the 5.1% target from SEP (summary of economic projections), which implies the pause by default," said SA contributor Damir Tokic. "From this point on, monetary policy will be strictly data dependent. Given that core CPI inflation is predicted to be well above 5% over the next 2 months, it is likely that additional hikes are coming, in June and possibly in July."
All three of the major U.S. stock averages perked up after the statement. The Nasdaq rose 0.4% in Wednesday midafternoon trading, the S&P 500 gained 0.2%, and the Dow, erasing earlier losses, was barely in the green. The 10-year Treasury yield fell 4 basis points to 3.39%.
The central bank noted that economic activity expanded at a "modest pace" in Q1, job gains have been robust in recent months, and the unemployment rate remains low. Still, inflation remains elevated.
Traders are expecting a pause at the June meeting, with a 72.1% probability the fed funds rate will stay at 5.0%-5.25%, up from a 63.8% probability a week ago, according to the CME FedWatch tool.
The policymakers also referred to the recent bank turmoil. "The U.S. banking system is sound and resilient. Tighter credit conditions for households and businesses are likely to weigh on economic activity, hiring, and inflation," it said in its statement. "The extent of these effects remains uncertain. The Committee remains highly attentive to inflation risks."
The FOMC voting members voted unanimously for the 25-bp rate hike.
The Fed has left the window open for further rate hikes, said Fitch's chief economist, Brian Coulton. "The Fed is no longer flagging that further hikes should clearly be expected but this falls short of a strong commitment to 'pause' on rate hikes," he said.
"In pushing the benchmark Fed funds rate above 5% for the first time since 2007, the Federal Reserve is underscoring their commitment to getting inflation under control and restoring price stability," said Bankrate Chief Financial Analyst Greg McBride. However, "in true central bank fashion, the Fed left themselves a path to pause, or to hike rated further if necessary."
Fed Chair Jerome Powell will discuss the monetary policy decision at his 2:30 PM ET press conference.
On Monday, SA contributor Logan Kane said he expects the Fed to hike again in June after May's expected increase. And last week contributor John M. Mason discussed how the Fed is back on track in its QT program.
More on the Fed hiking cycle