Post-Fed the new market buzzword is SLOOS - here's what to know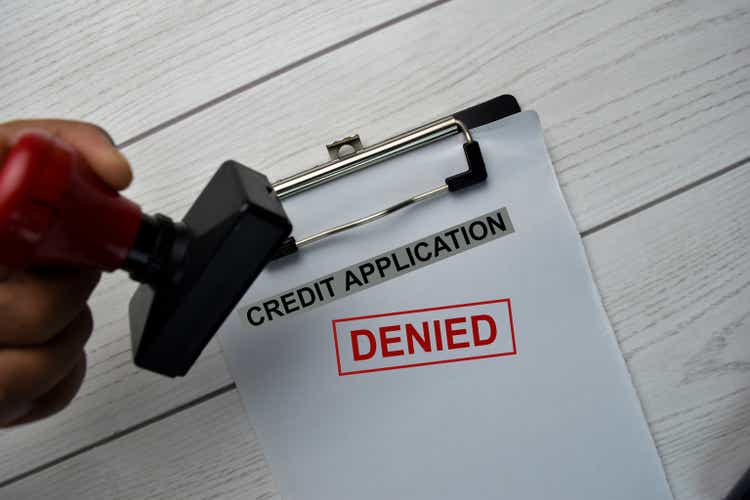 Wall Street has a new acronym to focus on: SLOOS.
Federal Reserve Chairman Jay Powell's mentions of tighter credit conditions in his post-decision press conference Wednesday caught the attention of market and Fed watchers. That, in turn, heightened anticipation for the release of the quarterly Senior Loan Officer Opinion Survey on Bank Lending Practices - SLOOS, for short.
SLOOS surveys up to 80 large domestic banks and 24 U.S. branches of foreign banks
According to the Fed: "Questions cover changes in the standards and terms of the banks' lending and the state of business and household demand for loans. The survey often includes questions on one or two other topics of current interest."
Powell, who brought JOLTS to the forefront in data acronyms, confirmed that SLOOS for Q1 2023 will be released on May 8. (The Fed doesn't give a specific release date, but it's traditionally a Monday about a month after the end of the quarter).
But the FOMC gets to look at the report before the public, to factor it into monetary policy decision.
"Given the amount that Powell is talking about credit tightening ... SLOOS clearly tightened quite significantly (from already high levels)," Viraj Patel, FX and macro strategist, tweeted. "Now is a case of how persistent that credit tightening is - and how quickly it feeds through to real economy."
The Q4 2022 SLOOS, out in early January, continued the trend of tighter lending standards. SA contributor Danielle Park noted that last year, "banks have reported tighter lending standards on commercial loans to small, large, and middle market firms," which generally prefaces a jump in bankruptcies.
Powell mentioned credit tightening seven time in his press conference (the same number of times he said "recession), noting that it could work along with QT and hikes.
"We are shrinking the balance sheet," Powell said. "And now we have credit conditions tightening, not just in the normal way, but perhaps a little bit more, due to what's happened. And we have to factor all of that in and make our assessment of ... of whether our policy stance is sufficiently restrictive."
He addressed SLOOS, saying that the latest report "is broadly consistent, when you see it, with how we and others have been thinking about the situation and what we're seeing from other sources."
"You will have seen the Beige Book and listened to the various earnings calls that indicate that midsized banks have - some of them - have been tightening their lending standards. Banking data will show that lending has continued to grow, but the pace has been slowing really since the second half of last year."
Could credit tightening trigger the recession?
ING said the SLOOS "isn't likely to be pretty," noting the recent ECB Bank Lending survey.
"The recent banking stresses are going to tighten lending standards markedly and that will act as a major brake on economic activity, significantly reducing the need for any further interest rate increases," ING said.
"Given the stresses in the banking sector and the rapidly tightening lending conditions we fear this could be the trigger for a painful economic downturn," it added.
The chart (below) "shows that when banks tighten their lending standards, unemployment always rises. What turns struggling business into failed business is when the bank pulls the plug the company runs out of options. Job losses are the inevitable consequence."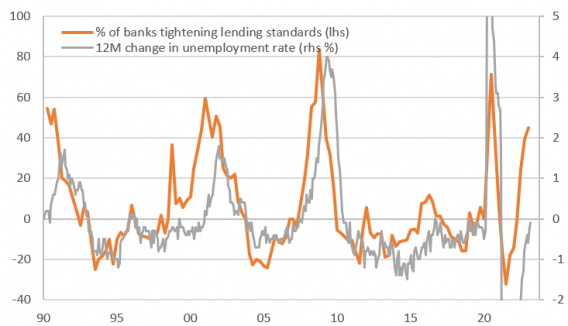 The Fed latest