Novo Nordisk, Lilly facing increased competition in obesity drug market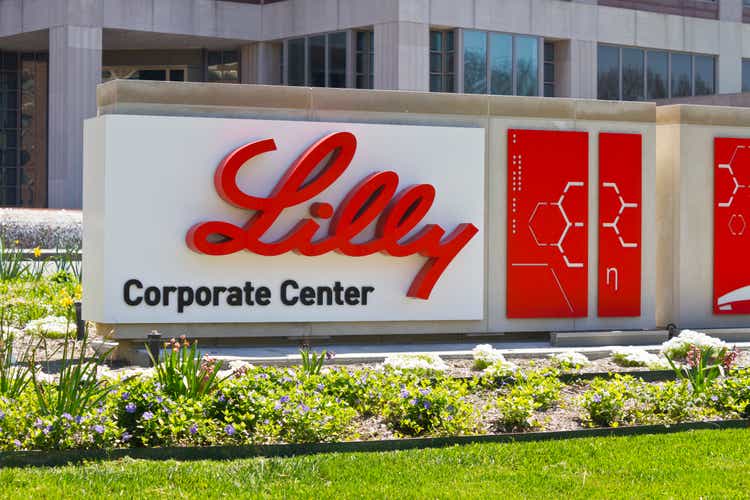 While Novo Nordisk (NVO) and Eli Lilly (NYSE:LLY) will likely rule the obesity drug market for the next decade, rivals such as Amgen (NASDAQ:AMGN) and Pfizer (NYSE:PFE) could soon be snacking on their lunch, a scenario that has not yet been priced into the stocks, according to a Morningstar report.
"We expect new therapies launching beginning in 2026 from firms including Amgen and Pfizer could grow to roughly one quarter of the market by 2032," Morningstar said.
Morningstar added that its sees Novo Nordisk and Lilly's valuations as "rich," with investors having priced in the huge market opportunity of the obesity market, "but leaving little room for new entrants." The research firm added it sees rivals such as Amgen and Pfizer gaining up to a third of the global obesity market in ten years.
Novo Nordisk's Wegovy, also known as semaglutide, has grabbed headlines for months about its ability to melt pounds. The product, which belongs to a class of drugs known as GLP-1 agonists, received FDA approval for weight loss in 2021. An earlier version of the drug was approved in 2017 for the treatment of diabetes under the brand name Ozempic.
Eli Lilly is also set to enter the game with its approved GLP-1 agonist Mounjaro, also known as tirzepatide. Already approved for diabetes, a recent study showed Mounjaro could be even more effective than Wegovy in helping patients shed unwanted pounds. Lilly is currently in the midst of initiating a head-to-head study between the Wegovy and Mounjaro and could launch the product for obesity by the end of the year.
Amgen and Pfizer's drugs are also chugging along in development. Amgen was slated to begin Phase 2 testing of its anti-obesity compound AMG-133, which contains a GLP-1 agonist, earlier this year. Pfizer's offering, a GLP-1R agonist called danuglipron, is currently in Phase 2 testing for obesity and diabetes.
Increased competition in the obesity drug arena would likely lead to lower prices, which could end up boosting demand, especially if the drugs are covered by insurance.
MorningStar estimates that the average global price for GLP-1 therapies will climb a high of around $5,400 in 2024 but then decline as more products make their way to market to around $2,800 by 2032. In the US, Morningstar sees the price dropping from a high of around $8,000 to roughly $4,000, according to its report.
All in all, Morningstar estimates the potential market size of the obesity market at roughly $60B by 2032, with around 21M people taking GLP-1 products around the world.
The research firm sees Lilly eventually edging out Novo Nordisk as market leader by 2032, commanding around 40% of the market, fueled by sales of not only Mounjaro but also two other drugs in development. Novo Nordisk would take another 36% through sales of Wegovy and related semaglutide products. Amgen is seen grabbing 4%, Pfizer 3%, with the remaining 17% split among other entrants.
The combined market for GLP-1 drugs for the treatment of obesity and diabetes is even heftier, with Morningstar estimating sales of at least $90B by 2030. By 2032, the research firm sees Novo Nordisk and Lilly both raking in sales of around $45B apiece from the drugs, with Pfizer taking in $4B and Amgen $3B.
The game could change significantly in 2032, however, when Novo Nordisk is slated to lose patent protection for semaglutide, which would open the doors to cheaper generic competition.
More on GLP-1 drugs:
Morgan Stanley sees broader MedTech impact from weight loss drugs
Pfizer: The New Oral Weight Loss Therapy Could Be A Game Changer
Pfizer stock yet to imply obesity drug's blockbuster potential – Cantor
Novo Nordisk gains as study shows cardiovascular benefits of obesity drug