Hollywood actors authorize potential strike, following in footsteps of writers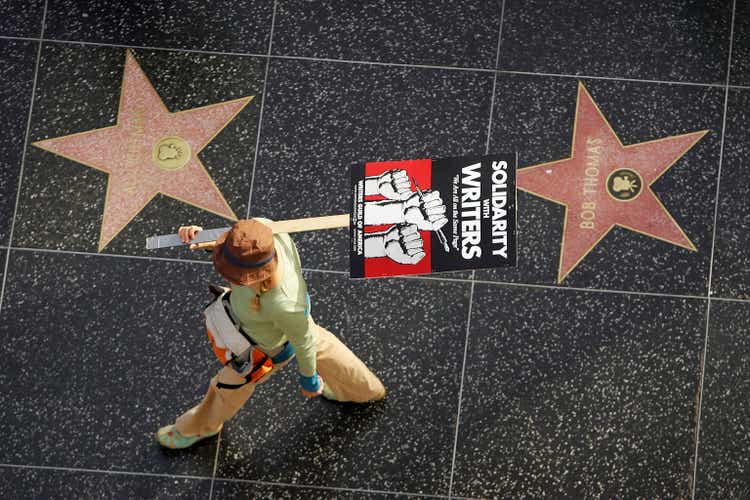 The drama in Hollywood is heating up just as there appeared to be a breakthrough for the creative industry. On Sunday, the Directors Guild of America inked a tentative three-year contract with major studios and streamers, though the Writers Guild of America and Screen Actors Guild are still holding out. In fact, the former has been on strike for six weeks, while the latter just authorized a potential strike if an agreement cannot be reached by June 30.
What are the fights about? At issue are wages and benefits, as well as royalty payments like global streaming residuals. Artificial intelligence is also at play, with the unions fighting for protections that AI won't replace its members. Writers additionally say that tech companies like Netflix (NASDAQ:NFLX) are hiring for shorter stints and lower wages, which is hindering the creative process. It comes as many studios absorb heavy losses associated with streaming, making them think twice about their bottom line during the negotiations.
A walkout by the Writers Guild of America has already shut down the final season of Netflix's (NFLX) Stranger Things, an HBO (NASDAQ:WBD) prequel of Game of Thrones, and paused production on Disney's (NYSE:DIS) Thunderbolts and Blade. A strike by actors would trigger a broader shutdown across Hollywood, while ramping up pressure on companies that need to support their streaming services and TV programming schedules. Other studios involved include Amazon (AMZN), Apple (AAPL), NBCUniversal (CMCSA), Paramount (NASDAQ:PARA) and Sony (SONY) - under the umbrella of the Alliance of Motion Picture and Television Producers.
What's next? "For now, the studios/streamers aren't in a rush to be flexible because the strike could eventually allow them to shed unprofitable long-term deals," writes SA analyst The Entertainment Oracle, "but that's also a dangerous long-term game." If prolonged, studios could turn to reality or unscripted shows, and internationally produced content, but the financial impacts will eventually catch up. Moody's has warned that an extended strike could hurt the credit ratings of "weakly positioned" media companies, while Paramount (PARA) CEO Bob Bakish has said that the situation will "ultimately depend on the duration of the strike."
Related to this story