BRICS nations take aim at dollar dominance at latest summit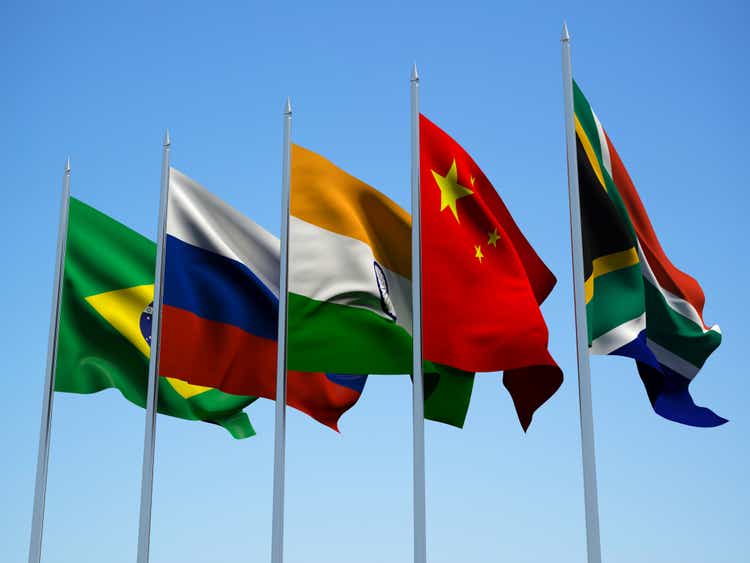 BRICS leaders, who are looking to transform their group into a geopolitical force that could threaten the West's dominance on the global stage, have converged for a three-day summit in South Africa that began on Monday.
A notable exclusion is Russian President Vladimir Putin, who is currently facing an international arrest warrant over alleged war crimes in Ukraine. Russian Foreign Minister Sergei Lavrov will attend in his place.
South Africa is hosting Chinese President Xi Jinping, Brazil's President Luiz Inacio Lula da Silva and Indian Prime Minister Narendra Modi for the BRICS summit.
China is expected to urge the group to explore becoming a geopolitical rival to G7, given growing skepticism about a world order that it claims serves the interests of U.S. and its rich allies.
While China and Russia are pushing to expand the bloc, other members (Brazil and India) are hesitant. "Their primary motive for working with Beijing and Moscow is not necessarily that they agree with them," said Priyal Singh, senior researcher at Institute for Security Studies. "They are trying to pursue their own sense of strategic autonomy on the world stage."
BRICS nations account for more than a quarter of the global economy, but they differ vastly on political and security issues, including ties with the U.S.
Even as the new world order touted by Beijing and Moscow appears to be at risk, BRICS is moving ahead with efforts to reduce reliance on the dominant U.S. dollar (DXY).
The bloc's development bank will reportedly start lending in the South African and Brazilian currencies. Dilma Rousseff, who heads the New Development Bank, also said the bank was considering membership applications from ~15 countries and will likely approve four or five of these. "We expect to lend between $8B-$10B this year."
More on BRICS