Detroit auto giants face tough labor decisions while Tesla cruises ahead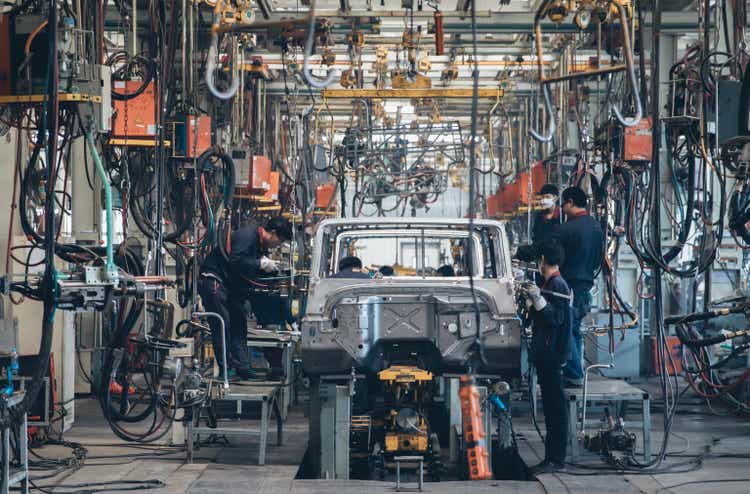 The threat of a major automobile worker strike continues to increase as negotiations remain stalled ahead of the September 14 deadline. The union fight has crossed the border, with Canada's Unifor joining the UAW in authorizing strikes against General Motors (NYSE:GM), Ford Motor (NYSE:F), and Stellantis (STLA). UAW President Shawn Fain has openly declared "war" on the Detroit Three automakers, with contract demands for +40% pay increases, shorter work weeks, improved pension benefits, and concessions with electric vehicle plants. Those demands are tied in part to the recent streak of higher profitability at the auto giants. The view on the Street is that there is no good option with enduring a crippling strike or inking painful labor wage concessions as the two options on the table.
Wedbush Securities analyst Dan Ives called the situation a potential nightmare situation for General Motors (GM) and Ford Motor (F) as both are in the early stages of a massive EV transformation path for the next decade that is expected to define future success. "In this crucial period of EV execution, model roll-outs, distribution, marketing, with EV competition rising across the board the timing could not be worse," he noted. Ives said his visit to Detroit last week indicated that it was a "very nervous time" across the broad auto industry.
Ives reminded that Tesla (NASDAQ:TSLA) will not face similar labor issues as the Detroit automakers. A major concession on labor wages could eliminate any of cost advantages of EV vehicles coming out of Detroit on a large scale and boost the advantage Tesla (TSLA) has on pricing. Despite the near-term headwind, Wedbush remained bullish on Outperform-rated GM to navigate through the period, although the UAW overhang is expected to hold back shares in the near term.
Over the last month, General Motors (GM) has dropped 11.3%, Ford (F) has shed 7.5%, and Stellantis (STLA) has peeled off 8.7%. Tesla (TSLA) is down 3.5% over the same period. On a year-to-date basis, Tesla (TSLA) has crushed the returns of the Detroit automaker stocks.

More on auto stocks