Apple slips again on China worries; issue is 'way overblown,' analysts say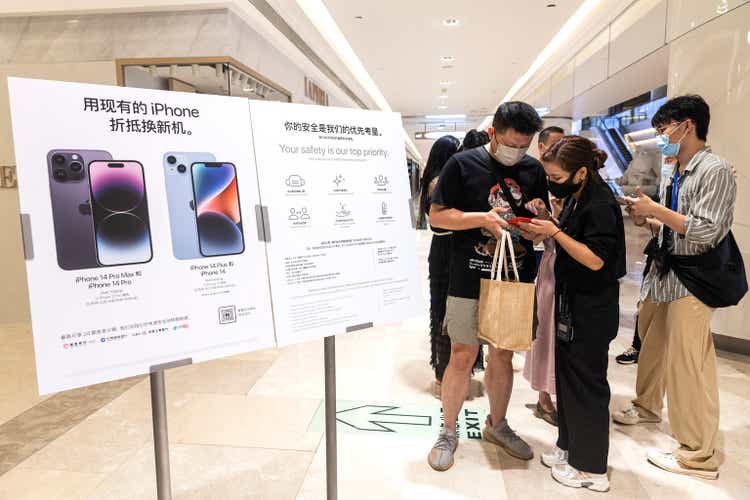 Apple (NASDAQ:AAPL) shares sank nearly 3% on Thursday, continuing Wednesday's decline on worries that the Chinese government has told its agencies to stop using iPhones. However, Wall Street seems to think the issue is "way overblown."
"On the recent China news over the last few days we believe in a worst case scenario any China government agency iPhone ban is way overblown as to quantify its less than ~500k iPhones of roughly 45 million we expect to be sold in China over the next 12 months," Wedbush Securities analyst Dan Ives wrote in a recent note.
In total, Apple (AAPL) lost nearly $200B in market cap over the two-day stretch.
Ives, who has an outperform rating and $230 price target on Apple, added that the tech giant has seen "massive" share gains in the Chinese smartphone market, to the tune of roughly 300 basis points over the past 18 months. And with the iPhone 15 right around the corner, the tech giant has "incremental momentum" to gain more share, Ives added.
Regarding the next version of the iPhone, which is slated to be unveiled on September 12, Ives said he is expecting some "noteworthy technology enhancements" related to design, as well as a $100 price increase on the iPhone 15 Pro and Pro Max.
"We believe now is the time to increase iPhone prices modestly as while Apple will keep the base model prices unchanged the enhanced technology, chips, and battery technology in iPhone 15 Pro/Max warrants this strategic pricing move from Apple," Ives explained.
Ives also pointed out that China is "key" to the success of the iPhone 15, given that the Pro and Pro Max models have become more popular than the baseline models. He is expecting a roughly 75% to 25% split, up from historical splits of 60% to 40%.
Citi analyst Amit Daryanani said the fallout is more about "headline issues" as opposed to "something that will have a material impact," adding that government officials have probably already avoided the use of Apple products.
Separately on Thursday, Bloomberg reported that the ban could be expanded to state-run companies and other government-controlled organizations.
The news outlet added that if a block comes to fruition, it's unclear how many companies or agencies could adopt the restrictions on personal devices, given that there is no formal or written injunction just yet.