Detroit automakers ratchet up talks with the UAW as strike deadline approaches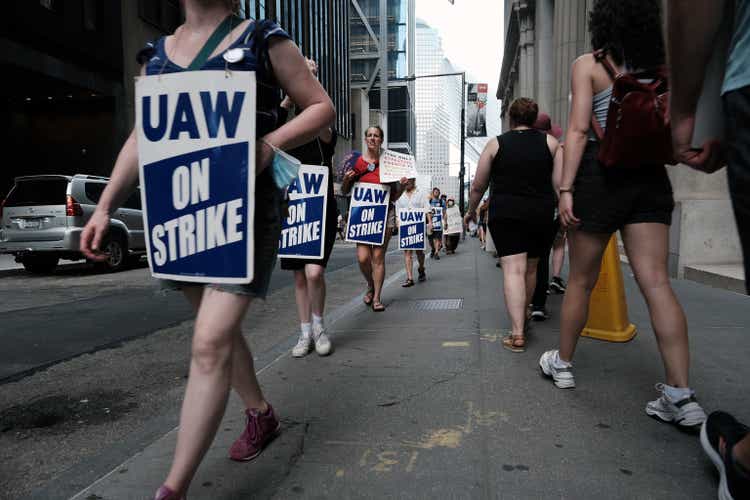 Negotiations between Detroit automakers and the United Auto Workers union are heating up, with the strike deadline just one week away. The UAW has made a labor contract counterproposal on economic issues to Ford Motor (F) and Stellantis (STLA) is planning to make its counteroffer to the union this week. UAW representatives are meeting with General Motors (NYSE:GM) execs later on Thursday.
The UAW reiterated that 97% of its members voted in favor of authorizing a strike if an agreement is not reached before September 14. The key concessions that the union is looking for are a 46% pay raise, a 32-hour work week with 40 hours of pay, and pension benefits for new hires.
Early on Thursday, Ford Motor (F) announced that nearly 8K UAW-represented Ford employees received a substantial raise on Labor Day. On average, those employees now earn $4.33 more per hour, or $9,000 a year. The increase could top $10K a year with overtime. The pay hikes were negotiated by Ford and the UAW in 2019 to shorten the time it takes workers to reach the average top wage rate of $32 an hour. "These pay raises are an example of Ford's commitment to improving the lives of our hourly workforce," said Ford (F) executive Bryce Currie. With the move, 80% of all Ford's UAW-represented hourly employees are now at the top wage rate. Those at the top wage rate are earning higher wages than 90% of all hourly employees in the U.S. auto industry, according to data from the Bureau of Labor Statistics. The announcement was separate from the negotiations over the new UAW contract.
Ford (F), General Motors (GM), and Stellantis (STLA) were all down less than 1% in premarket trading on Thursday. Over the last six weeks, GM is down 10.0%, F is 6.7% lower, and STLA is off 7.3%.