Global economic outlook: What to watch at the G20 summit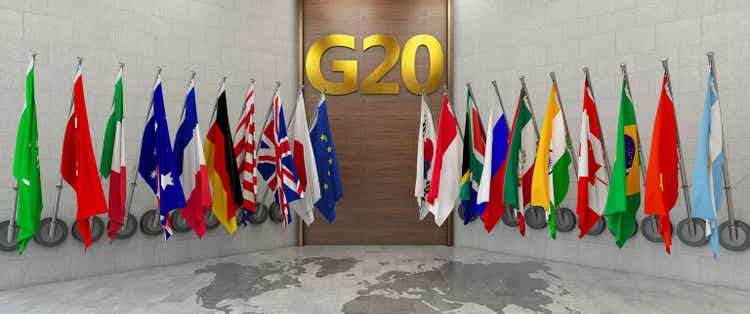 A lot is riding on the G20 summit this year, especially with notable absences that include China's Xi Jinping and Russia's Vladimir Putin. President Biden will have an opportunity to make fresh inroads with many countries in the group (that account for more than 80% of global GDP) and reestablish the U.S. as the undisputed leader of the international system. Ahead of the conference, Congress has been asked for permission to lend $21B to IMF trust funds, with the U.S. still enjoying its special position there and at the World Bank, and keeping its hold on the institutions. See what happened at last year's summit
Backdrop: The alternative to the G7, known as the BRICS (Brazil, Russia, India, China and South Africa), has been looking to expand its axis of power by recently inviting more nations to join the group. Countries being courted, such as Argentina, Saudi Arabia (and possibly Indonesia), are members of the G20 as well, setting up some interesting and unusual dynamics at this weekend's summit. The BRICS are also hoping to get many middle- to lower-income countries on board for membership, offering an alternative to the dominant Western economic model that has powered the globe since the end of WWII.
Biden's biggest objective at the G20 will be to boost the funding and reach of the World Bank and other development banks as a counterweight to emerging economies that have sought lending from Beijing. China's Belt and Road Initiative uses state-backed money for infrastructure projects all over the globe, giving it a presence and leverage in many new countries that are now tied to Chinese debt. The U.S. also plans to push for funding for new infrastructure projects and other partnerships after the BRICS declared their ultimate goal of "advancing the agenda of the Global South." Check out 'Rising Use Of Local Currencies In Cross-Border Payments' by SA analyst Otaviano Canuto
Tug of war: The bigger fear for the U.S. is should the BRICS be successful in creating a separate economic and financial system, the effects of sanctions will wane with the dollar no longer controlling the majority of transactions in international trade. Diplomacy has been conducted at the highest levels in 2023 to extend American power, including Janet Yellen's 10-day trip to Africa and re-engagement with Saudi Arabia after promises to make the kingdom a pariah. Immediately following his departure from the G20, President Biden is also set to travel to non-aligned Vietnam, which is quickly turning into a manufacturing powerhouse for American goods and an alternative to China.
Related stories