It is often said that the credit market (notably, high yield) is a leading indicator of equity prices. The chart below shows that there is no clear evidence if one look at CDSs.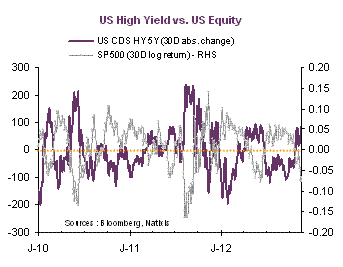 In total return terms though, credit continues to provide a leading edge as can be seen below. The credit market was calling for an equity correction and now both series have recoupled. It might be of interest to figure out why.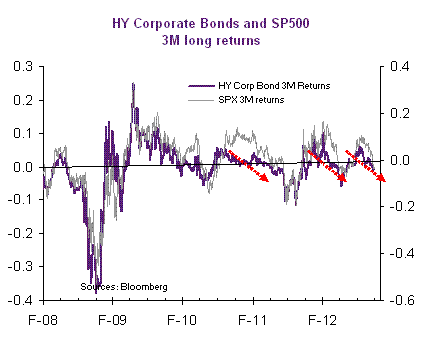 There is another interesting pattern that has emerged over the past few quarters: the disconnect between the SP 500 dividend yield and the yields for non-investment grade bonds.
The disconnect has been particularly pronounced over the last few weeks (more precisely, since the bear market began in early October).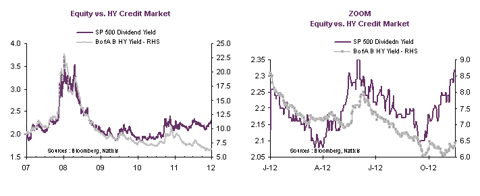 Click to enlarge
What is interesting is that we do not observe the same pattern when analyzing risk premia: CDS vs. the difference between the earning yield and US 10-year Treasury yield (the so-called Equity Risk Premium). There was a structural break in the relationship in 2008 (left chart), but if we focus on 2012, we see that the series have recoupled.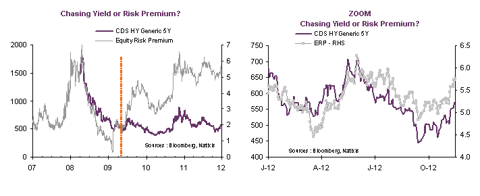 Click to enlarge
For a long time analysts and investors have been concerned about the US high yield market. The analysis above shows that the anomaly is not a matter of risk premia, but of chasing yields to the extreme. Credit and equity markets have realigned recently in total returns terms, but the discrepencies in terms of yields is such that it might be too early to call the credit correction over.
Disclosure: I have no positions in any stocks mentioned, and no plans to initiate any positions within the next 72 hours. I wrote this article myself, and it expresses my own opinions. I am not receiving compensation for it (other than from Seeking Alpha). I have no business relationship with any company whose stock is mentioned in this article.