By Siraj Sarwar
Kyle Bass is one of the most respected hedge fund managers. His contrarian moves during the sub-prime crises provided his fund with substantial gains in 2007. Since that time, Mr. Bass has been closely followed by many investors. As of last quarter, Hayman Capital Management had $160.5 million of assets under management.
At the end of Q4, Hayman Capital Management initiated positions in 10 stocks and made additional purchases of two stocks. Its portfolio was heavy on Services (16.7%), Technology (16.4%) and Consumer goods (19.8%). In this article, I examine Hayman's latest picks. These are Huntsman Corporation (HUN), Tempur-Pedic International (TPX), VIVUS Inc. (VVUS), Nationstar Mortgage Holdings (NSM), and Hyatt Hotels Corporation (H).
| | | | | | |
| --- | --- | --- | --- | --- | --- |
| Stocks | Shares held | Percent of portfolio | Previous percent of portfolio | Rank | Percent of change |
| HUN | 1,380,799 | 13.68% | 0.0 | 1 | New |
| TPX | 660,000 | 12.96% | 0.0 | 3 | New |
| VVUS | 1,545,336 | 12.92% | 0.0 | 4 | New |
| NSM | 687,346 | 13.26% | 0.0 | 2 | New |
| H | 350,000 | 8.41% | 15.92% | 6 | 8% |
WhaleWisdom.com
Huntsman Corporation is a manufacturer of both chemical products and inorganic chemical products. It markets several products and formulations to a diversified group of consumer and industrial customers.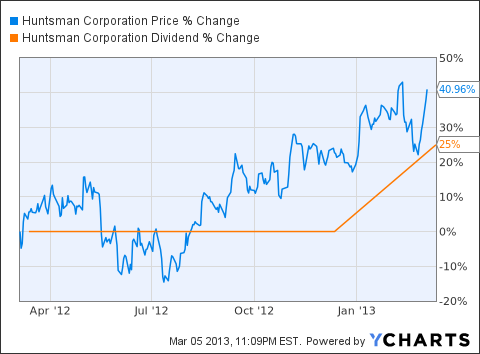 HUN data by YCharts
The company has been showing exceptional growth over the year. Fiscal 2012 remained an excellent year for investors as the company posted record adjusted EBITDA of $1.4 billion. These strong results are also creating value for investors. The company has been increasing both dividends and price.
Recently, the company has increased dividends from 0.1 cents/share to 0.125 cents/ share. With record earnings, Huntsman has been able to increase dividends by 25%. On the other hand, as the above chart demonstrates, the price has been on a surge over the past year. Since 2012, the stock has shown an upward trend and increased nearly 40% in value.
Moreover, Huntsman generated over $200 million in cash from operations. At the moment, Huntsman is seeking to reduce debt and repaid $50 million of term loans in the Q4. With these results, many hedge funds are increasing their stakes in the company. At the end of Q4, 67 hedge funds have created a position and 97 funds added to their position.
Hayman also initiated a large position in Huntsman at the end of Q4. Hayman holds 1.38 million shares, constituting 13.68% of its portfolio. This is the first appearance of Huntsman in the fund's manager's portfolio, and it is currently ranked at first place in its portfolio.
Tempur-Pedic International, Inc. is a worldwide manufacturer, marketer and distributor of premium mattresses and pillows under the TEMPUR and Tempur-Pedic brands. The firm is facing tough macro-economic head winds at present. Recently, it announced full year results with a 1% decline in sales compared to the previous year. In addition, its net income of $164 million also went down compared to the earlier year results of $219 million.
Due to excessive supply and lower demand, the company margins also compressed compared to the past years. Amidst all this, Tempur-Pedic still has one of the best margins in the industry. In the trailing twelve months, the company's operating and net margins stood at 17.7% and 7.6% respectively, relative to the industry average of 5.9% and 3.5%.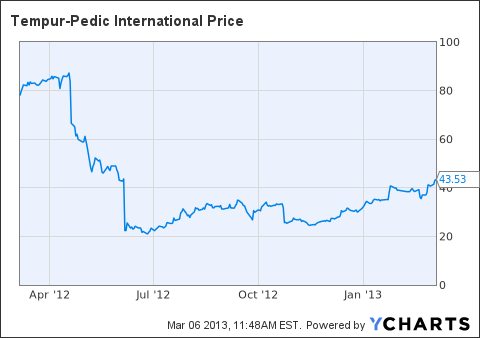 TPX data by YCharts
I think that the market overreacted to Q4 results. The company's financial situation is not that bad. Surely, sales and revenues were short comparative to the projections. However, for the full year it only lost 1% in overall sales.
I think, the Tempur-Pedic crash provided an opportunity for Hayman to initiate a position. The hedge fund initiated a huge position by purchasing 0.66 million share. This is the first appearance of Temper-Pedic in the hedge fund portfolio. Tempur-Pedic ranked in 3rd place and became 12.95% of the portfolio.
VIVUS is a biopharmaceutical company engaged in the development and commercialization of therapeutic products for large underserved markets. At present, the company is executing on a commercialization strategy focused primarily on driving awareness of Qsymia. VIVUS has been spending significantly to spread awareness about the importance and role of Qsymia in the medical obesity treatment paradigm. As a result, its loss increased to $139.9 million compared to a loss of $46.1 million the year before.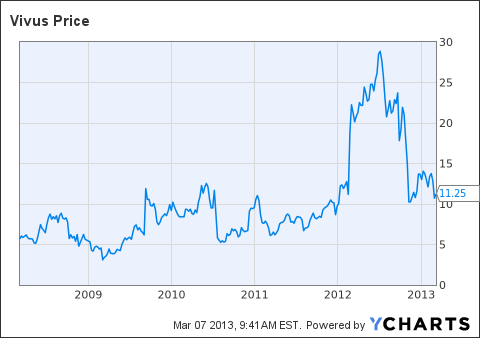 VVUS data by YCharts
Year 2012 remained a milestone year and it reached record price appreciation when it received approval for its anti-obesity drug, Qsymia. After the approval, the stock price went up-to the $30 mark. I believe most development phase biopharmaceutical companies price hikes depend on the news of drug approvals. At present, the stock is trading at $10.34 and offers an uncertain upside potential depending on positive news regarding Qsymia.
At the end of Q4, Hayman started a position in VIVUS by purchasing 1.5 million shares. This is the first appearance of VIVUS in Hayman's portfolio. The hedge fund manager believes in Qsymia's expected sales and ranked VIVUS at 4th place in its portfolio.
Hyatt Hotels Corporation provides hospitality services on a worldwide basis through the management, franchising and ownership of hospitality related businesses. At the end of Q4, Hayman added a position in Hyatt Hotels by purchasing 0.35 million shares. At present, Hyatt Hotels is ranked at 6th place in the hedge fund portfolio.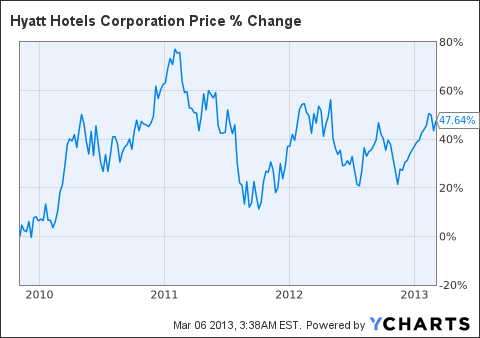 H data by YCharts
Year to date, its price has been appreciated by nearly 4.87%. Over the previous five years, Hyatt has returned nearly 47.46%. The company seems like a safe pick for long-term investors. Hyatt's business strategy is simple and focused on growing its market share. It is looking to increase owned and leased margins, and continuing to support expansion of its brand presence around the globe.
Hyatt Hotels has been showing a great performance over the years. Recently, it announced Q4 with a 7.5% increase in owned and leased RevPAR. In addition, the company is expanding to new markets around the globe. In year 2012, it opened 22 hotels and its base of executed contracts for new hotels increased by above 15%. Hyatt is expecting to launch 30 hotels in 2013.
Nationstar Mortgage Holdings Inc. provides residential mortgage loans throughout the U.S. Its servicing portfolio comprises some 389,000 loans. At the end of Q4, Hayman had 0.68 million shares. Nationstar currently captures 12.81% of Hayman's portfolio. This is the first appearance of the company and it is ranked at 5th place in the portfolio.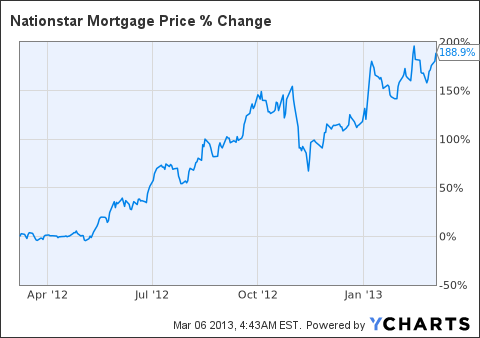 NSM data by YCharts
Nationstar is one of the best-performing stocks among the financial services sector. As the above chart demonstrates, the company gained 188% in the last year alone. This is a big achievement in such a tough economic and financial environment. Whether that trend will continue or not depends on Fed's extension of zero rate interest policy.
Disclosure: I have no positions in any stocks mentioned, and no plans to initiate any positions within the next 72 hours.
Business relationship disclosure: Efsinvestment is a team of analysts. This article was written by Siraj Sarwar, one of our equity analysts. We did not receive compensation for this article (other than from Seeking Alpha), and we have no business relationship with any company whose stock is mentioned in this article.