By Sumit Roy
It is often said that markets take the stairs up and the elevator down. That bit of wisdom is particularly appropriate as it relates to the current precious metals market. Over the past three trading sessions alone, gold has fallen by $220, or 14%, from $1,585 to $1,360. In that same period, silver has fallen 18%, from $28 to $23.
Gold (Three-Year Chart)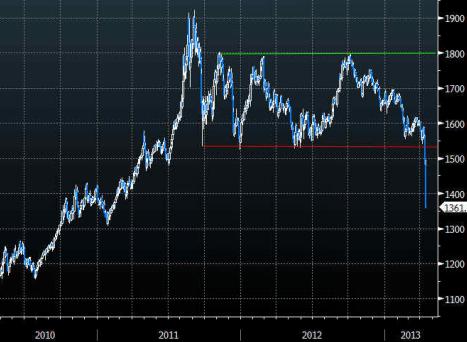 Silver (Three-Year Chart)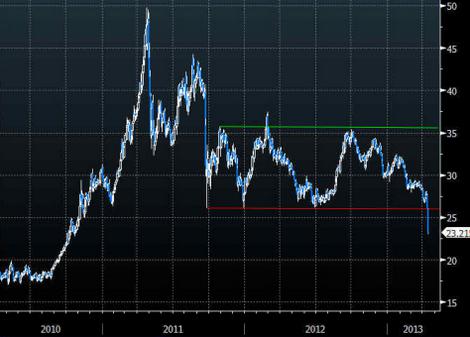 There are a number of factors for these outsized moves, as we've discussed in the past. Foremost is the turnaround in investor demand for gold. After accumulating gold for 11 straight years, in aggregate, exchange-traded funds are on track to become net sellers of the metal for the first time in 2013. This shift is not merely a reduction in demand. Rather, it is "negative demand," which is the equivalent of an increase in supply. Whereas ETFs were taking gold off the open market in the past, they are now dumping millions of ounces onto the market.
Since the start of the year, holdings of gold across all exchange-traded funds are down 7.2 million ounces (223 metric tons), nearly wiping out the 9-million-ounce increase during 2012. These are significant numbers. For context, 7.2 million ounces represents almost 5% of annual global gold demand. Moreover, there is plenty of gold still tied up in exchange-traded funds that can be liquidated with the mere click of a button. As prices continue to plummet, jittery investors could throw in the towel, fearing an even more protracted decline.
In contrast to that of gold, investment demand in silver has been surging this year (see also: "Silver Coin Sales 'Absolutely Sizzling' This Year, But Every Investor Is Losing Money. Here's Why"). Silver investment demand was at record levels during the first quarter, indicating that the retail investors who favor the metal remain bullish. The high levels of silver demand may help explain the relatively close performance of the two metals thus far this year. Gold is down by 19%, while silver is down 24%. Typically, we would expect volatile silver to be down much more than its counterpart. In any case, the old adage in the precious metals market -- where gold goes so too shall silver -- continues to ring true.
Gold ETF Holdings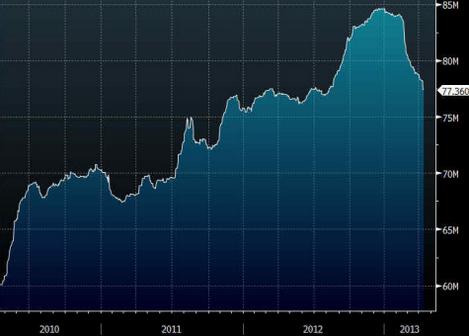 Silver ETF Holdings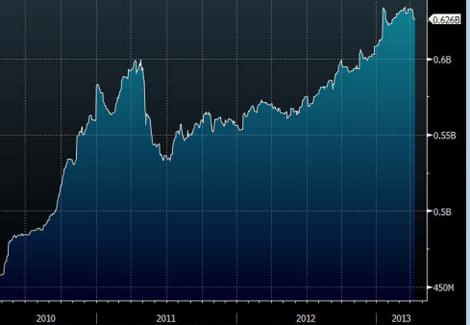 In addition to the evaporation in investment demand, technical factors have played a role in gold's decline. The $1,525 level (and, equivalently, $26 on silver) was closely watched by traders. Once prices broke through that level on Friday, there was no support left. It was like a black hole opened up that sucked prices ever lower.
The fate of gold is inextricably tied to investor psychology. There's no question that confidence in the yellow metal has been shattered. And it's not only at the retail or institutional level. Central banks -- which collectively purchased the most gold in 50 years in 2012 -- will also be reluctant to add to their holdings as prices free fall. That's why it's impossible to forecast where prices will go from here. At this point, investors will do well to heed another bit of market wisdom: "Don't catch a falling knife."