Asian markets have opened with a USD (NYSEARCA:UUP) rally, with the exception of the USDJPY (FXJ), which is currently testing the 101 level. The title of last week's FX Outlook, "The Week OF A USDJPY Pullback?" turned out to be prophetic, as it was the week of the USDJPY pullback.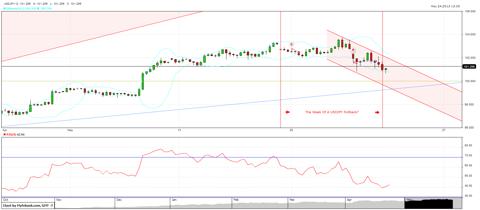 Summary of Last Week's Action
There were other events that last week's FX Outlook called correctly as well. Germany's Producer Price Index fell in conjunction with the previous week's CPI, the CAD broke through the big figure of 1.03 around weak retail sales numbers, China's PMI went into the contraction zone (below 50) bringing further weakness to the AUDUSD (NYSEARCA:FXA) and U.S. Initial Jobless Claims mean reverted back to the downward trend beating expectations by 5k at 340k.
There are weeks of good calls and bad calls, and last week was one of the good ones. Despite this, I did not "know" that any of this was going to unfold the way it did, and anyone who claims they do know is a charlatan. The variables that drive FX markets are too numerous for the human mind to comprehend.
Where you can get an edge is finding asymmetric wagers with favorable risk to reward profiles. For the readers of this weekly article, you can rest assured that I put my money where my mouth is, making last week a very profitable endeavor. Below is a breakdown of my trades.

Monday May 27th
With the UK and the U.S. both on holidays, it will be a quiet start to the week. The only major event I'll be cautious around on Monday is the BoJ's Miyao's Speech at 20:45 Pacific Standard Time. With the recent price action around the USDJPY and Nikkei Index (NXY), any bold comments from any directors have the potential to create volatility.
Perhaps one other number that will be worth taking note of is France's Consumer Confidence being published at 23:45. The trouble currently facing France is of serious consequence in the Eurozone. There is much speculation about further monetary measures being taken which will impact the EURUSD (NYSEARCA:FXE). Any further decline in consumer confidence will add to the pressure on Draghi to act.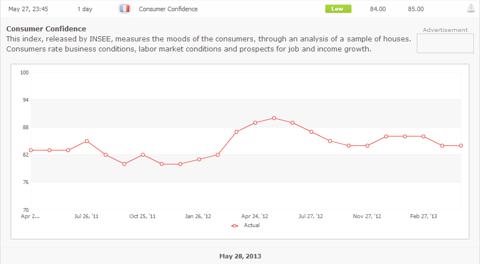 Tuesday May 28th
Tuesday is another quiet day with similar events to Monday to watch for. BoJ governor Kuroda is giving a speech at 17:00 which will be of even greater significance to the speech on Monday. It'll be interesting to see if the volatility in the NKY is addressed at all. I wouldn't be surprised to see Kuroda restate that the BoJ would continue to act to ensure stable movements in the long-term bond markets as he did this past Friday. Consider it the "Kuroda" put.
U.S. Consumer Confidence is at 07:00, and much like the France Consumer Confidence, this will be one to watch. In both of the previous summer's pullbacks, consumer confidence acted as a leading indicator and fell off. Thus far this hasn't happened, but if consumer confidence starts to deteriorate, caution is warranted.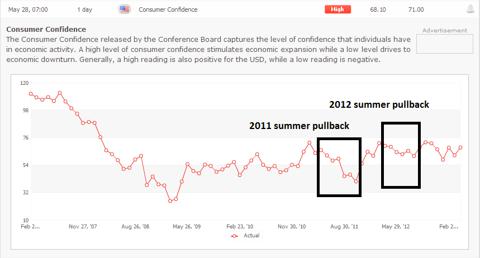 Wednesday May 29th
Wednesday is all about Germany, with the most important reading being the German Consumer Price Index being released at 05:00. It has been in a strong trend downwards, but the trend is forecasted to reverse with this print. Expectations matter as much as the actual numbers, and these optimistic expectations leave lots of risk to the downside.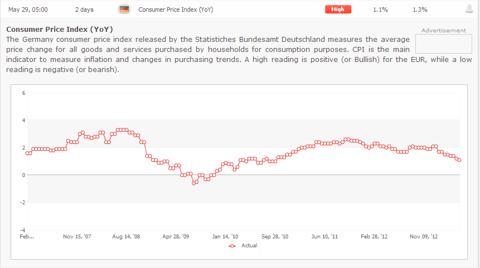 What is happening in Germany has huge implications for monetary policy in the eurozone. If the downward CPI trend doesn't reverse, look for the EURUSD to weaken in anticipation of action from the EU Central Bank.
The other German reading is around unemployment, but I consider CPI to be more important at this juncture because the employment trend hasn't been as negative in Germany with unemployment holding at 6.9%. That being said, unemployment is trending up, but it is a ways off from prompting EU policy action, whereas CPI is not.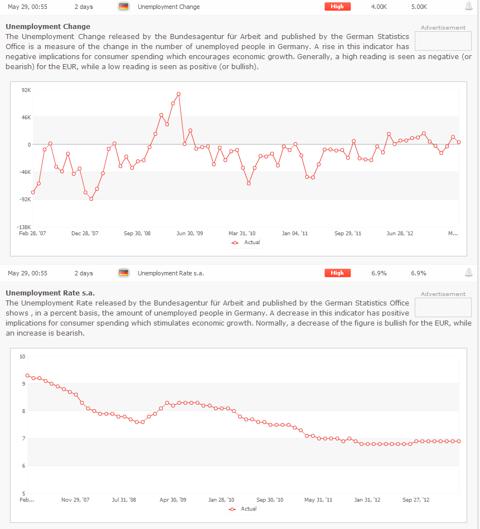 Thursday May 30th
Today there is much action to be excited about, especially in the U.S. and Japan. At 05:30 the U.S. GDP numbers are being released with GDP forecasted to continue to strengthen. It is data releases like this that can throw off the resilient rally in the S&P500 (NYSEARCA:SPY).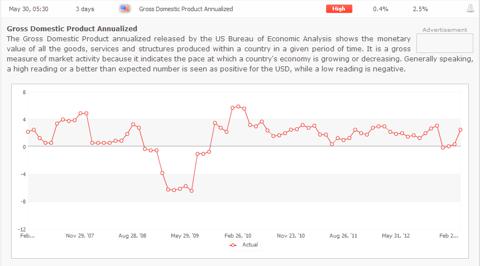 With regards to the impact on the FX markets, it appears we are in a situation where heads the USD rallies and tails foreign currencies sell off. The risk on, risk off behavior of the USD in recent history, where it would sell off on risk rallies such as when the SPY index rose, hasn't held as of late. Therefore, a positive U.S. GDP could cause a USD rally, as well as a negative U.S. GDP, as the negative print would cause more capital to flow into "risk free" Treasury Bills, and a positive print would cause capital to flow into the U.S. equity market.
In Japan, the National Consumer Price Index is being released. This has the potential to reverse the USDJPY pullback last week and continue the march to 110. As BoJ Governor Kuroda points out nearly every time he speaks, he is committed to reaching a 2% inflation rate in 2 years. Thus far, despite the large equity market rally and USDJPY selloff, there is still deflation in Japan. If CPI doesn't improve as expected, you can count on the BoJ to continue to act to reach this inflation target. It is 2% or bust at this point.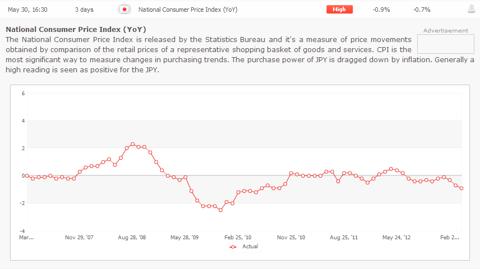 Friday May 31st
Friday morning starts out with a number of important data points for the EU. Italy's unemployment is released at 01:00, which has risen from 8% in 2011 to 11.5% at last reading. It is forecasted to tick up slightly, but essentially remain flat. The recent high of 11.7% unemployment was in March of this year, and if this marked that top that will be good news for the EU region as a whole.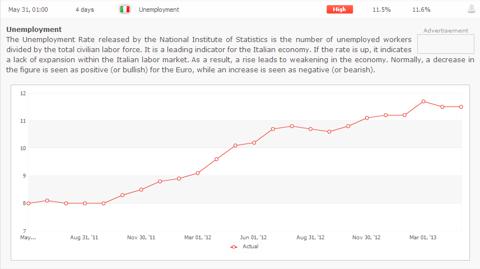 The CPI for the entire EU is next at 02:00, and although it has had a few bad prints as of late, it is not in the same downtrend as Germany has been in. Things will get interesting if Germany's CPI continues to fall, while there is an uptick in the greater EU. Will the greater EU's CPI be put before Germany's deflationary problems, or will Germany's control of the purse strings become more evident?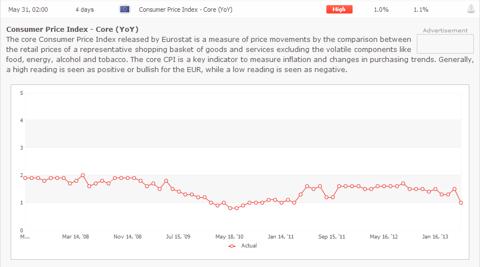 GDP for Canada is at 05:30, and with the recent weakness in the CAD (NYSEARCA:FXC), it'll be interesting to see how GDP is holding up. I know from talking to a friend who deals with clients in the U.S. and Canada that there is a night and day difference between business operators in the two regions. When he speaks to clients in the U.S., they are optimistic on their future prospects, but their counterparts in Canada do not share the same enthusiasm. Given Canada's high reliance on commodities and the recent selloff, this concern is likely for good reason and may be reflected in this GDP data release.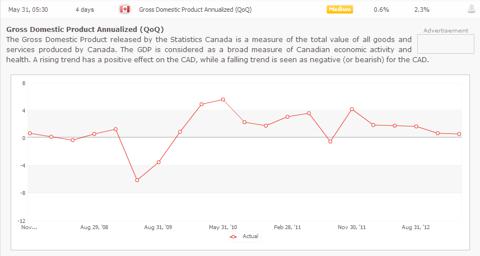 I'm expecting it be so and will likely have a long USDCAD position (short CAD) put on at some point this week.
Another leading indicator on the U.S. consumer is released next at 06:55, the Reuters/Michigan Consumer Sentiment Index. Just like Tuesday's U.S. Consumer Confidence, this indicator sold off in both of the past summers. A strong reading bodes well for the SPY and USD.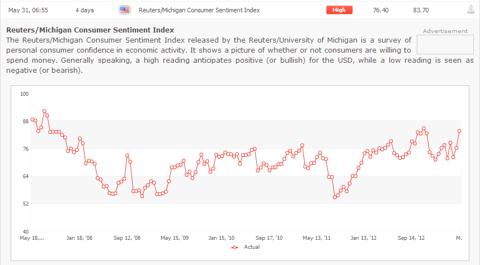 The week wraps up in China with the NBS Manufacturing PMI, which measures China's manufacturing activity. China has had a tendency to disappoint as of late, which President Xi Jinping and Premier Li Keqiiang appear willing to tolerate in exchange for long term gain. Premier Li set the tone in his first press conference as premier, promising a smaller role for the state and that the changes would be very painful, even feel like cutting one's wrist. President Xi Jinping has also explicitly stated that slower expansion may be needed to avoid environmental degradation.
This is music to my ears as a capitalist, as contrary to popular belief, capitalism is good for the environment in its protection of private property rights, and a smaller state equals more freedom, also a hallmark of capitalism. Both of these facts can be empirically demonstrated as true, and it is fantastic to see that China understands this even while America does not.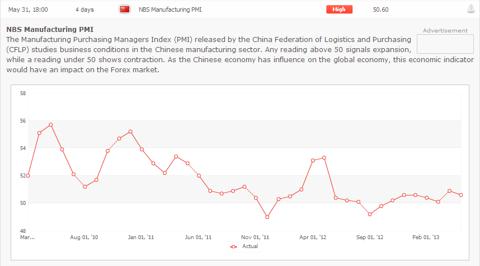 Given the President and Premier's rhetoric, I expect this number to disappoint, causing further weakness in the AUDUSD , with little fanfare from the powers that be in China.
Disclosure: I am long UUP. I wrote this article myself, and it expresses my own opinions. I am not receiving compensation for it (other than from Seeking Alpha). I have no business relationship with any company whose stock is mentioned in this article.
Additional disclosure: I am actively trading FOREX and CFDs and may either be long or short the instruments discussed at the time of this article's publication. To see a complete list of my open trades in real time, visit mcnultycapitalmanagement.com.