China may or may not be headed for a "hard landing," but one thing for sure is that the Chinese government is determined to slow the economy, and they have targeted certain areas of the economy.
This video highlights two key points:

1) We are potentially at a "watershed moment" for China's new economy.

2) It could get "really scary" if the Chinese make a mistake in execution.

Another point highlighted in the video is that the Chinese Central Bank is going to "pick and choose winners and losers" and is "willing to tolerate a slower growing China" to clean up part of the financial system.
The main concerns seem to be:
1) A credit bubble, complicated by a "shadow" banking system.
2) Over building on infrastructure and real estate.
3) The Chinese government is deliberately attempting to slow the Chinese economy and rid it of the excesses that it deems are undesired.
From that framework, it may be possible to determine market neutral portfolios that would allow investors to remain exposed to the Chinese Market, but without the systematic/market risk.
Hong Kong vs. Mainland China:
Long Option: iShares MSCI Hong Kong Index Fund (NYSEARCA:EWH)
Short Option: iShares FTSE/Xinhua China 25 Index Fund (NYSEARCA:FXI)
iShares has the China Large-Cap Index ETF based upon the large-cap Xinhua China 25 Index and the MSCI Hong Kong Index . One market neutral theory would be that Mainland China will suffer more than Hong Kong, which has a much longer history dealing in the free market, and is partially shielded from the Chinese central government. The market neutral position would be to go long Hong Kong and Short Mainland China. Year to date that market neutral position would have returned around 7.5% without any systemic risk. About 5% would have been lost on the 50% long Hong Kong position for a weighted return of -2.5%, and 20% would have been made on the short Mainland China position for a weighted return of +10%, for a total systemic risk free return of 7.5%.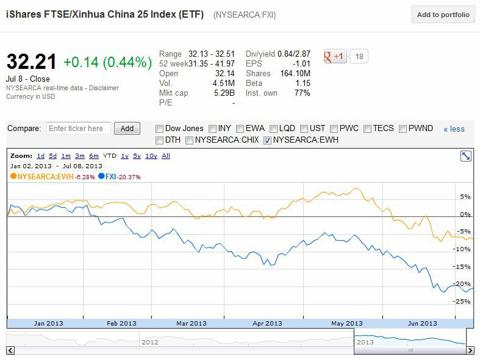 The pair did well in the most recent crisis period as well.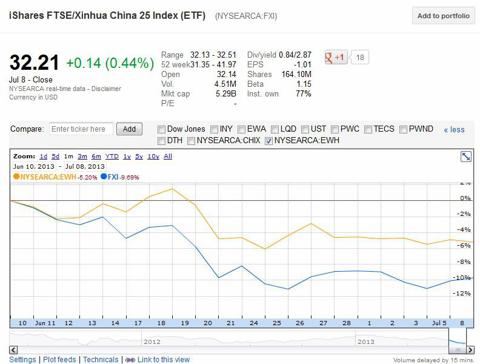 Sectors:
Another matched pair would be to short the REIT, Infrastructure, Materials or Financial Sectors against sectors less likely to be affected like Technology.
Short Options: EGS INDXX China Infrastructure ETF (NYSEARCA:CHXX)
Global X China Financial ETF (NYSEARCA:CHIX)
Global X China Materials ETF (NYSEARCA:CHIM)
Guggenheim/AlphaShares China Real Estate ETF (NYSEARCA:TAO)
Long Option:
Global X China Technology ETF (CHIB) (NASDAQ:QQQC)
Year to date all those combinations would have performed well, with returns ranging from 12% to 20%.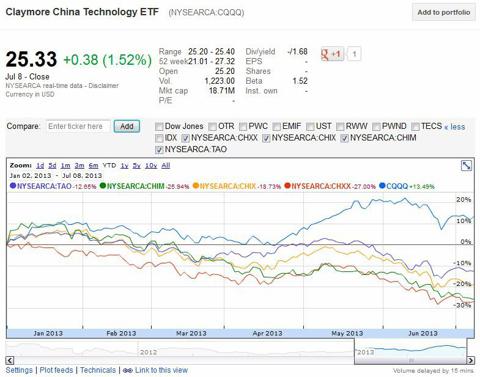 Over the last month, all matched pairs would have delivered positive returns except the Technology/REIT matched pair, which would have basically broken even.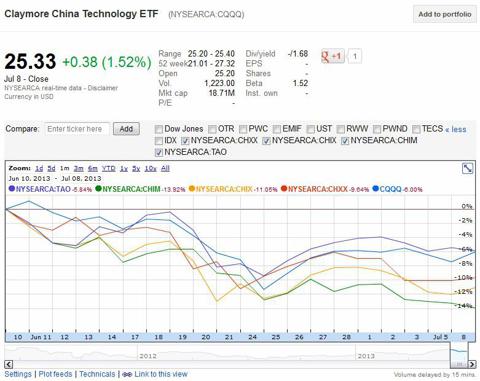 Market Cap:
The last market neutral pair would be go long large-cap, short small-cap. The theory being that large-cap stocks are less risky. That however may be compensated for by the small-cap fund having a much lower weighting to the Financial Sector.
Short Options: MSCI China Small Cap Index Fund (NYSEARCA:ECNS)
Long Options: iShares FTSE/Xinhua China 25 Index Fund
iShares MSCI Hong Kong Index Fund
That market neutral theory failed to deliver a positive return year to date, with both Mainland China and Hong Kong underperforming small-caps for the period.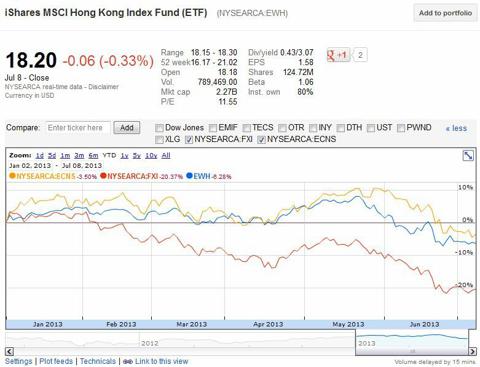 Over the last month, the performance improves, with the Hong Kong/Small-Cap pair returning a positive return of about 2.5%. The Mainland China/Small-Cap basically broke even.
While over that time period the small-cap theory did not perform well, it may do better in the future. Small companies in China rely on the "shadow" banking system, and the Chinese government is implementing policies to deliberately harm this pool of capital. If they are successful, it is likely that the small-caps will have their funding sources reduced.
SHANGHAI/HONG KONG (Reuters) - Wang Zhiyong, the founder of a Shanghai-based gift card company, tried twice to get a bank loan for his business and failed both times.

So Wang turned to China's vast network of alternative lenders, opting for a so called "curb side" loan. Such a loan is just one segment of the country's shadow banking system, which includes pawn shops, credit guarantee firms, trust companies and other mechanisms as sources of funds for Chinese borrowers.

"Banks never lend a hand to start-ups like us," said Wang, 40. "They only go after big companies and state-owned firms."

The dearth of bank credit available to China's millions of small to mid-sized companies is expected to tighten as authorities seek to rebalance the world's second-biggest economy.
In conclusion, market neutral strategies (Long/Short Pairs) may offer a lower risk pathway for investors what want exposure to the Chinese market, but are concerned with the recent developments. Market neutral pairing removes the systematic/market risk from the portfolio. As demonstrated above, common sense pairing can deliver positive returns in a down market. That is the benefit of market neutral pairs. While most of the above pairing returned positive returns that will not always be the case, and at times both positions can work against desired outcome. It is because of this double edged sword nature of market neutral pairs, that it is important to understand the risks of the pair, watch them very closely and have a quick trigger on the exit.
Disclaimer: This article is not an investment recommendation. Any analysis presented in this article is illustrative in nature, is based on an incomplete set of information and has limitations to its accuracy, and is not meant to be relied upon for investment decisions. Please consult a qualified investment advisor. The information upon which this material is based was obtained from sources believed to be reliable, but has not been independently verified. Therefore, the author cannot guarantee its accuracy. Any opinions or estimates constitute the author's best judgment as of the date of publication, and are subject to change without notice.
Disclosure: I have no positions in any stocks mentioned, and no plans to initiate any positions within the next 72 hours. I wrote this article myself, and it expresses my own opinions. I am not receiving compensation for it (other than from Seeking Alpha). I have no business relationship with any company whose stock is mentioned in this article.