Within his 2012 letter to shareholders, Paul Otellini, Intel (NASDAQ:INTC) President and CEO, highlighted the company's "mobile edge" beneath his introductory paragraph citing "cutting-edge products." Intel first entered the mobile market in 2012, when original equipment manufacturers (OEMs) agreed to install the Atom processor within six different smart phones. This line has since been expanded to eight separate bargain bin handsets, including the Acer Liquid C1, Etisalat E-20, Safaricom Yolo, and Motorola RAZR I. These smart phones are typically available for sale within emerging markets, such as Thailand, Kenya, Egypt, and Belarus. Teenage girls may describe these phones as "lame." Wall Street analysts would claim that Intel mobile lacks "goodwill." In any event, Intel is dead money and a strong sell.
Intel Desperate for Growth
On October 26, 1999, running partners Microsoft (NASDAQ:MSFT) and Intel were both added to the Dow Jones Industrial Average as component stocks. In retrospect, this event marks the pinnacle of the PC Revolution, as part of the technology economy. At the time of its inclusion within the Dow, Intel traded for a then split-adjusted $27.53 per share, or $240 billion in market capitalization. On September 6, 2013, Intel closed out the trading session at $22.67 per share, which calculates out to $113 billion worth of market capitalization. Over the past fourteen years, Intel managers have accomplished little more than returning larger portions of profits and cash back to investors through dividend payments and stock buybacks.
For the 2012 fiscal year ended December 29, 2012, Intel collected $11 billion in net income, off of $53.3 billion in revenue. 2012 revenue was flat, while net income declined by 15%, when compared against the prior year. In actuality, business execution at Intel remained relatively stable over the course of the past twenty-four months. The decline in net profits was primarily due to aggressive research and development spending to develop competitive mobile chip technology. Last year, Intel set aside roughly 20% of its 2012 revenue towards research and development. Intel's desperation for growth is a radical shift away from the halcyon days of the late 1990's and the PC revolution. At that time, Intel allocated less than 10% of revenue towards research and development spending.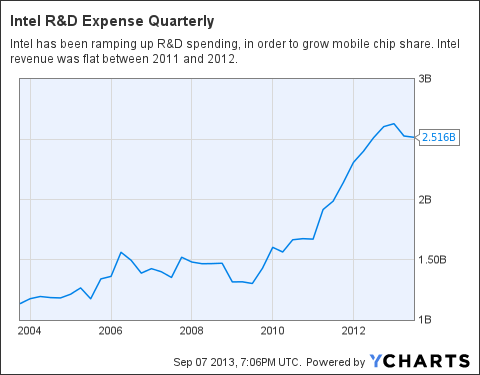 INTC R&D Expense Quarterly data by YCharts
Intel now categorizes its business segments according to PC Client, Data Center, Software and Services, and Other Intel Architecture groupings. Other Intel Architecture (Other IA) is an umbrella term covering chip sales to smart phone and tablet original equipment manufacturers. Over the past three years, Other IA has accounted for a mere 8% of annual revenue, on average. The PC Client group has historically accounted for roughly two-thirds of Intel total net sales over the past decade. Taken together, top-three customers Hewlett Packard (NYSE:HPQ), Dell (NASDAQ:DELL), and Lenovo account for more than 40% of 2012 Intel net sales. Intel is obviously scrambling to make hay in mobile, before the decline in PC sales works its way back through the supply chain and erodes semiconductor bottom line profits. A July report out of research firm Gartner warned that worldwide PC shipments declined by 10.9% during Q2 2013.
The Smart Phone and Tablet Market
On August 7, 2013, research firm comScore released its report summarizing June 2013 U.S. smart phone subscriber market share. This report summarized averages of data collected between April 2013 and June 2013. A quick review of this comScore report would highlight the presence of the dominant Apple iOS - Google Android duopoly. Taken together, the Apple (NASDAQ:AAPL) iOS - Google (NASDAQ:GOOG) Android operating system duopoly combined to control 91.9% of the U.S. smart phone subscriber market during this latest quarter. Meanwhile, Apple and Samsung were a respective one and two upon the original equipment manufacturer side of the ledger, in terms of market share percentages. Apple reported that it sold 31 million iPhone handsets during its latest Q3 2013 ended June 29, 2013.
An August 5, 2013 report out of International Data Corporation (Pending:IDC) confirmed that the tablet market held fast to the same patterns as the smart phone market. IDC estimated that Apple and Samsung tablets accounted for respective 32.4% and 18% shares of the tablet market during the second quarter of 2013. Again, the Microsoft Windows operating system was a distant third to the Apple iOS and Google Android tablet duopoly. Microsoft shipped 2 million units of this Windows tablet operating system during Q2 2013, for a relatively meager 4.5% of the market.
Beneath the surface, of course, Apple A Series, Qualcomm (NASDAQ:QCOM), and ARM chip technologies are the engines that have driven this smart phone revolution. The Apple Way has always been notable for its integration, where the majority of component parts are assembled in-house. Beyond Apple, the Qualcomm Snapdragon chip has emerged as the proverbial "go to guy" in mobile. Snapdragon chips are mainstays throughout the Google Android, BlackBerry (NASDAQ:BBRY), and Microsoft Windows ecosystems. ARM intellectual property has supplied the framework behind the majority of these leading chip designs. The ARM Company Overview claims that this company and its technologies power more than 95% of all global mobile phones. Going forward, Intel's opportunities to establish a beachhead in mobile are all practically nonexistent. Intel has a well-deserved reputation as a "fast follower." This beta business model will not land supply contracts with premium smart phone platforms. Intel has no credibility on The Street.
The Bottom Line
The 2012 Intel annual report did project "single-digit" revenue growth for the company through 2013. Intel bulls may argue that this corporation may simply curtail research and development expenses to grow its bottom line. These Intel cheerleaders, however, will be proven wrong. Intel must commit to its aggressive R&D investment gamble to avoid falling further behind in mobile at the same time that the PC market deteriorates. Be advised that Intel owns its foundries, as opposed to its Qualcomm rival that outsources manufacturing processes. As such, Intel is effectively committed to mass volume, in order to keep its foundries running at full capacity. Rapid shifts within the supply chain would force Intel to depreciate property, plant, and equipment assets, and to also write down inventory. Ironically, Intel's cavalier attitude towards Moore's Law has cornered this company into a lose-lose situation. Again, Intel is a strong sell.
Disclosure: I have no positions in any stocks mentioned, and no plans to initiate any positions within the next 72 hours. I wrote this article myself, and it expresses my own opinions. I am not receiving compensation for it (other than from Seeking Alpha). I have no business relationship with any company whose stock is mentioned in this article.