The market's meteoric rise off the March lows has made life for the value investor increasingly more difficult as we are faced with unpersuasive valuations coupled with a very uncertain economic environment. Gone are the days of picking up quality businesses trading at 20% free cash flow yields.
However for those willing to take a contrarian stance and do the work, opportunities still abound in the market. One such opportunity that I am particularly excited about is First Industrial (NYSE:FR).
Company Overview
First Industrial Realty Trust (FR) is a REIT that owns, manages, and develops industrial space. FR has operations in major industrial markets across the US and in Toronto. They have 92m square feet of industrial space and roughly 2,300 tenants. FR owns all five major industrial facility types; Bulk Warehouse (42% of rental revenue), Light Industrial (33%), R&D/Flex space (12%), Regional Warehouse (10%), and Manufacturing (3%).

Investment Thesis
FR recently did a haphazard equity deal that was not received well by the market (down -30% in 3 days) and now trades at a massive discount to underlying NAV (net asset value) while generating a very healthy amount of free cash flow. The current valuation is undervaluing FR's assets on a book value and also per square foot value basis. FR's assets have the ability to generate a lot of FCF and a substantial resulting dividend once the world normalizes.

How did we get here?
Every stock has a story and understanding the story is crucial to recognizing the opportunity. FR is trading at its current valuation as a result of terrible sentiment, poor technicals, and a general apathy from Wall Street analysts.
Very predictably FR sold off hard earlier this year as they were an over-levered REIT very exposed to the macro economy. However once people determined the Mad Max scenario was off the table and the market rebounded so too did FR, rebounding from $2 to over $6.50.
Here is where things get interesting; FR did an equity deal that was handled as poorly as Brett Favre's retirement. Instead of announcing the deal after the close and pricing it overnight, they announced the deal before the open and gave traders an entire day to crush the stock. No one in their right mind would invest in front of the deal and anyone who did have an interest in participating in the deal was actually incentivized to crush the stock because they knew the deal would be priced at a discount to the closing price. The stock was trading at $6.67 before the deal was announced and ultimately priced at $5.25.
Perhaps more important than the money left on the table during this fiasco was the fact that FR broke through the crucial 200 day moving average. Now I am a staunch fundamental investor however many technical traders and quant funds trade off of the 200 day moving average and once that is broken those guys can press a stock for a long time.
To round out the conspiring forces, Wall Street analysts neglect FR from what I have gathered. For example I spoke with one analyst to get a better understanding of how he was deriving his absurdly low price target and he actually told me "we don't cover it as closely as some of the other ones because no one cares about the stock and all the fundamental research in the world doesn't matter" which was obviously music to my ears.
So that is how we got here but now let's take a look at what makes FR a compelling long investment.
FR assets significantly undervalued on a square foot basis
FR reported Q3 earnings last week that beat analyst expectations for revenue and EPS although I would caution that analyst coverage is sparse and the financials are so noisy it's tough to know which analysts are adjusting for what. The stock has been destroyed over the past 12 months so expectations are obviously low, that said relative to how the stock is priced I think fundamentals are holding up pretty well. Occupancy held relatively stable in Q3 at 81.7% which was better than the 79% that I had modeled. Rental rates were down –9.4% (renewal lease rates were down -8.4% and for new deals lease rates were down -12.7%).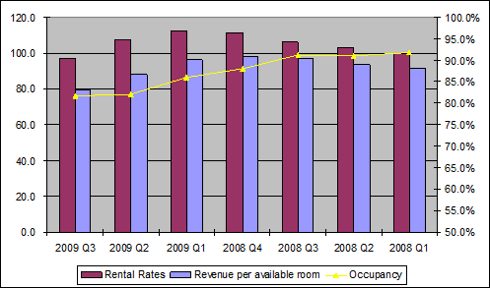 FR is very cheap on an asset basis, with 92.3m sq ft of leasing space FR is trading at a valuation that equates to a value of $23.40 per square foot. This multiple looks to be grossly undervalued, I conducted an analysis of the industrial leasing industry in the markets in which FR competes and my research suggests the nationwide average value per square foot for the markets that FR competes in is $28.50. I arrived at my estimated value per foot by taking the rental income earned less operating expenses in perpetuity discounted at 12% (keep in mind the WACC is only 8.30%). If we apply $28.50 per square foot to FR the equity is worth $11.58. For reference FR has completed assets sales over the past 7 quarters at an average price of $50 per square foot.
The below chart shows the rent per square foot per year for FR's different markets. As you can see FR is trading at a valuation that implies lease rates well below the national average and below all but three of the markets (MI, IN, GA).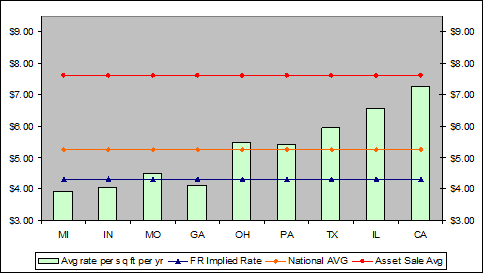 FR typically completes several asset sales per quarter and although asset sales are admittedly a very small sample of data I think the trend suggests values are not falling off a cliff as precipitously as some have feared.
Asset sales for FR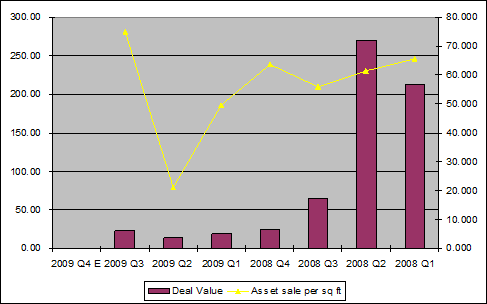 Asset sales for FR's joint ventures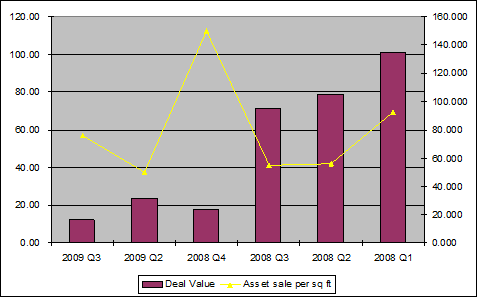 Dividend already cut, assets have the ability to ramp up dividend in the future
FR has already cut their dividend to zero so there is no risk of the income investors leaving. FR's assets have the ability to generate a lot of FCF and in more normal times pay a robust dividend. If we assume that FR pays out its distributable cash flow in a dividend which is must eventually do to maintain its REIT status, the yield would be 22%. Applying the historical average dividend yield over the past 15 years the stock would trade at $12.52.
Adequate liquidity, no financial distress
FR looks to have ample liquidity and should not face any financial distress, they have less than $19m in debt maturing through the end of 2010. FR has said repeatedly that their top priority for FCF is to de-lever the company. FR repurchased $123m of debt in Q3 at an average price of 84% of par, these transactions are clearly the best way to de-lever given the ability to purchase below par.
In addition, FR has had pretty good success in getting financing as they completed a $154m secured financing during Q2 2009. FR has 85% of their assets unencumbered by mortgages which gives them lots of flexibility, they did a smart thing and raised capital by issuing unsecured preferred stocks and then using the proceeds to buy assets that are unencumbered.
Should the unsecured market not be adequate to refinance the debt coming due FR has option to raise capital through secured financing. FR's covenants call for them to maintain at 60% (85% currently) of their assets unencumbered by mortgages so there is plenty of breathing room for FR. All of the joint venture debt is non-recourse to FR.
FR should benefit from macro forces such as a falling dollar and inflation
FR also is a bit of a weak dollar play, from a macro perspective the ever declining dollar should help the competitiveness of US manufacturing and exporting which would help support industrial space lease rates.
Furthermore in a highly inflationary world, which I think will happen eventually given all of the fiat money creation by the world's governments, will benefit those heavily indebt which FR qualifies as. During the German hyperinflation those with heavy mortgage debt obtained real property for essentially nothing.
Risks
Economic activity slumps again leading to occupancy and rental rates continuing to decline significantly further. Our model already assumes a -18% drop in RevPAR and NAV is still compelling.

Capital markets re-lock until 2011 and FR is unable to complete the needed financings, seems very remote.

US Dollar strengthens making US manufacturing and exporting less competitive.

Distressed asset sales pressure property values.
Disclosure: Author holds a long position in FR