In 1908 the Nobel Prize for Medicine was awarded to a German physician named Paul Ehrlich. While Dr. Ehrlich was renowned for his work in multiple fields, including innovative research and development in the areas of hematology, chemotherapy, and diagnostics, it was his work in immunology for which his Noble Prize was awarded. Immunology, in its simplest form, can be defined as a branch of biomedical science which includes all facets of the immune system. It deals with the functionality of the system in terms of its role in the body both independently and interdependently, as well as in regards to pathogens, antigens and immunity. It was from this research that Dr. Ehrlich developed the conceptual theory for what he called the "Magic Bullet". Ehrlich reasoned that if a compound could be made that selectively targeted a disease-causing organism, then a toxin for that organism could be delivered effectively alongside the agent of selectivity. Hence, a Magic Bullet would be created that could successfully target and destroy only the organism selected without any residual or unintended damage elsewhere. It was, for that era, both revolutionary and awe-inspiring theory. Dr. Ehrlich was, indeed, well ahead of his time.
Today, the premise behind Ehrlich's theory has, to some extent, been realized through the invention of monoclonal antibodies. Monoclonal antibodies are monospecific antibodies that are made from identical immune cells, which are clones derived from a unique parent cell. In other words, a cell from an organism is gathered, reformulated, cultured, and then harvested for its antibodies. A simple diagram can be seen directly below which represents the method by which monoclonal antibodies are produced;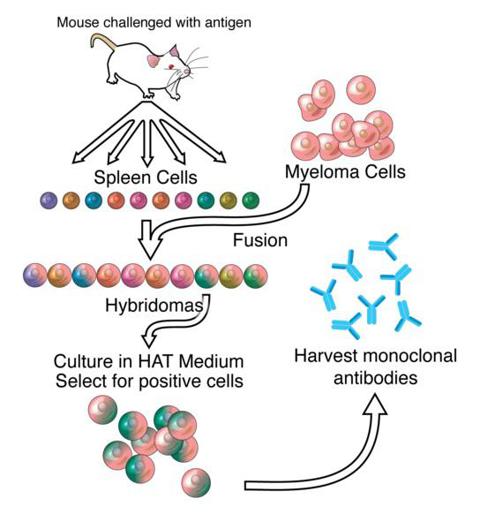 Click to enlarge
Monoclonal antibodies can be manufactured for almost any substance and/or organism as a means to detect, target, and purify or treat, that entity. As a result of ongoing research into monoclonal antibodies as a therapeutic instrument, they have become a highly regarded novelty of treatments currently in development. These developments include treatments being designed for various autoimmune disorders, allergic diseases, and cancer. One such company leading the way in this field is Xencor (NASDAQ:XNCR).
An Introduction to Xencor
Xencor is a California based, clinical stage, biopharmaceutical company, devoted to the design, development, and optimization of superior monoclonal antibody therapies to treat a series of disorders and diseases. The company has designed an antibody engineering platform known as XmAb. This platform enables Xencor to make subtle changes to the structure of monoclonal antibodies. These subtle changes then result in new mechanisms of therapeutic action, and enhanced performance and market differentiation. This platform is best described in Xencor's own words taken directly from their website;
"These small structural changes augment the interactions that antibodies naturally have with the immune system. We have created a set of enhancements that allow us to increase immune inhibitory activity, extend circulating half-life or enhance cytotoxicity while maintaining 99.5% identity in structure and sequence to natural antibodies. We thereby can avoid the product development challenges of many other next-generation biologics because XmAb antibodies retain the natural antibody structure. Our XmAb technology fuels the growth of our internal pipeline and generates revenues through partnering and licensing."
The Xencor Pipeline
Xencor is currently utilizing their proprietary XmAb antibodies to develop multiple treatments for autoimmune and allergic diseases, cancer, and other serious conditions. The XmAb technology has been used to create a growing pipeline of drug candidates, and has led to an array of partnerships with multiple biotech and pharmaceutical companies. This technology has allowed Xencor and their partners to create therapeutic drug candidates that have novel interactions with the human immune and antibody regulation systems. Through the identification of three Fc Domains (the tail end of an antibody that interacts with cell surface receptors) the company has engineered particular amino acid changes to augment a specific naturally-occurring antibody function based on its Fc receptor binding profile. These three domains can be seen directly below;
• Immune Inhibitor Fc Domain - selective immune inhibition and rapid target clearance, targeting the receptor FcγRIIb
• Cytotoxic Fc Domain - increased cytotoxicity, targeting the receptors FcγRIIIa on natural killer cells and FcγRIIa on other immune system cells
• Xtend Fc Domain - extended antibody half-life, targeting the receptor FcRn on endothelial cells
Through these collective technologies and advances, Xencor has developed three leading drug candidates, as well as an impressive roster of pre-clinical and licensing candidates. A graphic of the company's complete pipeline can be seen directly below;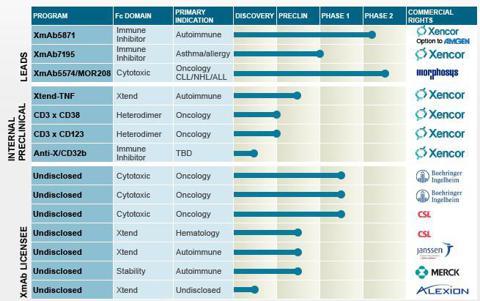 Click to enlarge
As can be seen, Xencor has partnered with various other entities on a variety of their candidates in development. These partners include Amgen (NASDAQ:AMGN), MorphoSys (OTCPK:MPSYF), Merck (NYSE:MRK), Alexion (NASDAQ:ALXN), Janssen Pharmaceuticals (NYSE:JNJ), CSL (OTCPK:CMXHF), and the privately held Boehringer Ingelheim.
An examination of Xencor's three lead candidates indicates significant potential for future impact into considerable markets. The first candidate, XmAb 5871, is a treatment for rheumatoid arthritis. The second candidate, XmAb 7195, is a treatment for allergic asthma and other atopic diseases. The third of the lead candidates, XmAb 5574, is a treatment for B-cell acute lymphoblastic leukemia and non-Hodgkin lymphoma. A more in depth examination of these lead candidates is itemized below;
• XmAb 5871 is currently in a Phase 1b/2a clinical trial for the treatment of moderate-to-severe rheumatoid arthritis. XmAb 5871 is a first-in-class, monoclonal antibody, that targets CD19 and that uses the XmAb immune inhibitory Fc domain to target FcγRIIb, a receptor that inhibits B cell function. XmAb 5871 is the first drug candidate that targets FcγRIIb inhibition. It has demonstrated in multiple animal models, and in initial human clinical trials, that it successfully inhibits B-cell function without destroying these important immune cells.
• XmAb 7195 is a monoclonal antibody in late preclinical development as a potential treatment for allergic asthma and other atopic diseases. XmAb 7195 targets IgE, and uses the XmAb immune inhibitor Fc domain to target FcγRIIb, resulting in three distinct mechanisms of action for reducing IgE levels. First, XmAb 7195 sequesters free IgE and prevents activation of mast cells and basophils; the mediators of allergic inflammation and pathology. Second, it prevents IgE production by suppressing IgE-positive B-cell activation and differentiation into IgE-secreting plasma cells. Third, high FcγRIIb binding causes extremely efficient clearance of the complexes formed between XmAb 7195 and IgE, resulting in rapid and marked reductions of the total IgE in circulation. The only FDA-approved antibody for severe asthma, the anti-IgE omalizumab, does not clear IgE from the circulation or prevent IgE production.
• XmAb 5574 is a monoclonal antibody in Phase 2 development by MorphoSys AG as a treatment for B-cell acute lymphoblastic leukemia and non-Hodgkin lymphoma. XmAb 5574 targets CD19, and uses the cytotoxic XmAb Fc domain technology for superior killing of malignant B cells. The cytotoxic XmAb Fc technology results in improved binding to the human Fc receptors FcγRIIIa and FcγRIIa; thereby enhancing recruitment of natural killer cells, and other effector cells, to attack the tumor. In preclinical studies, XmAb 5574 demonstrated strong, FcγR-dependent, anti-tumor action against multiple human B-cell lymphomas in vitro. It also indicated strong anti-tumor effects in mouse lymphoma models. In addition, it demonstrated favorable half-life and potent B-cell depletion in primate models. Moreover, the completed Phase 1 multiple ascending dose clinical trial, in patients with CLL, demonstrated an acceptable safety profile, and showed encouraging signs of anti-tumor activity.
Xencor as an Investment Vehicle
Due to the fact that Xencor has been trading publicly for less than a month, there is very little metric data that can be used to evaluate the company in a traditional sense. There have been no filed earnings reports, no quarterly reports, and no applicable revenues to report. However, there is certainly a plethora of subjective information that can be considered useful in assessing the tangibility and potential of Xencor as an investment.
First, the company is in possession of exceptional leadership. The President, Founder, and CEO of Xencor is Dr. Bassil Dahiyat. Dr. Dahiyat founded Xencor in 1997 to commercially leverage his work at Caltech on proteins, as well as the development of Protein Design Automation technology. Under Dr. Dahiyat's leadership, Xencor has applied his work to develop their impressive pipeline, and has secured more than 85 million dollars in fundraising to date. Dr. Dahiyat has also been the driving force behind the building of Xencor's impressive intellectual property portfolio. He is an inventor on 60 patents and patent applications, including the aforementioned Protein Design Automation technology being employed at Xencor. Furthermore, Dr. Dahiyat has been recognized as a Technology Pioneer by the World Economic Forum, and was named one of 2003′s Top 100 Young Innovators by MIT's Technology Review magazine for his work on protein design and its development for therapeutic applications. Dr. Dahiyat holds a Ph.D. in chemistry from Caltech, and earned his B.S. and M.S.E. degrees in biomedical engineering from Johns Hopkins University.
Secondly, Xencor's partnerships, as referenced above in The Xencor Pipeline segment of this article, are impressive. They have entered into agreements with highly capable, highly reputable, and world renowned entities capable of fostering and supporting development, marketing, and sales of these drug candidates on a global level. These are facets of commercialization and capitalization that a clinical stage company like Xencor would otherwise not have access to.
Thirdly, the combined holdings of insiders and institutions at Xencor constitute in excess of 40%. This number is significant as it ensures for shareholders that their interests are aligned with those of company executives and institutional investors. This, in combination with a sizeable and stabilizing float, represents considerable protection against downside risk for the average retail investor.
Lastly, the addressable markets for the candidates of Xencor's substantial pipeline are considerable. In the three lead drug candidates alone there exists market capitalization opportunities well in excess of 4 billion dollars. Beyond that, the preclinical and licensing candidates identify primary indicators as being applicable to the oncological, hematological, and autoimmune sectors. Each of those market places offers sizeable, and highly profitable, opportunities moving forward.
Risks
Preclinical biopharmaceutical companies all tend to come with similar baseline risks. The costs associated with the development of drug candidates, from the inaugural moment of discovery, up until the approval of the FDA, are exorbitant. Furthermore, the FDA process, especially for lesser-known therapies and sciences, can be discouragingly long, overwhelmingly bureaucratic, and difficult to navigate. No matter how capable, how well funded, or how promising a company's candidates are, there are certainly no promises that approvals from the FDA are inevitable. Furthermore, Xencor is a small cap company which has only recently gone public. There is still much to be learned, disclosed, and discovered about the potential, practices, and protocols in place at Xencor.
Conclusion
While preclinical biopharmaceutical investments are often highly speculative, Xencor is in possession of several attributes which indicate a promising future. The company's partnerships are significant. Their science is innovative, patented, and empirically supported. Their leadership is encouraging, and their fundraising efforts and licensing agreements indicate relative financial strength. Furthermore, their drug candidates are all being developed for distribution into significant markets. These collective elements all point to noteworthy upside.
Xencor is putting into action both science, and invention, that have been a century in the making. It is due in part to the efforts and technology being utilized at Xencor, that the ambition and foresight of the late Dr. Ehrlich are finally being realized. This science, combined with solid corporate alliances, and progressive technology, make Xencor a worthy consideration for speculative biopharmaceutical investors. At current levels, Xencor deserves consideration as an addition to portfolios built for long term growth.
Disclosure: I have no positions in any stocks mentioned, and no plans to initiate any positions within the next 72 hours. I wrote this article myself, and it expresses my own opinions. I am not receiving compensation for it (other than from Seeking Alpha). I have no business relationship with any company whose stock is mentioned in this article.