Ruby Tuesday (NYSE:RT) is an American based restaurant chain that was founded in 1972. The founder of the company, Sandy Beall, announced he was leaving after 42 years. Ruby Tuesday, Inc. owns, operates and franchises nearly 800 Ruby Tuesday restaurants throughout the United States and in selected international locations. Ruby Tuesday, Inc. also owns, operates and franchises Lime Fresh brand restaurants.
Ruby Tuesday has traded poorly versus the markets as a whole in 2013. While the major market indices had a great 2013, Ruby Tuesday found itself at about a 10% loss for all of 2013 - on the heels of poor operating metrics throughout the year.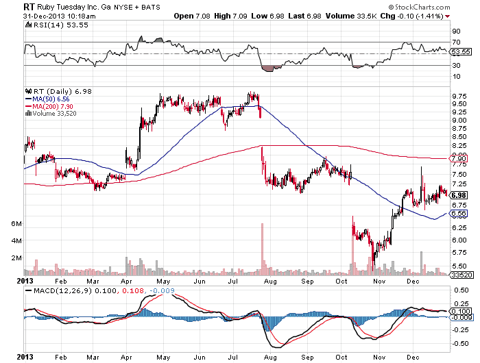 Ruby Tuesday reports earnings on January 8th, after market close. It hasn't been a great 2013 for Ruby Tuesday. The company's major metrics for success - same store sales and revenue, namely - have been in an ugly downward trend. In November, Moody's downgraded the company's debt rating:
Moody's Investors Service on Friday downgraded its rating for Ruby Tuesday Inc., saying the restaurant chain is doing worse than it had expected.

The rating agency lowered the company's corporate family rating one notch deeper into junk grade territory, to "B3." Its rating outlook is negative, suggesting that another downgrade may be in the near future. That could make it more expensive for Ruby Tuesday to borrow money.

Moody's said Ruby Tuesday may find it hard to fix its weak traffic trends given soft consumer spending and lots of promotions and discounts from its rivals.
Additionally, days later, it was reported by the Motley Fool that Ruby's executives - after selling shares - started to hit the road, sans any type of explanation:
Revealed in a filing with the SEC, Senior VP Robert LeBoeuf quit without explanation. This was just two days after chairman of the board Matthew A. Drapkin sold 1.4 million shares and hit the road too. One executive quitting might have an explanation, but two in one week smells like trouble. Just like the 8-K filing notifying the SEC of Drapkin's departure, there was no explanation for LeBoeuf's departure. In fact, it didn't even say if he resigned or if he was fired. It only reported his "departure."

The two resignations occurred less than three weeks after Ruby Tuesday announced terrible financial results. Same-store sales were down 11.4% at company locations. Total sales were down 11.6%. Net loss was $21.5 million or $0.36 a share. Cash was down to $36 million with over half a billion in liabilities.
Then, in December, there came rumors that Ruby Tuesday had looked into its "strategic options" (read: a short-term pump from an institution before they back out and let the company die - see Crocs article for more on this). The news shot Ruby Tuesday stock higher, as traders wanted to frontload the coming potential partnership. Then, Ruby Tuesday came out and denied the news, and the stock gave back all of its gains.
Ruby Tuesday's response to this mess is to come out, reduce spending, and restructure it's menu - again. Remember just years ago RT tried to do the same thing - they wanted to make the company an "upscale" casual dining establishment - somewhere between Applebee's and fine dining. Obviously, that didn't work out well for them and I don't have confidence in this being the change they need.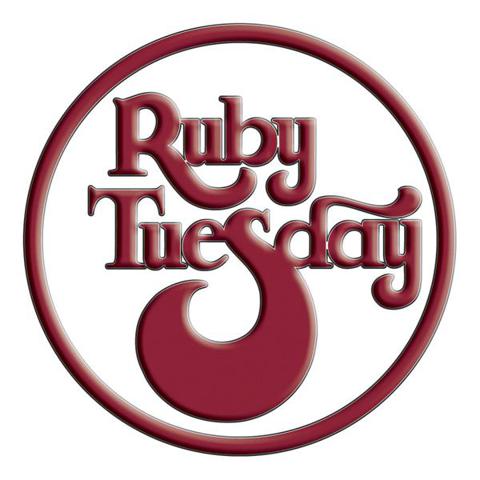 Something about that archaic looking logo just screams 1989. And, while I realize this logo isn't in use today, it's the name association with the logo that conjures up visions to the consumer.
Like so many companies I write about (Crocs, J.C. Penney), I think a lot of the failure is in the name. For me, Ruby Tuesday - as a dining establishment - is synonymous with mediocrity. What the company needs, if it really plans on going the "restructuring" route, is a total overhaul. Name, concept, and menu. That's the kind of change that takes 18 months + to implement, and it's a great reason to stay away from RT heading into its earnings.
I'm expecting another quarter of poor results, as well as somewhat half-hearted plans to get the company "back on track". RT remains an avoid at all costs, or a downright short.
Best of luck to all investors.
Disclosure: I have no positions in any stocks mentioned, and no plans to initiate any positions within the next 72 hours. I wrote this article myself, and it expresses my own opinions. I am not receiving compensation for it (other than from Seeking Alpha). I have no business relationship with any company whose stock is mentioned in this article.