The pharmaceutical industry has constantly provided us with news of gigantic mergers lately. The current sensation is the purchase of Shire (NASDAQ: SHPG) by U.S. drug maker AbbVie (NYSE:ABBV) for $54 billion and establishing its tax HQ in the UK. Shire's board recommended the offer-which comprises £24.44 ($41.78) in cash and 0.8960 AbbVie shares per Shire share. The deal went through finally after AbbVie's four previous offers were rejected as too low.
"I think we are almost there," said Alistair Campbell, an analyst at Berenberg Bank in London. "Due diligence should be done and a deal is going to be done pretty much at this level. It's pretty straightforward from here."
Taxation Break for AbbVie
By leaving US, AbbVie seems to be aiming at getting a tax break in the UK.
Shire is based in Dublin and incorporated on the UK dependency of Jersey, a tax haven. AbbVie, which plans to keep its operational base in North Chicago, Illinois, will push down its effective tax rate to 13% by 2016, from 22% at present, by going through with this merger. Currently, the AbbVie is paying taxes around $1.2 billion at ETR of 22%, which are expected to increase to $2 billion at ETR of 13%, thus saving around $1 billion in taxes.
Lowering their tax rates appears to be the primary reason why U.S. companies, particularly pharmaceutical companies, have been increasingly buying foreign companies by re-establishing themselves abroad. To further strengthen this argument, Mylan Laboratories (NASDAQ: MYL), announced recently that it would buy Abbott Laboratories' (NYSE: ABT) international generic drug business in a $5.3 billion deal that will allow Mylan to reincorporate in the Netherlands. That's not all, Medtronic Inc. (NYSE: MDT), a Minneapolis-based medical-device maker, renounce its American address as part of its planned $42.9 billion takeover of Dublin-based Covidien PLC.
Another Side to It
Though it seems that this fusion was managed for tax reasons, but there is another side to it. "This is a transaction that we believe has an excellent strategic fit, well beyond the tax impact," AbbVie CEO Richard Gonzalez said on a conference call. "We wouldn't be doing it if it was just for the tax impact."
And this might just be true as AbbVie will gain a series of rare disease drugs, including Elaprase for Hunter syndrome (a genetic disorder) and Replagal, to treat Fabry disease. It also gets a pipeline of experimental products, including lifitegrast for dry eye, and Premiplex for blinding eye disorder in infants. Premiplex could generate revenuemore than $1 billion annually when it reaches the market, said Jason Gerberry, an analyst at Leerink Partners.
Talking financially, the price-to-sales ratio of AbbVie is 4.6 compared to 3.9 being the industry average. Hence, it can be convincingly said that price-to-sales would only go upwards when the merger is completed. At the agreed $54 billion price tag, EPS should increase immediately, and the deal is expected to contribute over $1 per share in earnings by 2020, AbbVie said in a statement. That's equivalent to almost 40% of last year's EPS at AbbVie.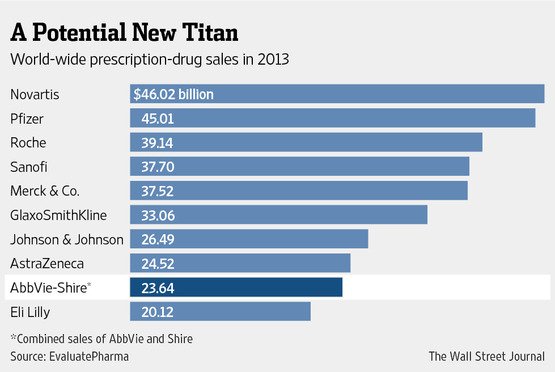 As every coin has two sides, the U.S. government isn't extremely pleased to see such mergers go through. Treasury Secretary Jacob Lew last week pushed Congress to do something about the wave of inversion deals, but there does not appear to be any imminent agreement between Republicans and Democrats on how to do so.
Taking into consideration that there is no peril from the government side, this merger is a win-win situation strategically as well as with respect to taxation.
To conclude, I would recommend HOLD for AbbVie.
Disclosure: The author has no positions in any stocks mentioned, and no plans to initiate any positions within the next 72 hours. The author wrote this article themselves, and it expresses their own opinions. The author is not receiving compensation for it (other than from Seeking Alpha). The author has no business relationship with any company whose stock is mentioned in this article. Stock investing is subject to market risk. Please act at your own discretion.