MOVING THE MARKET
The popularity of cloud-computing has been on the rise for the past few years, and correspondingly, there has been a marked increase in M&A activity recently. For example, this week's deal between Dell (NASDAQ:DELL) and Compellent (NYSE:CML) for nearly $1B, demonstrates the vibrancy of the industry.
Cloud technology uses the internet and remote servers to enable users to access their data and applications from any computer with internet access, thereby removing the need to purchase, update and/or install software on local machines. The growth of cloud-computing has been marked by three phenomena:
Increased M&A activity among big players in the technology industry including Dell, Microsoft (NASDAQ:MSFT), Hewlett Packard (NYSE:HPQ) and Amazon (NASDAQ:AMZN).
Increased use of smartphones, tablets and desktop units that rely on cloud-computing.
The adoption of this technology by corporate end-users, based on its efficiency as well as in response to budget constraints on capital expenditures for in-house hardware and software solutions.
REVERE'S OUTLOOK
While cloud-computing has been relied upon by both corporate users and consumers for a few years, its popularity has dramatically risen recently. In fact, large technology players such as Dell, Google (NASDAQ:GOOG), Microsoft, HP, and IBM have significantly increased their resources, amount of capital invested, and efforts in this sector.
Given these signs of increased competition for positions in this sector as well as the pent-up demand for upgrades to desktop machines due to businesses postponing IT upgrades during the recent recession, we believe competition in the clouds will continue to be significant.
Some big players currently competing in cloud-computing are:
Amazon - EC2 Platform
Microsoft - Windows Azure, Office 365
IBM - Smart Business Cloud
Salesforce.com - Force.com cloud based CRM system
Growth in this sector is further evidenced by the rising percentage of CIOs who said they plan to adopt cloud computing for at least 10 percent of their applications. This year, 70 percent of CIOs state they plan to make the move to cloud-computing, up from 36 percent last year, according to Morgan Stanley's October 2010 CIO survey. A separate study conducted by San Francisco based 451 Market Monitor estimates that the cloud-computing market will grow to $16.7B in revenue by 2010, with a projected compounded annual growth rate of 24% over the next 3 years.
REVERE RESEARCH REVEALS
Given the anticipated growth in the cloud-computing sector, we used the Revere Hierarchy to identify sectors and companies that are most likely to either drive or benefit from this growth. These sectors include:
E-Commerce Service Providers
Hosting Services
Disk Storage Systems
| | 1-Year Returns% | 2-Year Returns% | |
| --- | --- | --- | --- |
| S&P 500 | 9.50% | -3.10% | |
| E-Commerce Service Providers | 46.11% | 102.50% | |
| Hosting Services | 26.08% | 138.70% | |
| Disk Storage Systems | 116.33% | 318.60% | |
E-Commerce Service Providers
These providers are focused on services that facilitate 3-commerce applications, specifically helping consumers and businesses do the following:
Bill Payment/Banking: Companies that provide cloud-based platforms for banks, other financial institutions, utilities, etc. to provide online services to their customers.
Electronic Document Processing: Processing services that allow businesses to use the Internet to submit transaction-related documents such as payroll, taxes and benefits administration.
Internet Merchant Services: Technologies and services that provide hosting and/or payment processing infrastructure for e-commerce storefronts and credit card acceptance, shopping carts, procurement services, etc.
Two focused companies within this sector are showing strength as earnings growth begins to reaccelerate:
EasyLink Services International Corp (NASDAQ:ESIC) with a 110 percent two-year return.
Digital River, Inc. (NASDAQ:DRIV) with a 275 percent two year return. (See below for additional info on DRIV.)
Hosting Services
This sector is comprised of companies that provide services that enable end-users to access application functionality through the Internet and a Web browser. The host generally supplies the hardware, software, technical support and network services, without the initial investment involved in purchasing technology. Companies in this sector include application service providers, data center providers, co-location providers and online meeting providers.
Some top-performing examples of companies in this sector are:
Rackspace Hosting, Inc. (NYSE:RAX) with a 462 percent two-year return.
SAVVIS, Inc. (NASDAQ:SVVS) with a 271 percent two-year return
Terremark Worldwide, Inc. (NASDAQ:TMRK) with a 252 percent two-year return.
Disk Storage Systems
Companies in this sector provide hard disk-based equipment designed to serve the data storage needs of multiple users, usually in a business environment.
Two top-performing companies in this sector are:
EMC Corp (EMC) with a 276 percent two-year return.
Crossroads Systems, Inc. (NASDAQ:CRDS) with a 64 percent two-year return.
Conclusion
Sectors that support cloud-computing are well-positioned for growth over the near to midterm as businesses continue to increase their usage of this technology as a way to stay current with software upgrades and to reduce their IT capital expenditures and administrative costs. In addition, consumers will also drive growth of this technology with their continued rapid adoption of smartphones and tablets, which increasingly rely on cloud-computing for their email and other application services.
The endorsement of cloud-computing by big players in the technology world is adding to the growth of this market as they make both organic investments and acquisitions of smaller, innovative firms. Examples include Dell's announced purchase of Compellent, Microsoft's upcoming launch of Office 365 (Office in the Cloud) along with their Windows Azure platform, HP's acquisition of 3PAR (a leading storage solutions provider in the data center and cloud-computing markets), as well as Amazon's EC2 platform, which is already well on the way to capitalizing on this market.
Companies to Consider for the Long-term: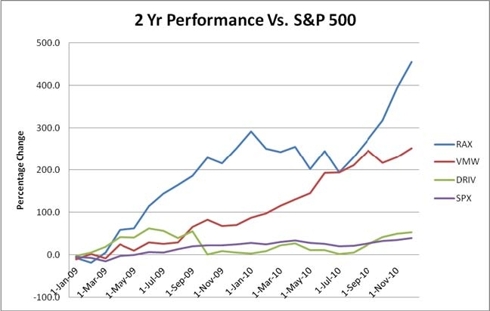 click to enlarge
Rackspace Hosting (RAX)
Asset utilization increased on a consistent basis and revenue per server on an annualized basis has increased over the last four years.
RAX is well poised to capitalize on the continued growth within the cloud-computing market.
Digital River (DRIV)
Benefits from the ongoing rapid growth of 3-commerce with a focus in digital goods (software and games).
Growth is reaccelerating (2007: $349M, 2008 $394M, 2009: $404M) as margins are again improving after last year's major customer loss (Symantec)
VMware (NYSE:VMW)
Third quarter results showed revenues increasing 45.8 percent year over year.
VMware, with its lead on virtualization technology, will be a strong candidate in capitalizing on growth in cloud-computing.
VMware is well hedged against potential revenue disruptions in the U.S. as it generates approximately half of its revenue from its international customers. Its international revenue grew by 44 percent last quarter.
Disclosure: I have no positions in any stocks mentioned, and no plans to initiate any positions within the next 72 hours.