As followers of this series know, ETFs relating to precious metals have appeared often in this weekly ETF pullback strategy (see Appendix below for explanation and performance data) as 2010 came to a close. They weren't there at the very end of the year, but they're back in the first rebalance of 2011. Here's the present list:
This is the list that was in effect as 2010 closed:
Market Vectors Gaming (NYSEARCA:BJK)

iShares MSCI Chile (NYSEARCA:ECH)
First Trust DJ Internet (NYSEARCA:FDN)
PowerShares Dyn Leisure & Ent (NYSEARCA:PEJ)
PowerShares Dynamic Mid Cap Growth

(PWJ)
One thing I know for sure is that my wife won't like the present list. She's bearish on gold and is thinking about buying ProShares Ultra Short Gold (NYSEARCA:GLL). I should mention, though, that she is not a serious investor and is basing her view solely on the notion that gold has to break after having charted so strong a course.
First things first: Should we even be thinking of gold, which is absent from the current list? I think so. When it comes to precious metals, gold is the benchmark. Ignoring it would be like talking about stocks without acknowledging the existence of the S&P 500. Longer term, gold, silver and palladium differ. Gold is mainly seen as a currency substitute while silver and palladium combine elements of currency substitute with much more substantial roles as industrial commodities. For the short term, though (which I focus on since this is a weekly model), I'm OK with allowing sliver and palladium to stand under gold's umbrella. Differences will likely take longer than a week to play out (and may even favor silver and palladium if the economy continues to recover and if industrial demand strenghthens).
Now, let's get back to the view from my household. Despite the absence of an investment resume, my wife's assessment has to be taken seriously. It, multiplied countless times among countless other market players, is ultimately what's at the root of technical analysis. Such sentiments are what give trends their power, or more particularly in this case, what lead to pauses, reversals, corrections, etc.
Let's face it. No trend, no matter how strong it may be, is going to look like it was drawn with a straight-edge ruler. Aesthetically, we see zigs and zags all the time. In terms of money flow, we interpret these as episodes of profit taking that alternate with new money jumping in at perceived buying opportunities and that is exactly what this particular strategy aims to capture. So if I'm a long-term precious metals bull, I'm not at all disturbed by limited pullbacks we've thus far seen, nor would I be by a more conspicuous correction (though I hope to heck if it happens, it waits at least a week).
As to the longer-term view, corrections aside, I'm not ready to jump off the precious-metals ship and I cautioned my wife that if she does play GLL, she should stay alert and avoid settling in for a prolonged ride. The rationale is pretty straightforward.
We in the U.S. have become more willing to print more currency (QE2) and if this doesn't help get the economy moving, the notion of a QE3 will likely come up for serious discussion, especially as a new presidential election nears. (Yes, I know there are now a lot of Tea Party types in Congress, but it should be interesting to see how they act if job creation continues to lag – even Republicans can be unemployed – and as they come to realize they, too, will have to stand for re-election.)
Also, we still have to worry about Europe. The headlines have become less glaring, but the realities haven't. There are still a number of countries with messed-up finances and large number of voters that haven't shown much stomach for fiscal austerity. Pressure to loosen up on currency is likely to grow, and that could be enough for precious metals markets, which can and do react to fear of what may happen rather than restricting themselves to actual facts.
There's also China, which is trying to reign in inflation and economic overheating. Textbook economics suggests this would be bad for gold. But if the textbooks were always right, academicians would be wealthier than investment bankers and baseball players. There's uncertainty as to whether China will succeed in what it's trying to do, as to whether it can tame inflation without busting its economy, and how all this will play out to an increasingly restive population, many of whom never did see the economic miracle translate to better day-to-day living standards. In the precious metals markets, uncertainty equals a bullish investment case.
Internationally, it's been a long time since we've lost sleep over Russia or the former Soviet bloc (the Olympics just haven't been the same since we haven't had to wonder what the East German judges would do). But if you aren't getting a bit antsy over the Putin-Khodorkovsky situation and what it may be telling us about where that nation is heading, then I strongly suggest Googling the topic. And while on Google, you may also want to check up on Dima Rousseff, the new president of Brazil who has the thankless task of succeeding the wildly-popular Lula and trying to keep that economic miracle alive while addressing things Lula managed to finesse (a rotten infrastructure, a spend-happy legislature, massive social needs, etc.) without enjoying Lula's personal mystique. I don't want to jinx the situation, but the track record of those who succeed to super-leaders is not great. And speaking of economic miracles, we still have India, but India still has infrastructure issues, Kashmir and corruption, not to mention a hostile nuclear neighbor with growing internal problems. The prospect of BRIC turning into B-OyVey-R-OyVey-I-OyVey-C-OyVey makes it hard to be too bearish on precious metals. Things may work out. But that's not the point. Precious metals trade on worry and we may get plenty of that.
There are obviously other hot spots - Venezuela, Iran, the Korean peninsula (where it seems like the south may fight the north or make a tender offer), Afghanistan, the rest of the Middle East, etc. - but those don't necessarily make a bullish case for gold. There hasn't been a day in human history when we haven't had some sort of collection of international tensions. The BRIC issues differ because there, we're seeing the potential for problems in areas about which recent attitudes have ranged from bullish to complacent. The element of negative surprise is what may bolster fear and, hence, a case for precious metals.
Figure 1, a screen shot from the FolioInvesting.com account I use to trade the model, shows its real-money performance. I evaluated it in depth last week and explained why I can live with its recent failure to beat the market.

Figure 1
Click to enlarge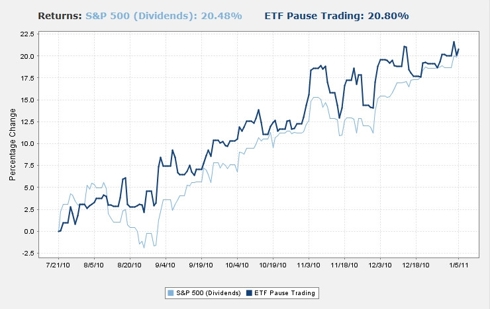 Click to enlarge

APPENDIX
To create this model, I started with a very broad-based ETF screen I created in StockScreen123.com.
Eliminate ETFs for which volume averaged less than 10,000 shares over the past five trading days

Eliminate HOLDRs (I don't want to be bothered with the need to trade in multiples of 100 shares)

Eliminate leveraged and short ETFs (I think of these as hedging tools rather than standard ETF investments of even trading vehicles)
Then I sorted the results and selected the top five ETFs based on the StockScreen123 ETF Rotation - Basic ranking system, which is based on the following factors:
120-day share price percent change - higher is better (15%)

1-Year Sharpe Ratio - higher is better (15%)

5-day share price percent change - lower is better (70%)
The idea of using weakness as a bullish indicator is certainly not new. But often, it's an add-on to other factors that, on the whole, emphasize strength. Here, the weakness factor is dominant, with a 70% weighting.
This model is designed to be re-run every week with the list being refreshed accordingly. I trade through FolioInvesting.com, where I pay a flat annual fee rather than a per-trade commission, so I don't care about the fact that turnover form week to week is often 80%-100%. If you want to follow an approach like this but have to worry about commissions, the strategy tests reasonably well with three ETFs, or even with one. (Cutting the number of ETFs is far preferable to extending the holding period.)
Figure 2 shows the result of a StockScreen123 backtest of the strategy from 3/31/01 through 12/30/10.
Figure 2
Click to enlarge
Figure 3 covers the past five years, a very challenging market environment that witnessed the fizzling of many strategies that had succeeded for a long time.
Figure 3
Click to enlarge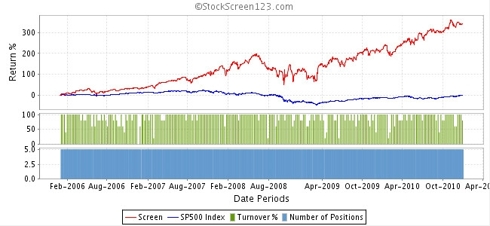 Click to enlarge

Disclosure: I am long DBS, PALL, SIL, SIVR, SLV.