There is a very good reason why it is very difficult (impossible?) to be a long term winner in the markets through the aggressive use of naked calls/puts and margin. Margin offers the market participant the ability to deploy more capital than they have available and offers the allure of larger percentage profits. Naked options offer a similar allure to the market participant by allowing them the potential for large (massive) percentage movements on their invested capital in short time periods. Recently, many traders have been successfully employing both tools in order to "juice" their gains during the recent bull run in the equity markets.
By most accounts these aggressive traders have done very well recently due to the strong uptrend and minimal volatility. However, if it were so easy to make 50%-100% profits in just a few weeks from speculating in equity markets then we would all be rich. Unfortunately, this is not possible and the last two days have provided us with a perfect case study of the pitfalls which result from excessive risk taking.
Momentum favorites such as Agrium (NYSE:AGU), Baidu (NASDAQ:BIDU), Chipotle (NYSE:CMG), Lululemon (NASDAQ:LULU), Mosaic (NYSE:MOS), and Netflix (NASDAQ:NFLX), to name a few, all fell hard in recent days and serve as picture perfect case studies for intra-day margin selling capitulations. Let's go to the charts:
Click to enlarge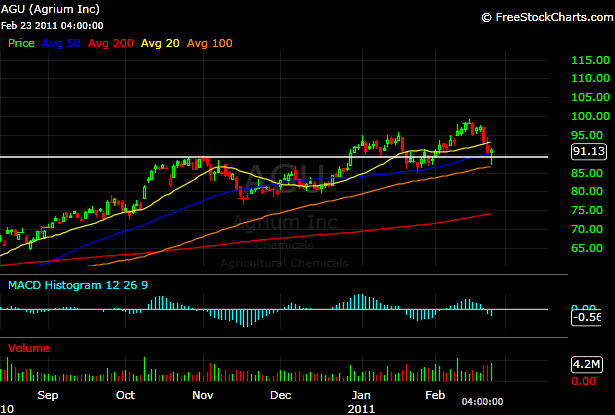 AGU has been my favorite trading vehicle recently. I went short last Wednesday after the shooting star from Monday with confirmation on Tuesday. I covered half on Friday and the remainder on Tuesday. Today I sold March bull put spreads into the lunchtime swoon. The price action in the final hours of today's session was heart warming to me to say the least. The bullish reversal hammer on well above average volume is about as promising as I could have hoped for. The margin selling capitulation stopped just in front of the 100-day moving average (DMA). Expect the $87 to be the line in the sand for the bulls should there be additional sell-offs in the coming weeks. Now take a look at the intraday chart of AGU:
Click to enlarge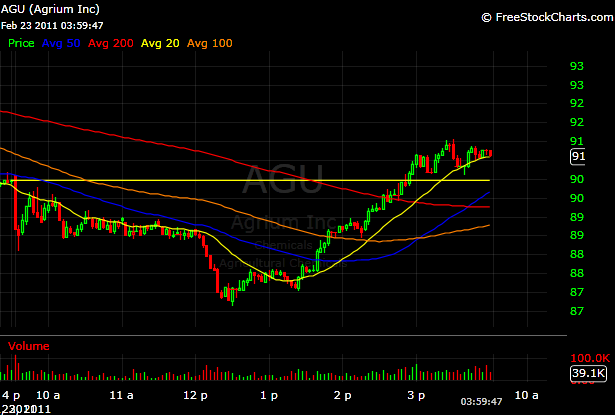 Notice the sharp downturn after the noon hour. Here's MOS (Mosaic-same sector):
Click to enlarge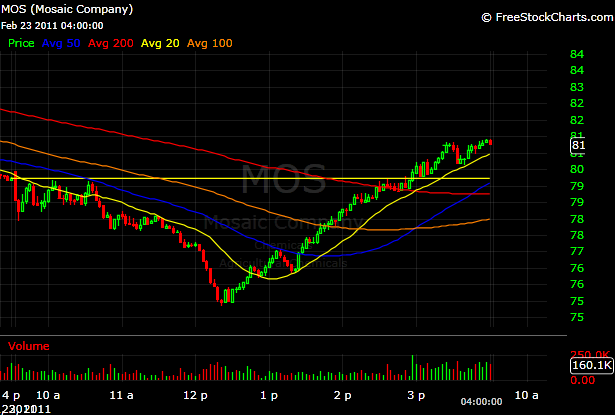 Very similar sharp downtrend after the noon hour, isn't it? This type of price action reeks of capitulation margin selling and it probably isn't a coincidence that this wave of selling hit a number of momentum stocks and stocks in similar sectors (correlated one way bets). Here is the daily chart of MOS:
Click to enlarge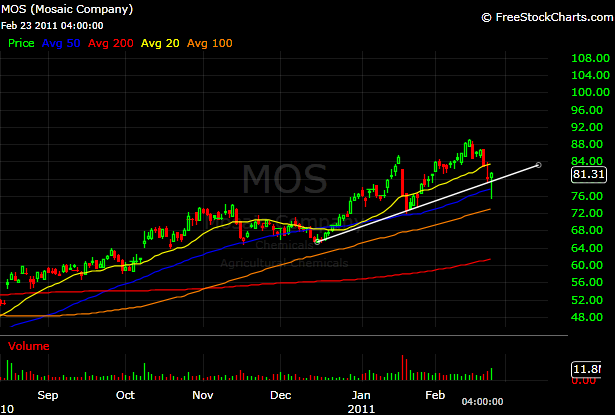 I'm afraid that I'm not much of an artist when it comes to drawing trend lines, but you get the picture. Despite today's intraday washout all the way down to 75.40, the closing level is what really matters and the uptrend is still intact. I also used today's "noon swoon" to sell bull put spreads in MOS. On to momentum player favorite CMG:
Click to enlarge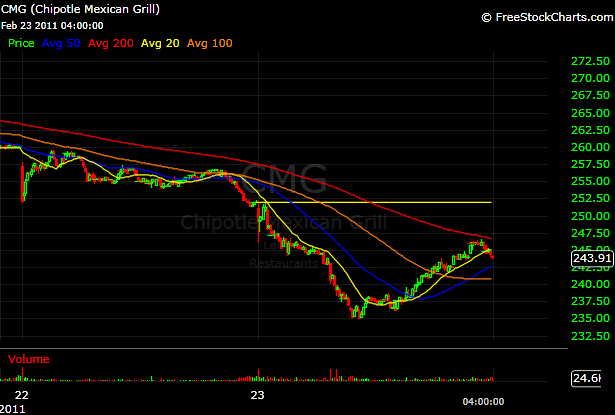 The selling in CMG over the past two days has been nothing short of brutal. This morning the selling started right off the open and the sellers weren't exhausted until mid-lunch hour (the same time the market bottomed). Here is the CMG daily chart:
Click to enlarge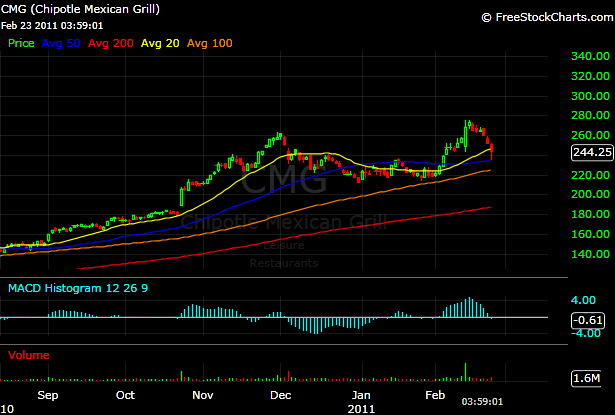 Notice how CMG came close to touching its 50 DMA but held and closed well above the intraday lows, just like many other charts. Finally, here is momentum player MVP - NFLX:
Click to enlarge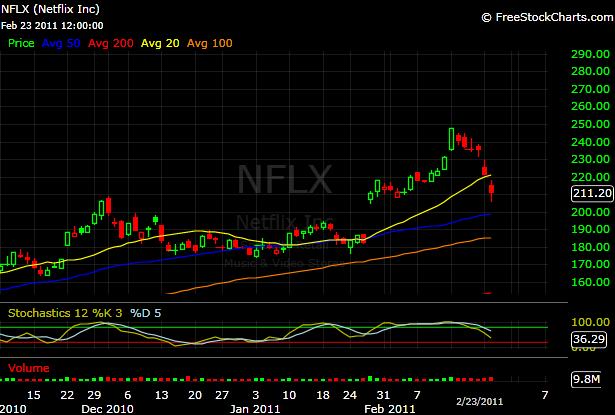 Of all the stocks I have mentioned, NFLX is the only one that I would attempt to sell bull put spreads against and I certainly would not attempt to go long, Yet. NFLX has put in significant technical damange since topping out just 6 short trading sessions ago. It will become an interesting long down around 195-199 (50 DMA at 198.50), and below 195 NFLX will be looking to fill the gap from January down to the low 180s. This chart is an excellent illustration of how the momentum game can go terribly wrong for people who don't get out early in the "pullback." In all honesty, we never know deep the pullbacks will be. Leverage and limiting one's time frame through the use of naked options complicates things exponentially for the trader. Sure, these tools work great on the way up but they lead to account destruction on the way down.
Finally a comment on today's broader market action. The major indexes all held key support levels and closed well off of their lows. I deem today's market action to be constructive overall and we could get a 1-2 day bounce, then perhaps a retest of today's lows (S&P 1300).
Click to enlarge