Investors must focus on different attributes of companies at different times in the market. In normal times, capital adequacy is not at the forefront of bank analysis for most stock investors. Profits and profit growth are more often the focus. However, in these troubled credit market times, solvency measures are or should be the first line of review.
It's not that we expect banks to go out of business, although some might have to be absorbed by others. The concern is that as bank capital withers and risky assets remain the same or grow, the ability of a bank to operate becomes more and more limited. That in turn impacts future profits and can cause some troublesome situations — such as dilutive new equity issues, dividend cuts, selling off of strategic operations, and nasty stock price declines.
We don't think the worst is yet behind us. The fourth quarter will probably be worse than the prior quarters this year. We don't have the statistics on how much more loss reserves will be required, but we do know something about human nature.
CEOs will want to start 2008 with as clean a balance sheet as possible. That means they will probably be quite aggressive in reserving for losses in the fourth quarter. With that in mind, we reviewed the most recent 10-Q filing of the 24 banks in the Keefe Bruyette & Woods large bank index to see what capital adequacy ratios they have.
On the belief that those that were in the best shape as of September 30 will probably be in the best shape as of December 31, and that those in the worst shape will probably remain in the worst shape, we made the following selection of Best and Worst Banks.
The best are: Bank of America (NYSE:BAC), US Bancshares (NYSE:USB) and BB&T (NYSE:BBT). The worst are: Washington Mutual (NYSE:WM), National City (NCC) and Citigroup (NYSE:C).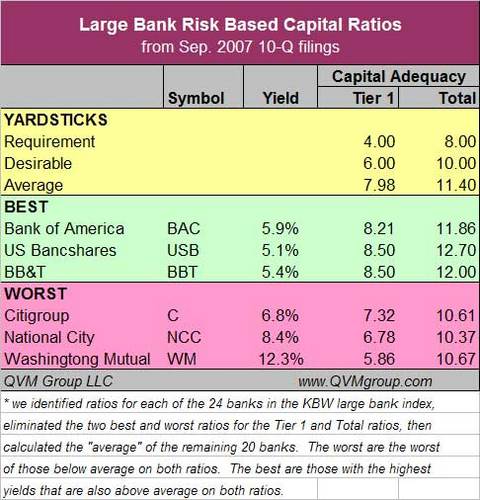 Of course, if some banks have been holding back on reserving, the lineup could change.
We made our choice by recording the two key capital adequacy ratios reported by all the banks (Tier 1 and Total) and identified the three Worst and three Best of the 24 banks from that data, plus yield data. The Worst were identified purely on below average capital adequacy. The Best were those with above average capital adequacy and with the highest dividend yields.
Yield is helpful to pay you while you wait for down and out value stocks to be recognized and revalued by the market.
We recommend selling any of the Worst you own; however we do not recommend buying any of the Best at this time. We think a better time to buy the Best would be sometime after the fourth quarter results. We will make a decision then about whether enough of the damage is behind us to take bank positions.
If you don't want to concern yourself with selection and want diversification, we would recommend the State Street KBW Large Bank index ETF (NYSEARCA:KBE) which has 24 large banks (including the best and worst). That too should be considered for investment after the fourth quarter.
Be patient and banks will present a nice opportunity.