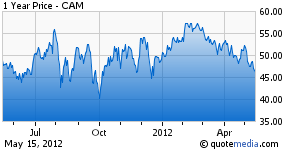 In following a general, generic diversified portfolio playbook, I've found one sector harder to play than all the others: the oil sector. Whether because the price of oil is so volatile and the underlying thesis surprisingly liquid, or due to the great variability in types of investments in the sector, or just a personal squeamishness for the titans in the sector that keeps me from obvious names like Exxon (NYSE:XOM) or Chevron (NYSE:CVX), I haven't wrapped my head around the right stock to pick in the sector. Barring some miraculous breakthrough in green technologies, though, oil isn't going anywhere and remains a big part of the market, and as such a necessary play.
One route for a steadier play in the sector is to consider the slightly derivative play of oil service companies, companies that provide services and supplies to bigger oil companies. These companies still trade on the price in oil, to some degree, but earnings are based on long-term contracts and the more gradual process of drilling and exploring for oil. High oil prices make it more attractive for oil explorers to pursue expensive projects, which in turn leads to order growth for the firms who supply those explorers with parts. Low oil prices naturally dampen these incentives, but while that gets reflected in the stock price, the earnings are more independent of short-term fluctuations.
In this sector, Cameron (NYSE:CAM) is an interesting play. The Houston-based company, an S&P 500 component, is a leading provider of flow equipment products, systems and services, such as drilling systems, valves, turbine meters and compression systems. The company has been expanding its earnings, revenues and growth, while at the same time its stock price has languished in the middle of a year-long range. The discrepancy between stock price and underlying company performance makes it worth looking into the company.
(Source: TD Ameritrade; Chart as of May 14, 2012 close)

The first major positive when considering Cameron is its strong earnings and revenue growth. Impressively, the company maintained solid profitability through the 2008 financial crisis and the steep drop in the price of oil (as well as the Gulf oil spill of 2010, which is more relevant and will be covered below). Over the past two years earnings growth has been 7.5% annually, and Cameron is forecast to ramp up that earnings growth to 24% annually through 2014.
Catalysts for that growth are strong order growth and acquisitions. Cameron's top line on an annual basis has been bumpy but growing, with revenue growth of 11% over the past five years and 18.6% CAGR since 2005, rolling into Q12012. Order growth has been stronger, as the company has seen a CAGR of 21.5% for orders since 2005. The resulting backlog is a company record $6.8B, an encouraging support for near-term revenue growth (for reference, CAM reported revenue just shy of $7B last year).
Cameron has also made two bigger acquisitions in the past year, both of drilling equipment companies. First, Cameron bought LeTourneau Technologies Drilling Systems from Joy Global Inc. (NYSE:JOY) in an all cash deal of $375M. After closing on that, the company bought the energy division of TTS, another drilling equipment business from the Norwegian firm, for $220M cash.
In Cameron's most recent conference call, CEO Jack Moore stated that the newest deal will not likely be accretive to 2012 earnings (unlike LeTourneau) but that, "The real value created is having a drilling technology platform that places Cameron in a position to serve both the onshore and offshore market for years to come, with solutions that improve the safety and efficiency of our customers." Essentially, Cameron has filled out its drilling arsenal, allowing it to meet the needs of its clients whether drilling on land or below the ocean/sea, whether for natural gas or for oil. Combined with Cameron's worldwide sales network - with offices in every major oil producing region, including the Middle East, West Africa, Brazil, the Caspian, Russia and the North Sea, as well as throughout North America - these acquisitions give Cameron the chance to grow its orders even faster.
Despite these all cash transactions, Cameron's balance sheet remains strong. Yesterday, Cameron announced the sale of $500M in bonds, proceeds of which will help it extend the maturity of its debt and pay for the TTS acquisition. Even adding in that $500M directly to the company's current liabilities without any debt retirement would leave Cameron with a 1.9 Current Ratio and a 1.03 Quick Ratio. The company ran a negative operating cash flow for the first quarter of 2012, as well as a negative free cash flow for all of 2011, but the company expects to improve on the former metric, and most of Cameron's peers also ran a negative free cash flow last year, suggesting the cohort is in the heavy investment part of the product cycle.
Valuation metrics are strong for Cameron, if not superlative when compared to its peers.
(Sources: WSJ, TDAmeritrade)
| | | | | | |
| --- | --- | --- | --- | --- | --- |
| As of Q1 2012 | CAM | | | | |
| Market Cap | $12B | $10.7B | $18.3B | $11.3B | $10.1B |
| Quarterly Revenue Growth (Y-over-Y) | 20.40% | 28.55% | 18% | 173% | 26% |
| Linked Quarterly Revenue Growth | -11% | -7% | -0.50% | 4% | -3% |
| Yearly Revenue Growth | 13.40% | 22.70% | 37.60% | 67.80% | 27% |
| EPS Growth (Annual) | 7.50% | 10% | 52% | -25% | 16.50% |
| Estimated Earnings Growth (next 3 years) | 24% | 28% | 15% | 40% | 50% |
| Earnings 2011 | 2.67 | 1.62 | 4.2 | 3.07 | 0.7 |
| Earnings 2012 (Est.) | 3.25 | 2.13 | 3.75 | 5.29 | 1.22 |
| Earnings 2013 (Est.) | 4.38 | 2.69 | 4.65 | 6.82 | 1.69 |
| 2011 P/E | 17.26 | 26.13 | 9.75 | 15.60 | 17.79 |
| 2012 P/E | 14.18 | 19.87 | 10.92 | 9.05 | 10.20 |
| 2013 P/E | 10.52 | 15.74 | 8.81 | 7.02 | 7.37 |
| PEG Ratio | 0.72 | 0.93 | 0.65 | 0.39 | 0.36 |
| Price | 46.08 | 42.33 | 40.96 | 47.9 | 12.45 |
| Dividend (Yield %) | NA | NA | .6 (1.44) | $1.5 (3.11) | NA |
Cameron is fairly valued compared to some of its bigger peers, though those peers face their own headwinds (Weatherford (NYSE:WFT) has a whole wind tunnel full, for example). Still, Cameron's metrics look strong, and considering the low PEG ratio, there is considerable upside in the stock. Valuing it at 14.5x 2013 earnings (more or less what it has been trading at for 2012 earnings) would give the stock a 63.51 price, an increase of 38%. At 16x 2013 earnings, about what FMC Technologies (NYSE:FTI) trades at, the stock would be worth 70/share, an increase of about 52%.
Cameron's major overhang and black mark over the past couple years was its connection with the Deepwater Horizon oil spill. It was a Cameron blowout preventer that failed to stop the blowout. Most reports, including the official U.S. government report, suggested that Cameron had very limited responsibility in the tragedy. Despite that, Cameron did pay out $250M to BP (NYSE:BP) to settle its liability, and insurance covered $170M of that amount.
With that threat absolved and a growing position in a market - servicing oil and gas exploration - that is unlikely to slow down over the next few years, Cameron is an attractive investment. The stock has fallen into a negative channel, sinking well below each of its significant averages. Considering the general drag on oil prices and the macroeconomic environment, the stock price could easily plummet to 40, just above its 52-week low from October 04, 2011, right before the year-end/2012 winter bull market kicked into gear. Bulls might note that the stock recovered to about 57 during that rally, driven in part by strong year-end earnings.
Considering the ongoing discount sale on oil stocks, those looking to get into the sector should prepare their shopping list wisely. Cameron's short-term price movement is scary, but starting a position around 40-42 offers a decent chance of getting in near the ground level for the stock, with lots of room to climb. While a macro collapse or a complete plummet in oil prices would affect the stock, the former seems unlikely and the latter, also unlikely, wouldn't hit Cameron's near-term business as directly as it might seem. If you're filling out the fully diversified stock portfolio and can't figure out oil, Cameron might be a smart play to drill in to.
Disclosure: I have no positions in any stocks mentioned, and no plans to initiate any positions within the next 72 hours.