The best defense is a good offense. This simple phrase has been embraced in various forms by military tacticians, corporate executives and political leaders. Its inherent meaning is that offensive strikes (preemptive or preventative actions meant to gain a strategic advantage) are often the best way to ensure the protection of a nation, company or leadership role.
Contained within the seminal work of military theorist and philosopher Carl von Clausewitz, "On War," is the following statement:
Although the concept of defense is parrying a blow and its characteristic feature is awaiting the blow, "if we are really waging war, we must return the enemy's blows. . . . Thus a defensive campaign can be fought with offensive battles. . . "The defensive form of war is not a simple shield, but a shield made up of well-directed blows."
Corporations are not waging war in the traditional sense, but business strategy has similar characteristics and the same desired outcome: success.
Why the heck am I quoting a military strategist in an article on a REIT, readers might ask. The reasoning is simple: the subject REIT has been taking offensive (preemptive) actions in order to ensure that its business stability, consistency and success (defense or preservation) will continue. It also helps that this REIT is focused on the defense industry and providing space tailored to its needs. (It doesn't hurt, of course, that I am a proponent and believer in the application of military strategy to achieve investing/personal success and interested in military history.)
Corporate Office Properties Trust (NYSE:OFC) (COPT) is an office real estate investment trust that focuses primarily on strategic customer relationships and specialized tenant requirements in the U.S. Government and Defense Information Technology sectors and Data Centers serving such sectors. The Company acquires and develops properties which are typically:
concentrated in large office parks primarily located adjacent to government demand drivers and/or in strong markets that the company believes possess growth opportunities.
technically sophisticated buildings in visually appealing settings that are environmentally sensitive, sustainable and meet unique customer requirements.
Tenants:
COPT's tenants are among the who's who of defense related contractors and other technology focused companies such as Northrop Grumman (NYSE:NOC), Computer Sciences (NYSE:CSC), Wells Fargo (NYSE:WFC), Boeing (NYSE:BA) and Booz Allen Hamilton (NYSE:BAH). Thirty six of the 50 largest Defense Contractors, or 72%, are COPT tenants. COPT's top twenty tenants are: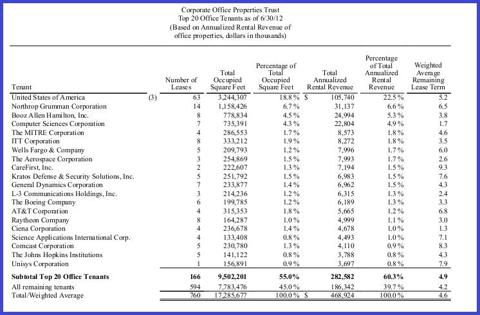 Lease Expiration:
One of the reasons that COPT has been trading at its current valuation, aside from the dividend cut, is the weakness in its focus market. As the defense industry faces budget cuts (of unknown proportion), contractors have been hesitant to move into new space or retenant existing space. The result has been weaker rent rolls and lower occupancy. Once the size of the defense budget cuts are known (later this year, early next year), COPT should begin to produce better results in its leasing activity.

The REIT's lease expiration schedule is a concern as its end markets have been weaker and rents have had to be priced somewhat aggressively. Over 50% of its rents roll within the next five years which, if the defense market is still weak, will negatively affect the REIT's rental revenues, NOI and resultant FFO. While a resolution to the defense budget will help bring clarity to the market and its defense participants, this is a clear and present risk.
Occupancy:
COPT's occupancy has suffered (as have most office REITs) over the last few years due to uncertainty surrounding the economic and business environment as well as uncertainty over defense department cuts.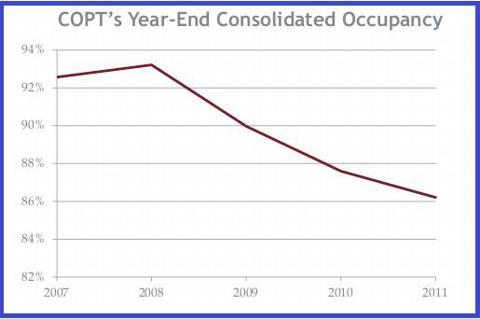 Occupancy should begin to recover as the economy recovers, but more importantly the extent of the defense department cuts become known.
Preemptive Strikes and Their Defensive Nature:
As stated earlier, COPT has been taking offensive (preemptive) actions in order to ensure that its business stability, consistency and success will continue. Among these preemptive strikes are:
A strategic reallocation plan that called for the disposition of $512 million in operating properties and $50 million in land, which is expected to take place between April 2011 and year-end 2013. COPT is divesting assets in locations where it does not have an advantage in order to create a more focused, value added property portfolio.
Cutting the dividend 30% in the beginning of this year to realign the dividend with the smaller portfolio that will result from the strategic dispositions.
Curtailing new construction at all but the company's strategic locations. The company has 7 office properties under construction or redevelopment, representing future capital commitments of only $80 million.
Applying the proceeds from asset sales, savings from lower dividend payout, and increased occupancy levels to improve COPT's financial flexibility (i.e. debt reduction).
The goal of these preemptive strikes is to create a company with greater financial flexibility with a property portfolio that has strategic advantages in its markets. While a dividend cut is painful for a REIT's investors, if it is the result of a strategic initiative designed to ultimately increase shareholder returns over the longer-term, it will be a short lived pain. These actions were prudent given the uncertainty surrounding the defense budget and its impact on defense contractors as well as the soft leasing environment.
Equity Valuation
COPT's equity appears undervalued relative to both the sector and the REIT universe as it trades at 10.9x 2012 consensus P/FFO (63% of the sector multiple), an 18% discount to consensus NAV and a 1.70% yield advantage to its sector.

As the chart below shows, COPT currently trades at a discount to the sector P/FFO multiple, while prior to the credit contraction and its repositioning, it traded at a premium to the sector.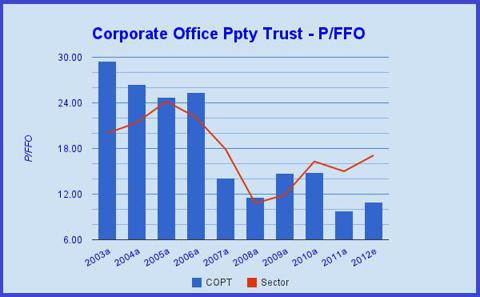 The chart below shows the effect on the price of the preemptive dividend cut. One thing to draw from this is that COPT historically increased its dividend - as I believe it will going forward (from a more sustainable and reasonable level).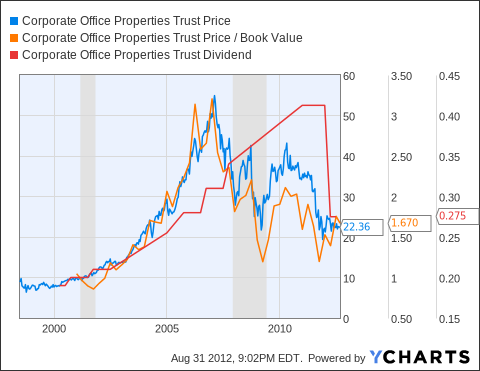 That covers the 5% and undervalued, so let's move on to the 7% near par. As many may have guessed, the 7% comes in the form of a preferred stock. Here are the details: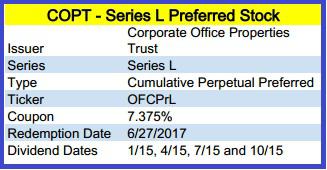 The relative value versus its existing preferred stock and the recently issued preferred stock of Monmouth REIT (NYSE:MNR), Brandywine Realty Trust (NYSE:BDN) and CapLease (NYSE:LSE):

Bottom Line: Corporate Office Properties Trust has seen its market value and relative valuation significantly impacted by preemptive actions and a weaker end market. The company is now better positioned to contend with a weaker end market due to its defensive actions and to benefit when budget cuts are known and the office market recovers. From a valuation standpoint, the company is valued cheap to peers in its sector and has a relatively higher yield. The preferred stock is similarly cheap to recently issued preferred stocks. As a result, Corporate Office Properties Trust warrants investment consideration.
Disclosure: I have no positions in any stocks mentioned, and no plans to initiate any positions within the next 72 hours. I wrote this article myself, and it expresses my own opinions. I am not receiving compensation for it (other than from Seeking Alpha). I have no business relationship with any company whose stock is mentioned in this article.
Additional disclosure: This article is for informational purposes only, it is not a recommendation to buy or sell any security and is strictly the opinion of Rubicon Associates LLC. Every investor is strongly encouraged to do their own research prior to investing.