Crestwood (NYSE:CMLP) is a severely beaten up midstream MLP, whose shares have gotten killed on a combination of lower volumes from dry natural gas fields in the Barnett Shale, an equity offering priced immediately after a reduction to EBITDA guidance, and two large seemingly expensive acquisitions this year that likely have added confusion to the story.
Overall the stock has fallen from over $32 earlier this year to $21.75 today. I view Crestwood as a buy, and expect the stock to rebound to the low to mid 30's within a year as investors digest the company's recent equity offerings and acquisitions, as well as see likely improvements in gas volumes from the Barnett Shale.
Basics:
Unit price: $22.75
Shares: 48.15mm
Equity value ($mm): $1,095
Plus debt, net proforma for Devon acquisition: $564
TEV: $1659
EBITDA guidance 2012: $130
Current distribution annualized: $2.00
Distribution yield: 8.8%
Note: I plan to use the term stock, shares and units interchangeably, as well as dividends and distributions. Understand that for tax purposes, distributions or dividends here are partly taxable as ordinary income, with the balance applied to reducing your cost basis.
Description of Business:
Crestwood owns and operates a variety of midstream natural gas assets including gathering lines and processing plants to treat natural gas after production. Crestwood was formed in 2007, and today generates over 80% of its EBITDA from assets in the Barnett Shale. Private equity group First Reserve holds 40% of the LP units, and to get to the bad news first, captures 49.74% of all distributions over 45 cents per quarter. With distributions now at 50 cents per quarter, common LP holders like me are only entitled to roughly half of future marginal distributions.
The good news is that First Reserve not only holds a huge stake in the LP (40% of LP units), but also has a tremendous incentive to increase per unit distributions via its IDRs (Incentive Distribution Rights) from its GP ownership. They generally are aligned with shareholders in that sense and for those looking for income with some growth attached, this name should be a top pick despite its recent hiccups. Management has a goal of growing distributions by 10% per year.
As far as their business model, Crestwood operates a fixed fee business. Unlike many other MLPs like Atlas Pipeline (NYSE:APL) or Williams' Partners (NYSE:WPZ) for example, Crestwood simply gathers and processes gas for a fee, with no exposure to wet gas NGL prices or exposure to higher gas prices (which can hurt MLP's with Keep-Whole contracts). This greatly reduces the volatility of cash flows and in theory should imply a higher multiple (and lower yield) on its cash flows.
With a fixed fee model, there is no hedging involved, and if oil and natgas prices fall, there should be no impact on their fees. The damage occurs for Crestwood only when volumes fall. And with gas prices skirting decade lows and gas rig activity at also multi year lows, volumes have likely hit bottom.
Volume Trends
In fact, while Crestwood's biggest producer Quicksilver (representing 40% of revenue proforma) increased gas production in the Barnett Shale by 20% in 2011, volumes overall for Crestwood fell in the second quarter 2012 compared to the first quarter. EBITDA was slightly lower in 2Q 2012 compared to 2Q 2011, coming in at $28.5mm compared to $29.8mm the year before, a 4% decline. The Q2 earnings pre-announcement resulted in a huge hit to the stock, taking it from $28.75 to $25.75 within a week before settling below $23 as of this writing.
The biggest reason for the decline in EBITDA was natural declines in volume in the Barnett Shale, a dry gas area. However, management noted that the company actually connected more wells during Q2 than they did in either Q1 2012, or in the June quarter last year. Many existing wells were also shut in to frac these new wells, and also the new wells were connected very late in the quarter. So overall, the impact to volumes looks to be quite temporary.
In fact Bill Manias, the CFO, on their August earnings call said, " Our total gathering volumes from the systems we operated in the second quarter 2012 were 818 million a day, which includes 100% of the related -- volumes related to Crestwood Marcellus. In the third quarter, our total gathering volumes are currently right around 875 million a day." That 875mm is an all time high for the company and excludes any contributions from the Devon acquisition. I'll get to that in a sec.
On the processing side, management also confirmed volumes are currently up despite the weakness in the second quarter. Total processing volumes were 144 million a day in the second quarter, compared to current volumes (as August 6th) of 175mm a day. This all bodes well for Q3.
Acquisitions and Equity Offerings
First Reserve on behalf of Crestwood has been quite aggressive on the acquisition front. This year alone Crestwood has purchased Devon's West Johnson County pipeline system in the Barnett Shale for $87mm, and also purchased Antero Resources' Marcellus Shale gathering systems for $377mm, with another $40mm earnout payment likely to be made next year. To be precise, Crestwood only acquired 35% of the Marcellus Shale midstream assets, while First Reserve bought the other 65%. First Reserve will likely drop down the remaining 65% in 2013 and 2014, adding a nice fairway of growth over the next two years.
By my math, based on volumes reported in H1 and expected volumes next year, they paid 12.3x 2H runrate EBITDA for these assets (although management estimates an 11x 2012 multiple). That sounds high but actually isn't bad considering Antero is growing the field from 61 wells today to 132 wells by year end. A long term contract with Antero also ensures volume commitments escalating from 109,500 mcf this year to 164,250 mcf by 2018. My model suggests that volumes actually will reach 142,000 by next year, with EBITDA of $34mm.
(The math there is 5.4mm of EBITDA in Q2 on 22.4k of gas gathered. With minimum purchase commitment this year of 109.5k, that implies second half gas gathered will be around 70k after gathering 41.6k in the first half). There is a good presentation worth reviewing here.
Assuming a $417mm purchase price (includes all earnout payments), that gets me the 12x multiple, not bad considering some deals are selling at 15-20x multiples today.
The Devon acquisition closed just a couple weeks ago, on August 27th. While it's hard to estimate the multiple here, management did state that the Devon deal alone should imply 5% increase in Distributable Cash Flow. With DCF around $93 this year, that implies roughly $5mm of incremental EBITDA. At a price tag of $87mm, that is a 17.4x multiple, ouch.
However, the Devon processing plant and gathering lines are located adjacent to Crestwood's existing infrastructure in the Barnett Shale. With the company only running approximately 155 mmcf/d through their existing Barnett Shale plants (3 in total), they have excess capacity for up to 150mmcf/day. They intend to take all of Devon's production (95mmcf/d) and move to its own plants, increasing efficiencies there. Shutting down the existing 100mcf/day plant acquired from Devon means worst case they can sell it for 15mm, meaning on a net basis they paid $72 for what probably ends up being $6-8mm in DCF per year. That is a 10x multiple, and far more attractive.
These two deal are important in that Crestwood is diversitying away from its dry gas processing dependence. Given the likely decline in dry gas production next year for Quicksilver, management is smart finding high growth wet gas acreage which continues to see substantial drilling activity.
Guidance
Guidance also confirms that the outlook is improving. 1H EBITDA was 57mm, and with guidance for $125-130 of EBITDA, implies 2H2012 EBITDA of approximately $71mm. Taking the Marcellus assets which are ramping up, and the $5-7mm or so in incremental EBITDA from Devon also supports a runrate EBITDA number of around $145-150 next year.
click to enlarge images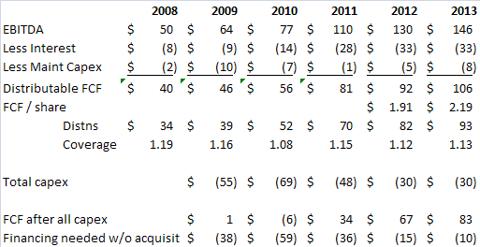 The model above illustrates where the company is on a DCF basis compared to distributions. While management hasn't provided this data directly, it's easy to compute and the only thing I really left off were some minor tax payments under $1mm that seem to crop up every year. The takeaway is that FCF/share pre-growth capex (or DCF per unit rather) should improve to $2.19 next year, even baking in the conversion of the Class C units. That suggests that management can raise the distribution by almost 10% next year, to $2.20. (Though a 4-5% increase to $2.10 seems more likely barring another accretive acquisition).
Class C Units
The class C Units issued to finance the acquisition of Frontier Gas Services in 2011 do not collect any distributions, and are essentially PIK units until April 2013. At that point they convert to full cash pay common units. See the chart in the company's last 10K on page 6.
Crestwood has completed 2 unit offerings since year end, and the Class C's have grown by the amount of the distributions. Much worry has been attributed to this conversion overhang next year, but as management said on the call, just the growth in DCF alone from the Devon deal will cover the additional cash needed to cover their additional distributions next year.
Conclusion
This story seems to have a lot of moving parts for a $1.1BB market cap company. With 2 big acquisitions this year, and 2 sizable equity raises (raising $225mm in total, quite a bit for a $1.1BB company), there is a lot to digest.
Generally though, I view this name as a superior MLP model. They are purely fee and volume based. They have very long term contracts with their producers, up to 20 years. Their producers are solid names like BHP, Quicksilver and Devon, who continue to grow production.
To some extent this is a contrarian play in the space. Oil (and hence NGL) prices are very high right now, natgas prices are very low, so the typical midstream processor (who buys natgas, keeps the NGL's and delivers the dry gas), are having the time of their lives. How can they not be minting money when they are essentially short gas and long NGLs? However, if gas production has bottomed, which seems likely given storage additions (see chart below), then I think this stock likely has also bottomed.
The flat slope of the red line below indicates how production growth has already slowed, and likely means that overall storage levels will soon fall back within the normal gray band. That should be bullish for prices next year and perhaps production too.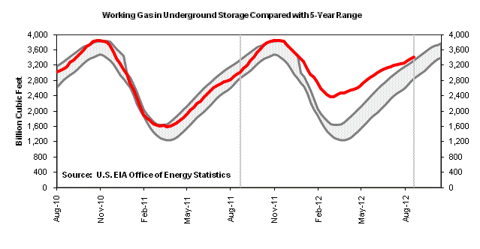 As to the upside, I note that this stock traded at a $23 average price in 2010, or a 7% yield. In 2011, Crestwood traded between $22 and $33 per share, which based on the average price of around $27.50, yielded 6.6%. Today, the stock yields 8.8%, the highest yield since September 2009.
If we assume that it traded back to a 6.5% yield, then that gets us to a $31 valuation, even without assuming they can bump the distribution by 5% next year. That implies 44% upside with dividends over the next 12 months. Taking the lowest yield over the past 2 years, when Crestwood traded at a 5.3% yield, implies that the stock could approach $37.50 per unit, upside of 74% in twelve months including dividends.
As a reminder, I think it's likely we'll see $2.10 distribution per unit in 2013, well within reason given a conservative estimate of $2.19 in DCF per unit for 2013. (And leaving a little cushion for First Reserve's take).
Worst case, gas production continues to fall, and Quicksilver begins to let production decline even more rapidly than expected at its Barnett Shale acreage. Overall I suspect that a 10% yield on this stock is a worst case scenario, which implies $20 a share, or downside of 12%. Factoring in a $2 dividend, that downside case looks like a down 2% case over the course of 12 months.
For the dividend achiever crowd, take note that (unlike say Eagle Rock, a rare name with a higher yield right now than Crestwood), Crestwood's dividends never declined during the 2008-2009 time frame. In fact, they increased from $1.39 in 2008, to $1.52 in 2009. Today's $2.00 level seems likely to continue upward.
Financing
A final note on MLP's and Crestwood. Since so much of the growth of MLP's depends on outside funding for growth capex projects and acquisitions, MLPs tend to perform quite poorly when credit markets seize up. In the case here, however, while I wouldn't discount one more equity offering in 2013 to fund the drop down of the other 65% of its Crestwood Marcellus Midstream JV, it's important to understand that the company has a $500mm revolver (only drawn by $327mm post the Devon deal according to management), and in reality can operate with de minimus capex should credit markets experience another 2008 scenario. E&P MLP's for example must always spend money to replace depleted reserves, meaning maintenance capex requirements are higher for companies like Linn Energy (LINE). Interesting that LINE trades at a 7.3% yield, and Crestwood at 8.8%.
Anyway, debt to EBITDA covenants on Crestwood's bank facility are also loose at 5.0x (even higher if there is an acquisition, it goes to 5.5x). The facility doesn't mature until October 2015, and current leverage is about 4.2x debt/EBITDA proforma for all their acquisitions and equity offerings. Oh, and the senior bonds do not mature until 2019. Plenty of liquidity and capacity even though leverage is a tad higher than management's 4.0x leverage goal.
Disclosure: I am long CMLP, APL. I wrote this article myself, and it expresses my own opinions. I am not receiving compensation for it (other than from Seeking Alpha). I have no business relationship with any company whose stock is mentioned in this article.