Silicon Motion Technology Corporation (NASDAQ:SIMO) is a fabless semiconductor company based in Taiwan. Unfortunately, for much of 2012, SIMO has been a great company but a terrible stock. The stock has lost nearly 30% YTD, despite that fact that revenue and earnings are on track to grow 30% year-over-year. The company trades at an attractive 11.4x earnings (8.4x subtracting cash). More on SIMO's valuation can be found here, but for the rest of this article I will concentrate on how SIMO's new growth products will drive growth as well shareholder value for the rest of 2012 and in 2013.
The company has traditionally focused on designing microcontrollers for solid state storage devices (i.e memory cards, flash memory card, and USB flash drives) used in traditional and low cost smart phones. However, during 2012 the company has quietly built an impressive array of new products (Samsung LTE transceivers and SoC and embedded controllers for major NAND flash vendors). Sales of these products only accounted for 10% of revenue in 2011, but "increased 75% sequentially and accounted for 32% of total revenues" in second quarter of 2012(From Q2 statement). Below are three reasons LTE adoption will fuel impressive growth and make SIMO a potential acquisition target:
1. SIMO a play on LTE adoption?
Although less than 10 percent of current smart phones are LTE-enabled devices, the adoption of LTE-enabled phones is growing at an alarming rate. As illustrated by ComScore, LTE adoption grew tenfold year-over-year. More importantly, the iPhone 5's adoption of LTE is bound to make it an industry standard. In a recent presentation at the Deutsche Bank 2012 Technology Conference Riyadh Lai, SIMO's CFO, predicted that LTE revenue would grow at an outstanding 50% to 75% for the remainder of 2012.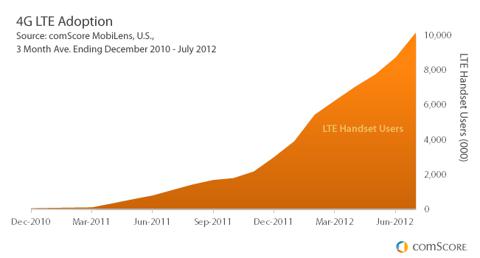 2. Has SIMO accidentally hinted at playing a wider distribution for the upcoming Galaxy S4?
In their Q2 earnings release, SIMO announced that they provided the LTE transceiver for the Samsung Galaxy SIII smartphones to all three Korean wireless carriers. SIMO's LTE transceivers work with Samsung's own 4G LTE baseband chipset. The U.S. version of the Galaxy SIII did not have Samsung's own 4G LTE baseband, but rather had a Qualcomm LTE transceiver and Qualcomm LTE baseband. Interestingly, in that Q2 earnings release SIMO also stated that they also "won [a] new LTE transceiver design-win at Samsung for mass production targeting major US wireless carrier in the first half of 2013." Not much was initially made of this announcement. However, now that Samsung has announced that they are planning an early March release of Galaxy S4, it is likely that this is the design win that SIMO had referenced too. If one puts the two together, this most likely means that Samsung will shift away from Qualcomm to using their own LTE baseband (which includes a SIMO transceiver) in at least one U.S. variant of upcoming Galaxy S4.
3. As Samsung grows its LTE baseband business will it look to acquisitions?
In recent presentation at the Deutsche Bank 2012 Technology Conference, Riyadh Lai, CFO, said:
For our transceiver business, we are not the main actor. We are simply a co-star. The main star in the LTE business is Samsung's LTE baseband. So when Samsung's mobile phone division is choosing, how they want to develop their LTE smartphone, it's the decision-making is whether if they want to choose to use their own internal basebands versus a Qualcomm part….So right now, if they are using a Qualcomm part, it would be Qualcomm providing both their transceiver, as well as baseband. In the case of Samsung using their own internal baseband, LTE baseband, it would be paired up with our transceivers.
He goes on to state that he believes that Samsung is trying to make an aggressive push to grow their LTE baseband to try to capture market share from Qualcomm. As LTE adoption grows and Samsung's LTE baseband gain market share, it would make sense for Samsung to acquire SIMO in a bid to try to internally provide and manufacture both the LTE baseband and its transceiver.
Given its current valuation, SIMO is bound to reward the patient investor as LTE adoption grows.
Disclosure: I am long SIMO. I wrote this article myself, and it expresses my own opinions. I am not receiving compensation for it (other than from Seeking Alpha). I have no business relationship with any company whose stock is mentioned in this article.