Just a couple of days ago we found out that Dan Loeb has taken up a position in Nokia (NYSE:NOK). If that hasn't been a signal to "regular-Joe investors" that Nokia is a strong /BUY then I just don't know what could ever be. This is a sign that times are changing once again, and we are witnessing another interesting cycle in the Tech market. Let's recap what happened earlier this autumn of 2013 (from a commentary I made for my line of work):
According to Bloomberg, Microsoft agreed to buy Nokia Oyj mobile devices business and license related patents for the sum of 5.44 billion Euros (or 7.2 billion US Dollars). According to the media (David Randall for eFinanceHub), EUR 3.79 billion will be paid for the actual handset business, while EUR 1.65 billion will be paid for the licensing of related patents for a 10 year period (with an option to prolong the licensing agreement to perpetuity). The division being sold had generated 50% of Nokia net sales for the year 2012. We also know that 32, 000 people will transfer from Nokia to Microsoft. We also know that Microsoft will license the "HERE" platform on a separate 4-year basis (for an additional fee).
Another important aspect of the deal is that Microsoft agreed to make the first EUR 1.5 billion available via the instrument of convertible bonds (three tranches, each maturing in 5, 6, and 7 years). This is smart structuring of a historic deal at its best - with various financial instruments used in a most effective manner to acquire a "gold mine" of sorts. And the best part about it, Microsoft wins, and Nokia wins - because both companies get to stay with potentially strong directions.
So, I was sitting here in my office today, thinking to myself - what's next for Nokia and Microsoft? In the usual manner, so typical to my "Tech Investments Collision Course," I will break down some of the key implications of the deal for both companies, especially in light of recent developments.
Key things to consider when investing in Nokia ahead of the October 29 2013 Earnings Performance Release:
(1) Nokia retains three distinct businesses in its portfolio of NSN, HERE Maps, and Advanced Technologies, each generating a positive free cash flow; (2) Nokia's D&S business line has shown strong results and continues to deliver strong products on the way out (the newly presented Nokia Lumia 2520 tablet and the Lumia 1520 phone for example)[1]; (3) Nokia's patent portfolio is one of the strongest in the industry (with 10, 000 patent families) and has some key licenses for 2G and 3G technology; (4) Nokia has been willing to invest in the future, and we have seen it with the acquisition of the Siemens's share of NSN; (5) Nokia's Stephen Elop is very likely to be named successor to Steve Balmer; (6) Nokia is expected to break even in Q3 2013 on a revenue of 7.86 billion Euro (an important breakthrough for the company).
According to Schaeffer's Investment Research (October 23 2013, option brief by Beth Gaston), the most active option on that day was the "weekly 10/25 7.50-strike call," which means that traders are betting on the fact that Nokia stocks will continue advancing. Do I agree? In a short answer - yes, Nokia is still a /BUY. I believe that the current situation in the Tech Market coupled with Nokia's restructuring efforts, D&S division sale to Microsoft, the incredibly large patent portfolio and a series of strong contracts and prospects of the NSN division, the stock is heading for at least $8-8.25 per share at the end of 2013. Given how Nokia is building its new strategy, with a concentration on technology and infrastructure, and considering a very prudent approach to its use of available capital (Nokia's investments and sales can be considered very smart), Nokia can be heading to surpass $10 per share by mid-2014. An important factor to remember is that Nokia has not sold off its D&S division-related patents and has only licensed them to Microsoft - something that keeps Nokia a very relevant player in the mobile market. Right now there are some questions to answer: (1) will Nokia reinstate a regular dividend of some sorts; (2) will Nokia decide to redistribute some cash to its shareholders through a buyback or through a special one-time dividend; (3) how fast will the transition of the D&S division to Microsoft be; (4) is Nokia adequately valued? (5) and what will Nokia do on the last day of December 2015 (when it can produce phones once again)?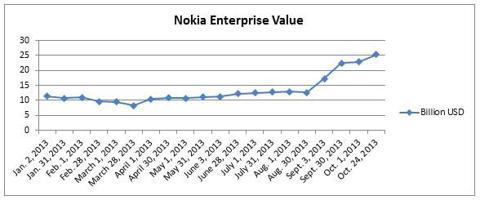 The above chart (source: www.ycharts.com) documents Nokia's Enterprise Value for the year 2013. When looking at the fact that Nokia is current valued at $25.35 billion, one has to take into account that this is with the inclusion of debt and equity, thus providing us with a theoretical takeover price. This is a strong foundation to stage the legendary come-back that all Nokia-optimists are expecting. And if Nokia can live up to the rumors in relation to the future development of its NSN division and launch a strategic partnership with Alcatel-Lucent (through a partial acquisition or some other joint-action) then we can expect to see a challenge to Ericsson, the industry leader.
Overall, many critics and investors have been reluctant to believe in a possibly successful outcome for the strategic partnership between Microsoft and Nokia. So far, the moves by both companies have been quite prudent and logical. It was no surprise that this is how everything happened. It is important to understand that from now on, Nokia will be a healthy highly-specialized company with technologies and licenses that it can leverage to its own benefit in almost any market across the globe. Right now, Nokia is still a strong fundamental investment and a /BUY until it reaches $8-8.25 per share this year. If Nokia can be prudent with the cash that it makes and stay focused on its three divisions, then we can see some incredible growth prospects. As an investor, I strongly believe in Nokia.
---
[1] In the first quarter of 2013, Nokia shipped 5.6 million Lumia Windows Phones, in the second quarter of 2013, Nokia shipped 7.4 million Lumia Windows Phones, and according to WSJ - in the third quarter, Nokia sold over 8 million Lumia Windows Phones.
Disclosure: I am long NOK.