Over the past week a firestorm erupted over an article claiming REIT dividends were an optical illusion. Several other articles (I,II) controverted that author's claims, and correctly so in my opinion. While I don't think the REIT dividend "mirage" needs to be confronted any further, I feel a discussion of the true risks one faces when investing in the REIT space is appropriate.
Assessing General REIT Risk
In a recent article, I tried to show that risk is in the eye of the beholder when it comes to income producing investment vehicles. Depending upon tolerance, goals, and economic perception, one might find one asset class or another more comfortable or purposeful to achieve targeted cash flow. So if you are trying to determine if it is "safer" to invest in a REIT compared to another income vehicle, it may require just as much self introspection as sector circumspection.
In general, if you are looking for an income-concentrated equity vehicle, REITs are a good choice because they are required to pay out virtually every cent of taxable income to shareholders. For the same reason, REITs might also be considered a dependable income investment, since payout is predicated mostly on absolute corporate performance and not determined arbitrarily by management. On the other hand, since REITs retain very little operational cash, they are dependent on capital and credit markets for expansion purposes. This makes them highly sensitive to abrupt movements in interest rates and general gyrations in financial markets.
During the '08/'09 financial crisis as access to capital dried up, REITs were hit harder than most asset classes. Stock prices traded significantly lower, some crashing, as dividends were cut, and investors pondered the ultimate fallout. Since then, the REIT space has posted a dramatic recovery, however any risk-aware investor should keep this episode in the back of his or her mind.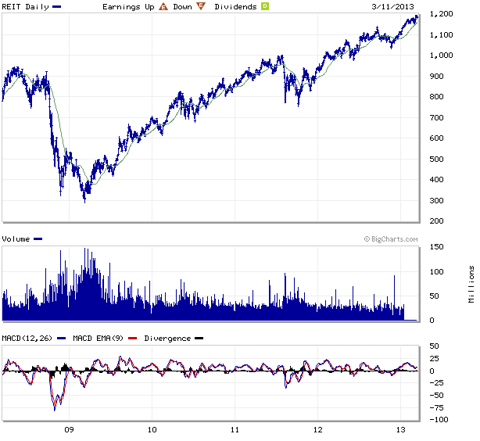 Click to enlarge
Operational Risk
So why exactly did REITs get hit so badly in '08/'09? For one, real estate, in general, was being perceived as being in a price bubble. Second, REIT dependence on credit markets, debt refinancing, and growth capital exposed them heavily to the liquidity problems banks were having as the mortgage mess unraveled. As the crisis deepened, and with debt maturations looming for many REITs, investors piled out of the group due to the perceived danger. That selloff turned out, in hindsight, to be the buying opportunity of a lifetime for those brave enough to step in.
As a REIT investor, you put your trust in management to make the best capital allocation and real estate portfolio decisions on your behalf. For example, if apartment owner Essex Property (NYSE:ESS) does a stock offering, and dilutes your ownership stake in the company, hopefully future apartment building investments they make with that capital will build shareholder value. If Simon Property (NYSE:SPG) takes on additional debt to finance the building of a shopping mall, your hope is that over the long-term the near-term costs of the financing is far below the new mall's contribution to cash flow following project build-out.
Unlike a traditional dividend stock, which can utilize a portion of ongoing cash flow to fund expansion, REITs have no such luxury. This is why the capital structure is so critical. There needs to be a careful balance of attention to current operations, expansion, leverage, and shareholder value. REITs benefit in the current rate environment as they are able to borrow and refinance at low cost, reinvest, and achieve juicy operating results for investors. If rates were to reverse course, the environment would become more challenging as borrowing costs rise.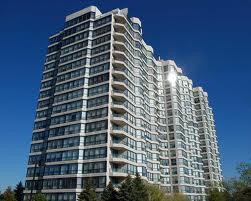 REITs that expand too quickly with equity issuance, that over leverage themselves, and/or make bad portfolio decisions will likely disappoint investors with low total return, even in low rate environments. On the other hand, REITs that can achieve near 100% occupancy, that make savvy portfolio acquisition and disposition decisions, and maintain an optimal low-cost leverage situation will reward shareholders the most, even in a rising rate scenario.
So while macroeconomic winds can blow in the face or behind REIT operations, risks are variable from company to company, dependent on the type of property owned and ability to profitably fill and/or operate those properties, the region of the country operations are conducted, and by how efficiently the company's capital is acquired and allocated by management, amongst other variables.
Valuation
Just like other equities, REITs are valued by the securities markets via a variety of metrics. The gold standard of operational effectiveness is Funds From Operations (FFO). Further evaluation focus may be on a REIT's Net Asset Value (NAV), occupancy, net operating income (NOI), and return on invested income (ROIC).
While Price/FFO or FFO growth may be a good baseline on which to judge investment value, I would not make a decision purely on FFO, dividend yield, primary business line, geographic focus or any other metric alone. If business is brisk and predictable, it may make sense to pay a FFO premium to own a REIT. By the same token it might not be worthwhile to buy a "cheap" REIT if business is too much in the tank. With over 150 publicly traded REITs to choose from, there is no shortage of options.
The Forward Risk Outlook
With rates continuing to remain low and steady, operating prospects continue to remain attractive for the group in my view. However, investors should be cautious on overpaying for assets and performance. My outlook on specific names remains mostly unchanged from my beginning of the year review. I have made a few portfolio adjustments, selling triple net Realty Income (NYSE:O) that I inherited from ownership in ARCT and rotating those proceeds into American Realty Capital Properties (ARCP). I also sold Senior Housing (NYSE:SNH) out of general discomfort with management and bought Mack-Cali (NYSE:CLI). Finally, I initiated a position in EPR Properties (NYSE:EPR).
I still feel investors should avoid allocating investment capital to larger cap, high P/FFO "garden variety" REITs, and instead pursue under the radar, lower profile, perhaps even out of favor names like Mack-Cali, possessing low FFOs and higher yields. While there are real risks associated with REITs, with a little bit of due diligence, I think investors can still navigate this sector to some attractive total return.
Disclosure: I am long ARCP, CLI, EPR. I wrote this article myself, and it expresses my own opinions. I am not receiving compensation for it (other than from Seeking Alpha). I have no business relationship with any company whose stock is mentioned in this article.
Additional disclosure: Disclaimer: The above should not be considered or construed as individualized or specific investment advice. Do your own research and consult a professional, if necessary, before making investment decisions.