The Federal Reserve's FOMC believes the economy's rate of expansion is improving. It is not that the economy MAY be expanding at a faster rate - but the evidence is mixed to negative at this point. As usual, my view is using the unadjusted data whilst most only read the headlines.
The defect in my approach is that the unadjusted data is usually much more noisy (big month-over-month variation) which takes at least 3 months to confirm a trend. The talking heads, on the other hand - rely on an adjusting methodology which continues to overstate the month-over-month gains.
Retail sales is the major dividing factor in the view whether the economy is improving. The economy is approximately 2/3 driven by the consumer, and retail sales is a good proxy for consumer spending. The blue line in the chart below shows the headline number which indicates a gradually improving sector in the last 9 months following a decline from early 2011. The red line is growth using the unadjusted data set which shows a declining growth rate continuing for the last 12 months following a spike in early 2012.
Comparison of the Year-over-Year Census Seasonally Adjusted Retail Sales (blue line) and Econintersect's Unadjusted Retail Sales (red line)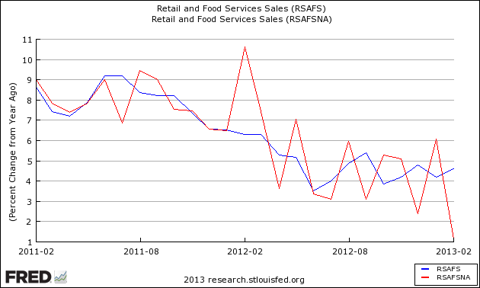 Click to enlarge
Neither line in the above retail sales growth chart is inflation adjusted - and with inflation running around 2%, one's perspective of retail sales is degraded. It is inflation adjusted sales which are used in determining GDP.
Comparison of Real Year-over-Year Growth between FRED's Real Retail Sales (green line) and Econintersect's Inflation Adjusted Retail Sales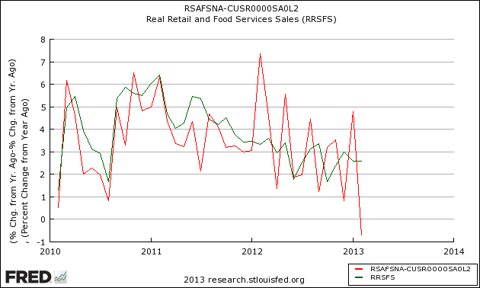 Click to enlarge
A note on FRED's Real Retail Sales - it adjusts for inflation the already seasonally adjusted data.
The manufacturing portion of Industrial Production is not confirming a strengthening of the economy. The manufacturing portion of industrial production has a high correlation to economic activity.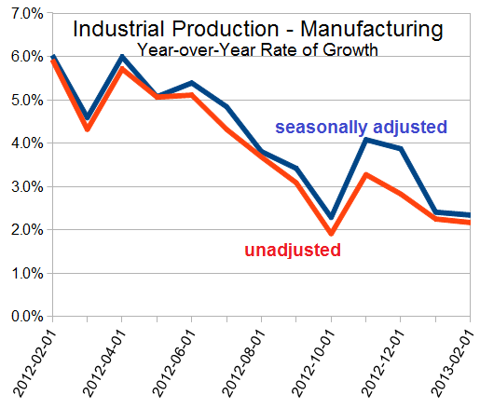 Click to enlargeEmployment is a lagging indicator, and I continue to hear how the labor market is improving. This is an interesting opinion since the rate of growth continues to degrade. Note that the graph below uses seasonally adjusted data.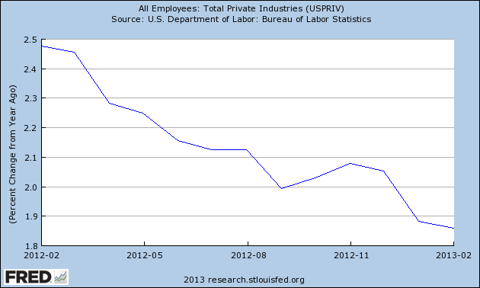 Click to enlarge
Others see recent improving growth in Residential Construction. This sector is growing relatively strongly in comparison to the other sectors of the economy - but the rate of growth is not improving.
Unadjusted Year-over-Year Change New Homes -Permits (blue line) and Construction Completions (red line)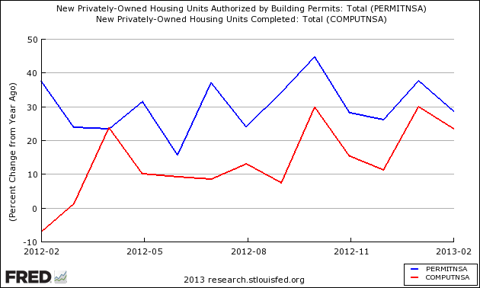 Click to enlarge
There are indicative elements of the economy which are showing improving growth rates - but these elements historically need confirmation by other elements (which have not yet occurred).
The bottom line is there is little basis to start celebrating that the economy is improving.
My weekly economic review is in my instablog.
Disclosure: I have no positions in any stocks mentioned, and no plans to initiate any positions within the next 72 hours. I wrote this article myself, and it expresses my own opinions. I am not receiving compensation for it. I have no business relationship with any company whose stock is mentioned in this article.