A storage crisis is brewing in the natural gas market and it could lead to the kind of spike in natural gas prices that is detailed in the article Cold Winter Could Lead To Massive Natural Gas Futures Price Spike. Natural gas futures have been trading in the $4 to $4.50 range for most of January. This price range is based on end of season storage projections in the 1.1 trillion cubic feet [Tcf] to 1.5 Tcf range. While that range will be the lowest in 5 years, it will not be low enough to place serious pressure on meeting the nations heating needs from natural gas this winter. Yet even the low end of that storage range requires a warmer than normal combined February and March.
The latest weekly EIA natural gas storage report for the week ending January 10 shows natural gas storage at 2,530 Bcf, which is 443 Bcf below the five year average. More importantly natural gas storage is now below the normal range over the last 5 years. According to the EIA, it is 181 Bcf below the five year minimum storage level of 2,711 Bcf for January 10.
This past week saw mild temperatures across most of the country and the next weekly storage report for January 17 will probably see a smaller than normal withdrawal from storage of around 100 Bcf. This upcoming week AccuWeather is predicting a return of the Polar Vortex leading to lower than normal temperatures over the next 2 weeks.
According to AccuWeather "during the third and fourth weeks of January, some changes will take place. The high amplitude pattern is forecast to get more extreme. The polar vortex will move farther south and get stronger. The pattern will gradually change the current mixture of Pacific and Arctic air in the Canada Prairies and the North Central U.S. to all Arctic air. The air will get significantly colder over the Canada Prairies and the much of the eastern half of the nation as a result."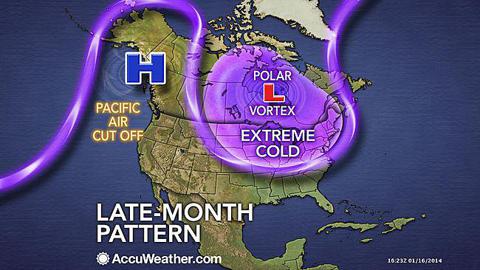 Should AccuWeather's forecast for the next couple of weeks come true natural gas weekly storage withdrawals could be over 200 Bcf for each of the last two weeks of January. On January 10 natural gas storage was 2,530 Bcf. If the last three weeks of January produce reports withdrawing approximately 100 Bcf, over 200 Bcf, and over 200 Bcf, then natural gas storage should end January a little above or a little below 2 Tcf.
The EIA's weekly storage report also shows that in 2013 between February 1 and April 4 natural gas storage fell from 2,701 Bcf to 1,675 Bcf, a decline of over 1 Tcf. A similar decline this year from a starting point of around 2 Tcf at the end of January would cause natural gas storage to potentially fall under 1 trillion cubic feet. Many people remember last winter March turned out to be much colder than it has been in recent years. So how likely is it to be cold enough to once again withdraw over 1 trillion cubic feet from storage after January 31? Turns out close to 50/50.
According to the NOAA, last year February was .86 degrees Fahrenheit warmer than normal and ranked as the 49th warmest February over the last 119 years. But here is where it gets interesting. That cold March last year was only .88 degrees Fahrenheit colder than normal and ranked as the 43rd coldest March out the last 119 years. Our memories compare last March to the previous four Marches which the NOAA shows were all warmer to much warmer than normal. Last year February and March combined averaged only .01 degrees Fahrenheit colder than normal.
While end of season natural gas storage under 1 Tcf should be staring natural gas analysts and traders in the face, for some reason as of yet they don't seem to see it. This creates a speculative opportunity for investors if February and March turn out to be colder than normal, or maybe even just normal.
The most direct way to participate would be to buy the natural gas futures front month ETF the United States Natural Gas Fund (NYSEARCA:UNG). A sharp upward spike in natural gas futures could also ignite a rally in natural gas exploration and production companies like Chesapeake Energy (NYSE:CHK), Ultra Petroleum (UPL), Range Resources (NYSE:RRC), Cabot Oil & Gas (NYSE:COG), or Contango (NYSEMKT:MCF). Each of these companies have different profiles and investors should do their own due diligence to see which ones might best participate in a rally ignited by a spike in natural gas futures.
Based on where natural gas storage and the 10 day weather forecasts are right now normal weather for February and March could cause natural gas storage to end the season under 1 trillion cubic feet. A colder than normal February and March could create a storage crisis. Predicting the weather more than 10 days in advance is difficult and no model or forecaster is consistently accurate in predicting the weather one to two months in advance. Put another way, no one knows if the temperatures in February and March will be colder, warmer, or normal. But if the temperatures are colder, then a significant natural gas storage crisis could unfold before winter is over.
Disclosure: I have no positions in any stocks mentioned, and no plans to initiate any positions within the next 72 hours. I wrote this article myself, and it expresses my own opinions. I am not receiving compensation for it (other than from Seeking Alpha). I have no business relationship with any company whose stock is mentioned in this article.