Leading senior housing REIT Ventas Inc. (NYSE:VTR) recently gave its fourth quarter and full-year results, then provided us with some full-year guidance for 2016.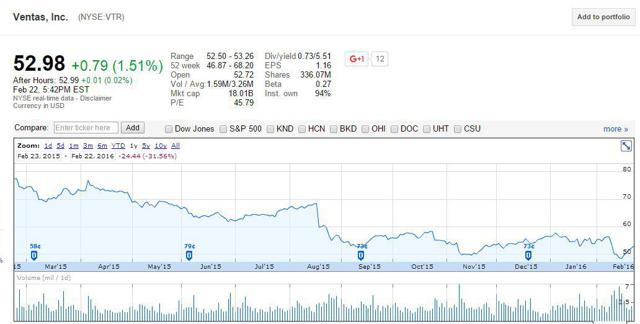 Click to enlarge
Courtesy of Google Finance.
As a stock, Ventas has been down on its luck through the latter half of 2015, mostly due to fears of looming oversupply in the senior housing market. In addition to that, competition to finance senior living properties is heating up because investment money is flooding into this market. As both a leading developer and investor, Ventas has made a point to communicate that most of its developments have name-brand operators in metropolitan areas with building opportunities, and that the company should therefore remain above the fray.
Looking at Ventas' results and forward guidance, I believe that Ventas' acquisition activity, and subsequent outsized FFO growth, is going to slow down for a while. This article looks at Ventas' results, its guidance, and of course, the company's valuation.
Full-year results
The year 2016 was a busy one for Ventas. Ventas spun off its skilled nursing facilities and acquired the real estate of Ardent Inc., a hospital system operator from Nashville, TN, for $1.3 billion. Altogether, Ventas made $5.2 billion in accretive acquisitions over the year 2015, and sold 65 properties for about $700 million. A low-cost of both equity and capital, coupled with high capitalization rates, have fueled the company's acquisitions in 2015. I highly doubt that trend will continue through this year. More on that later.
Despite the fear of looming headwinds, this was a strong year for Ventas. The company did well across the board. Normalized FFO per share grew 7% and finished a penny above high-end guidance. Not counting the spinoff, Ventas grew per share FFO by an impressive 9%.
Same-store net operating income increased 3.8% on the year. This was fueled by high demand for senior housing real estate. Of that, senior housing properties operated by Ventas saw same-store NOI grow by 2.2%. Properties operated by others under a triple-net lease had same-store NOI grow by an impressive 5.8%.
Will Ventas be able to maintain this level of growth in 2016? I doubt it. In the fourth quarter, for example, Ventas acquired only $93 million in properties, which is minuscule compared to activity over the rest of last year. Management also seems to be pulling in its horns. CEO Debra Cafaro said that investment activity would be "selective," and that the company would focus on hospitals and redevelopment opportunities. I suspect that growth will be more driven by same-store NOI, and I do believe that same-store NOI will grow for Ventas this year.
Management has set growth projections down to 3-5% per share FFO growth, with same-store NOI growth of 1.5%-3%. That's a lot less than growth in 2015, but investors should first realize that Ventas is taking a breather from an acquisition market which is getting more and more competitive.
This also means we need not worry too much about debt. Although Ventas is levered highly at 6 times EBITDA, Ventas' debt rating is well into investment grade, and Moody's outlook for the company is stable. Lower capital needs should ensure that Ventas retains its high rating when continuing to access the investment grade debt market. That's a good thing.
Is Ventas a buy?
Ventas may be cooling off for the near future, but its growth story is definitely intact. As the American population steadily ages, demand for hospitals and senior living communities will only grow, and Ventas is in the pole position with name-brand tenants in areas with limited space for new buildings.
As of today, Ventas offers a yield of 5.5%. Last year, Ventas raised its dividend 9%, and this year I believe the company will raise its dividend again by mid-to-high single-digits, based on 2015 results. Ventas is an undervalued dividend growth name. According to data from FAST Graphs, Ventas has, over the last ten years, averaged a valuation of 15.7 times FFO, but right now Ventas trades at just 12.9 times expected 2016 earnings, putting shares at an 18% discount to where I believe Ventas should be. I think the company's latest results should be a sign that Ventas will grow despite a slowdown in acquisition activity.
Disclosure: I am/we are long VTR.
I wrote this article myself, and it expresses my own opinions. I am not receiving compensation for it (other than from Seeking Alpha). I have no business relationship with any company whose stock is mentioned in this article.