Most investors in Citigroup (NYSE:C) are attracted to its perceived cheap valuation (discount on book) and capital return narrative. It is widely seen as the "cheapest" large U.S. bank on the street - at times, punished by Mr. Market for its EM exposure (certainly EM is not currently the flavor of the month!).
I happen to think there is another HUGE reason to hold the stock, namely; Citi's Institutional Client Group (NYSE:ICG).
A 50,000 foot view
Consider the below slide describing Citi's allocation of capital and returns: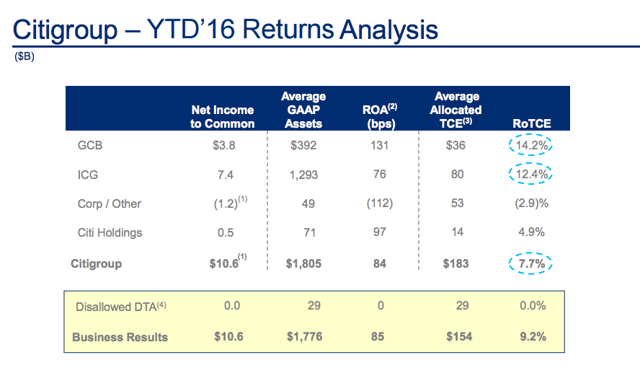 Click to enlarge
As can be seen from above, ICG is allocated $80 billion of capital which is more than double the allocation to the consumer businesses ($36 billion). So clearly, the performance of ICG, in terms of RoTCE, will move the dial significantly.
Why do I like ICG?
There are multiple reasons & I will mention just a few:
It is a CCAR-efficient business. In fact, it subsidizes the consumer bank from a binding capital constraint perspective. In other words, returns, while at times volatile due to trading income components, are very good on a (CCAR) risk-adjusted basis.
The barriers of entry (capital, know-how, regulatory, people, systems etc) are extremely high for new entrants and smaller scale incumbents and the competitive dynamics are highly favourable to the large U.S. universal banks
The positive operating leverage is huge and the marginal returns on the business are very high. It is to a large extent, a fixed cost-base business.
Interest rates sensitivity to higher rates due to large operating corporate deposits and expected uptick in trading income (e.g. hedging by corporates and portfolio repositioning by institutional investors)
So for me, there is much to like about Citi's ICG and its prospects and intend to cover it fully in subsequent articles.
But in the mean time, I would like to solely focus on M&A advisory.
Citi is gaining share in M&A advisory
In a recent memo to staff, Ray McGuire (Global Head of Coroprate and Investment Bank) congratulated staff on recent performance and noted the followings:
In total, we announced more than $140B worth of transactions over the last 7 days, our 2nd best week ever. While this was a great week our momentum has been on the rise for a few months now. Since August 1, we are the #3 global M&A advisor with a 26% volume share.
McGuire further noted that Citi's pipeline is at all time high as well which bodes well for the next few quarters and beyond.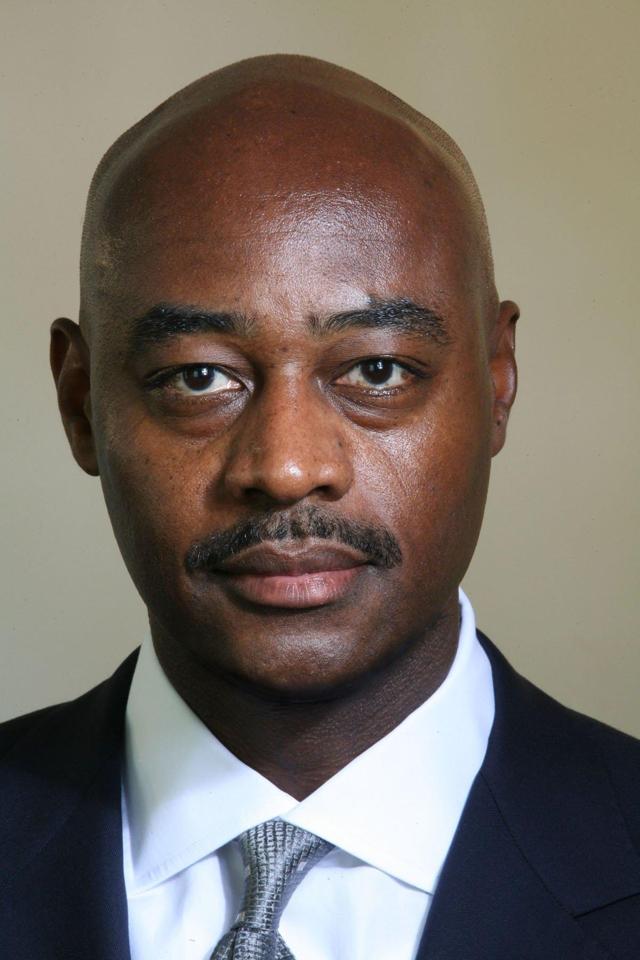 Click to enlarge
Why is M&A so important for the large banks?
On a stand-alone basis, the revenue from M&A for Citi is only several hundred million a quarter - on the face of it, not a huge amount. However, the franchise value derived from M&A advisory is much greater.
Firstly, the cross-sell arising from M&A engagements is typically material and incremental to returns. Typically, starting with a bridge loan to finance an acquisition followed by loan syndication, IPO or bond issuances take-out. Typically, the bank providing the advice, gets the front seat on the financing side as well (incorporating additional income streams such as interest-rates, FX or commodity hedging).
Secondly, M&A discussions are generally undertaken at the CEO and CFO levels (as opposed to Treasurer where most operating banking relationships end up). This means the bank gets high-quality and strategic access to the top leadership of their clients. If done correctly, this can really help with deepening the bank's relationship and thus a much more profitable one for the bank.
Finally, positive momentum in M&A is a virtuous circle. The M&A team rightly earns bragging rights as well as unique insights in specific industries which prospective clients value - this becomes a competitive advantage in future transactions and also helps to attract talent to the franchise.
Citi is executing well
Organically developing and nurturing a successful M&A team is no mean feat. It requires patience and steadfast commitment as well as significant upfront investment in very expensive people and coverage - the top talent in this area typically comes on-board with guaranteed bonuses. The rewards of such investment are certainly not immediate and typically take several years to materialize (if at all).
Citi is clearly executing well on its plans and its management team should receive due credit for that.
Final thoughts
M&A advisory income (fees) essentially deliver an infinite return on capital (i.e. no capital is needed). This is somewhat similar (to a lesser extent) with Equities franchise as well (excluding financing elements). Citi's Equities franchise is currently in the 8th-9th position in the global league tables. Mr. Corbat strongly argues that Citi, given its client footprint and strong balance-sheet, should be at least at 5th or 6th position. The difference is about $1 billion of income annually - certainly nothing to sneeze at.
Given the strength of the ICG franchise and execution track record - I wouldn't bet against Corbat and team achieving this in the not so distant future.
I provide quality and completely independent research on the large U.S., European, Canadian and Asian banks. I will be continuously updating developments with large U.S. and European banks; if interested in this topic, do subscribe as a "real-time follower" at the top of this article.
Disclosure: I am/we are long C.
I wrote this article myself, and it expresses my own opinions. I am not receiving compensation for it (other than from Seeking Alpha). I have no business relationship with any company whose stock is mentioned in this article.