Baidu (NASDAQ:BIDU) partnered with Sina (NASDAQ:SINA), Sohu (NASDAQ:SOHU), Tencent, and NetEase (NASDAQ:NTES) microblog services to deliver tweets among the search results, allowing the company to gain access to the fast growing social networking space eight months after it shut down its own failed microblog service, Baidu Shuoba. I view Baidu's partnership with multiple microblogging platforms as a long term positive, because it allows the company to leverage its core competency to gain access to the fast growing SNS space, and positions itself for the eventual spearhead into mobile search.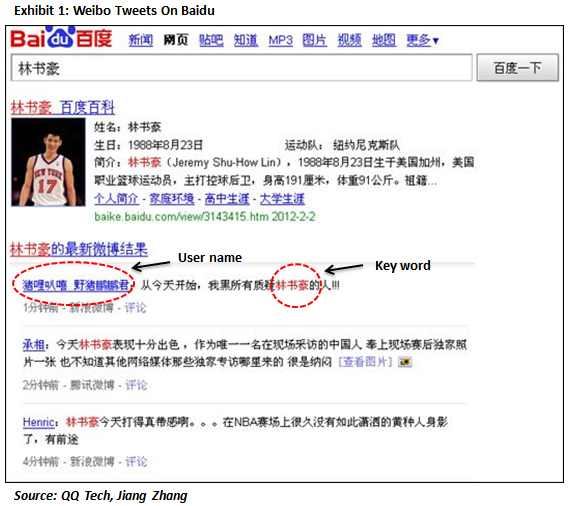 The adage of "Do What You Do Best" applies to not only to aspiring young professionals, but also CEOs of multi-billion corporations. I feel that Baidu's Robin Li has certainly learned his mistake of creating Baidu Shuoba, when the microblogging space was already dominated by Sina's Weibo. Not surprisingly, Baidu Shuoba was unable to gain any traction from microblog users and Baidu was left out of the Web 2.0 space.
However, Baidu has once again entered the fast growing social networking space by leveraging its strength in search and by delivering relevant tweet results to internet users. This feature enhances Baidu's search capabilities, creates user stickiness and directs traffic to the microblogging platforms, which could bode well for the growth of monthly active users on the microblogs. In addition, this partnership paves the way for opportunities in the real-name social networking space that is dominated by Renren (NYSE:RENN). At the end of 2011 there were an estimated 300 million users on Sina Weibo and 200 million users on Renren, implying significant upside in revenue sharing opportunities.
Finally, the Weibo partnership will be accretive to Baidu's mobile business, and investors could likely see material contribution from mobile by the end of this year or early next year. According to China Internet Network Information Center, Weibo usage among mobile phone users more than doubled from 15.5% in 2010 to 38.5% in 2011, driven by the convenience of the smartphones, the rising interest in user-generated-content and the concise nature of the broadcasted messages.
Disclosure: I have no positions in any stocks mentioned, and no plans to initiate any positions within the next 72 hours.