I bought my first shares if Intel (NASDAQ:INTC) in April 1993. At a split-adjusted price nearly 10 times what I paid for those shares, I believe Intel is a safer, more compelling buy now than it was in 1993.
Yesterday, Dec. 4, 2012, Intel announced the largest bond sale in its history to buy back stock. This offering was 20% larger than its $5 billion similar offering in September 2011.
Wise investors will take advantage of low prices now to buy before tax loss selling ends and Intel uses these funds to repurchase shares.
"Intel Announces Pricing of Senior Notes Offering" - Four Tranches:
Of these notes, $3.0 billion will mature on Dec. 15, 2017 and will bear interest at an annual rate of 1.35%, $1.5 billion will mature on Dec. 15, 2022 and will bear interest at an annual rate of 2.70%, $750 million will mature on Dec. 15, 2032 and will bear interest at an annual rate of 4.0%, and $750 million will mature on Dec. 15, 2042 and will bear interest at an annual rate of 4.25%. The notes were offered to the public at a price of 99.894% of par in the case of the 2017 notes, 99.573% of par in the case of the 2022 notes, 99.115% of par in the case of the 2032 notes and 99.747% of par in the case of the 2042 notes. The offering is expected to close on Dec. 11, 2012, subject to customary closing conditions.
And:
Intel intends to use the net proceeds from the offering for general corporate purposes and to repurchase shares of its common stock under the company's existing share repurchase authorization.
From "Intel Raises $6 Billion in Bond Sale to Buy Back Stock:"
The new bonds are rated A1 by Moody's Investors Service and A+ by Standard & Poor's, the ratings companies said today in separate statements.
At $20.00 with its $0.90 annual dividend, Intel stock has a forward dividend yield of 4.50%. It is a good use of low interest rates to borrow money to buy back stock paying a higher dividend than the cost of the funds.
| | | | | | | |
| --- | --- | --- | --- | --- | --- | --- |
| Tranche | Amount | Maturity Date | Years | Rate | 10-YR UST | Difference |
| 1 | $3.0B | 12/15/2017 | 5 | 1.35% | 0.63% | 0.72% |
| 2 | $1.5B | 12/15/2022 | 10 | 2.70% | 1.62% | 1.08% |
| 3 | $0.75B | 12/15/2032 | 20 | 4.00% | 2.36% | 1.64% |
| 4 | $0.75B | 12/15/2042 | 30 | 4.25% | 2.78% | 1.47% |
This chart of Intel shows the price adjusted for reinvested dividends.
Click to enlarge images.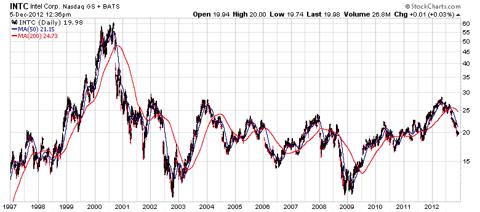 Not only is the 4.5% forward dividend rate good, the valuation is also good. Here is some valuation data from my December investment letter: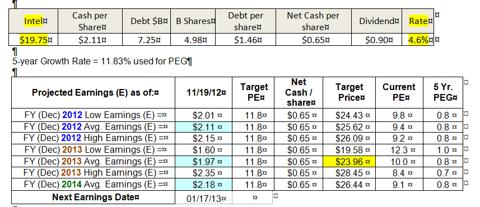 The target prices shown are "Target PE" times "Earnings per Share" plus "Net Cash per share" where the target PE is the five-year forward growth rate for a PEG of 1.0.
Buy When There Is Blood in the Street
There is a lot of trash talk on TV about how Intel missed the smart phone market. Today I heard Jim Cramer on CNBC say Intel should have used their cash to buy ARM Holdings (NASDAQ:ARMH) when ARM was much cheaper. I had to chuckle as I believe Apple (NASDAQ:AAPL) now uses its custom-designed A6 chips for its processors in iPhone 5 and iPad 4 that are made by Samsung. With their patent battles with Samsung, Apple will switch to TSMC to build these chips, if they haven't made the switch already. I would not be surprise to see Apple eventually use Intel as a fab for its chips. There is a good article here on Seeking Alpha about this switch.
It is clear to me that Apple sees what Intel sees and I saw 20 years ago, computers and devices that fit in your pocket will eventually merge (with Moore's law) so you want to go with chips that do the best for both for long-term success. But more to the point, I think Intel did something far better than buying ARM. Intel invested billions in new semiconductor equipment to build products with better performance than anyone can get from ARM chips running on competing processes.
On Dec. 4, Intel's CTO Justin Rattner said Intel's 14nm technology development is on schedule with volume production to kick off in one to two years. Development of 18-inch wafers is under way through cooperation with partners. Rattner also noted that Intel's aggressive investment in technology will allow Moore's Law to extend for another 10 years. At the end of 2013, Intel will enter volume production of 14nm CPUs (P1272) and SoCs (system on single chips), while expanding its U.S. investments at its D1X Fab in Oregon and Fab 42 in Arizona and Fab 24 in Ireland. Intel will gradually enter 10nm, 7nm, and 5nm process generations starting 2015.
Intel R&D Process Pipeline: From the 2012 Annual Investor Meeting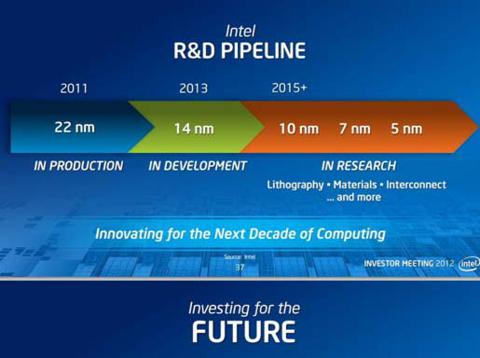 Intel has a good lead in process development. Samsung is set to enter 20nm in 2013. Taiwan Semiconductor Manufacturing Company's (NYSE:TSM) 20nm process will enter small volume production in the second half of 2013 with the first 3D-based FPGA chips to also start.
Why does it matter? Intel's mobile chips are currently at 32nm, which is on a par with ARMs latest products. Intel CEO Paul Otellini said recently, "next year you will see phone and tablet chips shipping at 22nm and the year after that you'll see 14nm."
Finally, Intel is down about 18% YTD so there is selling pressure now to book losses to offset gains, especially for funds that aim to minimize taxes. The tax loss selling will end by the end of the year but often stocks bottom before the end of the year then outperform the first few months of the following year as funds and individual buy back the shares after the wash sale period ends.
Summary
Intel is a great buy here, especially under $20. Intel's valuation numbers will improve as they buy back shares with the funds from its just announced $6 billion bond offering. I took profits at $27.25 in February of this year with my newsletter explore portfolio, but now I am buying back.
I would not be surprised to be taking profits in some of the Intel stock I've bought recently right around the time when TV gurus jump on the Intel bandwagon again next year. Jump on now and get a good seat!
Disclosure: I am long INTC. I wrote this article myself, and it expresses my own opinions. I am not receiving compensation for it (other than from Seeking Alpha). I have no business relationship with any company whose stock is mentioned in this article.