By John Spence & Tom Lydon
The PowerShares QQQ Trust (NASDAQ:QQQ), one of the most actively traded ETFs, has been lagging way behind the market ever since top holding Apple (NASDAQ:AAPL) began its sharp pullback after topping out just above $700 a share in September 2012.
The Nasdaq-100 ETF is down 1% the past six months, versus a 7.5% advance for SPDR S&P 500 (NYSEARCA:SPY). Apple shares are down about 36% from their all-time high set last year.
Apple is still the largest stock in QQQ, which weights its holdings by market cap, at 13% of the portfolio. The ETF is comprised of the 100 largest nonfinancial stocks listed on the Nasdaq Stock Market and is seen as a liquid proxy to trade the tech sector.
Shares of Apple are higher for March and are testing the 50-day simple moving average, which has been a strong resistance line the past several months. If the stock can get back on track, it would provide a boost to QQQ given Apple's large weighting in the ETF.
On a positive note, Tarquin Coe, technical analyst at Investors Intelligence, points out the Nasdaq-100 fund has maintained a steady uptrend off its November low.
"We continue to see the fund as a catch-up candidate," he wrote in a newsletter. "The relative chart versus the S&P 500 is well positioned as it trades across a band which provided support in 2011. Turning up would kick off an outperformance run, something which could last weeks."
PowerShares QQQ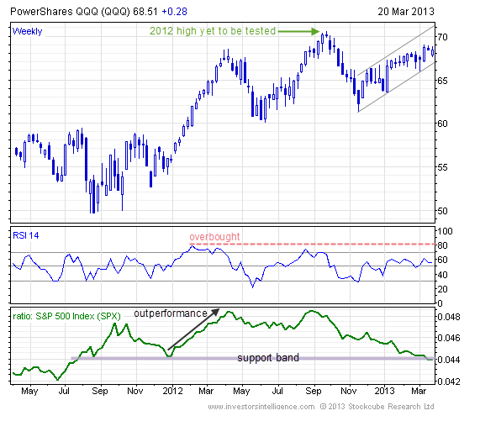 Click to enlargeApple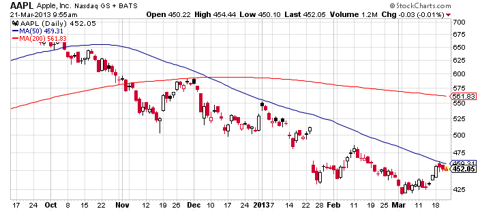 Click to enlarge
Full disclosure: Tom Lydon's clients own QQQ, SPY and AAPL.
Disclosure: I am long AAPL, QQQ, SPY. I wrote this article myself, and it expresses my own opinions. I am not receiving compensation for it. I have no business relationship with any company whose stock is mentioned in this article.