Every earnings reporting season seems to have a life of its own. Let's check out how it looks so far to see if we can detect any trends which might continue now that the season is in full swing.
If we assume the earliest possible date a company who reports is on a calendar year basis (which includes most companies), the earliest possible reporting date is April 1, 2013. Since that time, 15 large companies (all of whom have weekly options available and trade for over $20) have announced. Here are the results: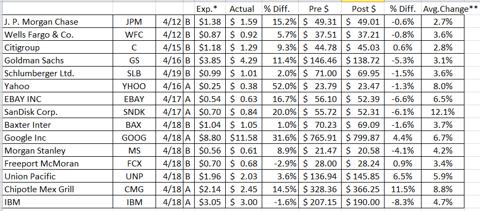 *Expected earnings per analysts, source: TD Ameritrade
**Average post-earnings historical change, source: EarningsWhispers.com
Pre $ = Closing stock price on the day before earnings were announced
Post $ = Closing stock price on Friday after earnings were announced
Thirteen of the 15 companies beat analyst expectations by an average of 14.8%. Only Freeport McMoran (NYSE:FCX) and IBM (NYSE:IBM) failed to meet expectations. Even though the great majority of companies exceeded expectations, it generally did not result in higher stock prices after the announcement; in fact, 9 of the 13 companies which beat expectations recorded lower prices after announcing. In total, two-thirds of the companies fell after earnings and only one-third advanced.
Missing estimates was extremely painful for IBM, which fell a whopping 8.3% even though the miss was a negligible 1.6%. FCX fared better, edging up 0.9% in spite of missing by 2.9%.
Two-thirds of the companies fluctuated by a smaller percentage than the average historical percentage (according to EarningsWhisper.com). Most of these events took place last week, when VIX (the popular level of options volatility for the S&P 500 tracking stock, SPY) rose by 24%. In other words, announcing companies fluctuated by far less than they had historically in a week when the general market had unusually high volatility.
The combination of lower-than-average post-earnings volatility, and two-thirds of the companies trading lower after announcing even though 87% of them exceeded expectations, suggests that buying a calendar spread (long side, May options, short side, Weeklys) at a strike price just below the pre-earnings price of the stock would have been a profitable trade for a large majority of companies, and would only have resulted in significant losses in two of the 15 announcements - IBM and Chipolte Mexican Grill (NYSE:CMG).
Another profitable move would have been to sell short the stock and also sell short a slightly in-the-money weekly put. In most cases, the stock traded lower and you would end up the week with no stock, but would have collected some nice time premium on the put you sold (this strategy would have made gains in 12 of the 15 companies and lost only in three - Google (NASDAQ:GOOG), Union Pacific (NYSE:UNP) and CMG.
The above calculations are part of an ongoing project. We have restricted our efforts to 69 large companies who have Weekly options available and which trade for over $20. We are attempting to find a strategy for determining which way a stock will move after an earnings announcement based on the following criteria:
Whisper numbers vs. analyst expectations
Stock market action leading up to the announcement
The percentage change predicted by option prices vs. historical post-announcement changes
The implied volatility (IV) advantage of the Weekly options over the next-month out options (this is also a good indicator of how much the further-out options will implode in value after the announcement).
In addition, we are checking IV of both at-the-money puts and calls of Weekly options just prior to the announcement to see if either is significantly higher than the other, but so far, we have not been able to determine whether such differences (in the rare instances where they exist) are good indicators of sentiment or not.
Our hypothesis is that when expectations escalate to an unusually high level, the stock is likely to fall no matter how wonderful the numbers end up being, and when expectations are unusually low, the stock is likely to move higher after the announcement even if the reported numbers are not as great as analyst projections.
We have been quite successful in predicting the direction of the stock price after the announcement since we started this study several weeks ago. For example, last week we saw unusually high expectations for SanDisk (SNDK) and recommended a bearish options spread that gained 68% in an actual account after commissions - see details, and unusually low expectations for Google and the bullish calendar spreads we placed in our actual portfolio account gained over 100% in two days.
In both cases, pre-earnings sentiment was more important to the price change after the announcement than the actual numbers that were reported.
In the prior week, we missed the direction of the change, but the option spread we recommended made 15% after commissions - see How To Play The JPMorgan Earnings Announcement and update details.
This is an ongoing effort, and we will publish any failures that come along as well as our successes. Based on the above table, we expect to place calendar spreads at strikes slightly below the stock price for companies where unusually bullish or bearish sentiment does not seem to exist. For companies where we do see reason to expect the stock to move up or down after the earnings announcement, see Predicting The Direction Of Next Week's Earnings.
We look forward to seeing if the remaining weeks of this earnings season will show a continuation of the post-earnings price changes that has existed in the first three weeks of this season, or if future announcements will result in a different pattern. Right now, the pattern seems to be lower post-announcement prices, unless the company reports blow-out earnings that crush expectations, and second, smaller price changes than have historically taken place after earnings announcements.
Disclosure: I have no positions in any stocks mentioned, and no plans to initiate any positions within the next 72 hours. I wrote this article myself, and it expresses my own opinions. I am not receiving compensation for it (other than from Seeking Alpha). I have no business relationship with any company whose stock is mentioned in this article.