The relentless rise of Tesla (NASDAQ:TSLA) shares in the past few months has generated a heated debate between lovers and haters of the company, with price targets as low as $10 and as high as $150. At the same time, the short interest still stands at around 40% and volumes have increased consistently above 3M shares per day (with a peak of 28M in a +24% day!).
The disruptive nature of Tesla's proprietary technology and the unrivaled design and specifications of its products suggest the rally might be well supported but the recent +240% performance in a little less than seven months advocates some prudence.
Other articles have listed the reasons for caution or the justification for the recent price movement (going as far as suggesting a take-over of Fiat-Chrysler (FIATY.PK)), so I will not indulge in these kind of exercises. What I want to show in this report is a DCF valuation of the company that highlights the required growth rates for given stock prices. In particular, I am interested in knowing how many cars Tesla has to sell in the next five years in order to justify its current stock price.
To perform this analysis, I follow the Damodaran framework for valuing young companies1. The fundamental inputs are the revenue growth rate, the capital structure and related cost of capital, the expected operating margins, tax rate and reinvestment needs. The spreadsheet is available on request.
I made the following assumptions:
Tesla will experience a period of growth far above the industry current levels until 2017. After that time, it is very likely that there will be increased competition in the electric car arena and this will push down growth rates to a more GDP-like 4%.
Operating margins that reach 15% at the end of 2015 and decline to the luxury car average by 2017 and after. This is quite a strong assumption since Tesla expects gross margins of 15-20%. Currently the net margin for Audi is around 12%, for BMW 10%, while Daimler stands at 7%.
Until 2017, the Weighted Average Cost of Capital (OTC:WACC) is assumed equal to the cost of equity (12%) since Tesla is currently debt-free. After that period, the WACC converges to the average of the industry as calculated by Damodaran. Since I consider Tesla will have a lower Debt/Equity ratio, I have slightly increased the WACC from 7.1% to 8.0%.
Sales to Capital, a measure of the ability to convert retained earnings in additional revenues, for the automotive industry is around 1.41 (based on 12 companies, including Daimler, Tata, Ford, Nissan, GM, Honda, Toyota, Kandi, T3 Motion, Tesla). This means that every $1.0 of investment in the business generates $1.4 of revenue growth. The Sales-to-Capital ratio for Tesla has varied a lot in the past four years and in the last quarter was equal to 3.6. I assume a rate of 1 converging to the industry average in 3 years and staying constant thereafter. In 2013 Tesla has announced capital expenditures of around $200 million which I have included.

Tesla carries on its book around $500 million of cumulated losses which will allow a tax deduction of future earnings.
The return on invested capital after 2017 will be equal to 10%, slightly higher than the industry and than the cost of capital (generous assumption).
The probability of failure is very low (5%), albeit not equal to zero. Tesla is a young company with only a handful of products and the risk of going out of business is non-negligible. A recent article from Bloomberg states that:
"Should Tesla remain a going concern, it would be the first new U.S. automaker to do so since Walter Chrysler founded Chrysler Corp. in 1925...Casualties of the capital-intensive, highly regulated auto business include DeLorean Motor Co. and Tucker Corp. Fisker Automotive Inc., a would-be Tesla rival in the luxury green-car segment, hovers near bankruptcy while seeking a buyer for its plug-in hybrid car business."
Given the hypothesis above, the variable input is the Revenue Growth Rate for the next four years. I performed the analysis with compound annual growth rates (OTCPK:CAGR) ranging from 10% to 100%, starting from the level recorded in the last quarter of $550.2 million. As expected, the resulting revenue in 2017 fall in a wide interval, from as low as $3.3 billion to a stunning $46 billion: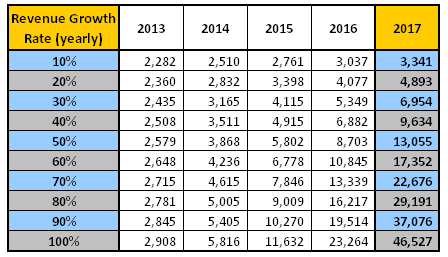 What level of unit car sales is implied by those revenue projections?
Tesla average sale price per car is currently around $100,000, but the company is planning to introduce by the end of 2014 the model X, a lower priced vehicle. Also the new Roadster is in the pipeline but it will hit the markets not sooner than 2016/17. We can safely assume that the average price of a Tesla car will stay at $100k for 2013 and gradually decline to $70k in 2017 given the traction gained by the new model X and the lower prices allowed by economies of scale and battery innovations.
Car sales per year implied by revenue growth rates: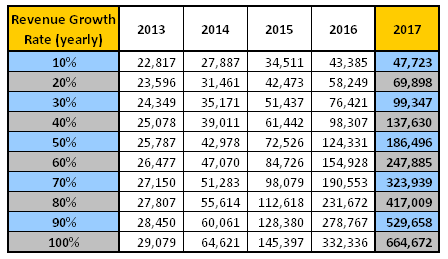 The power of the DCF model lies on its ability to come up with a stock price that justifies the growth and margin assumptions. In this case, annual growth rates of just 10% would imply a stock price of slightly more than $11 while the more optimist 100% growth rate would yield a present value of around $117 per share: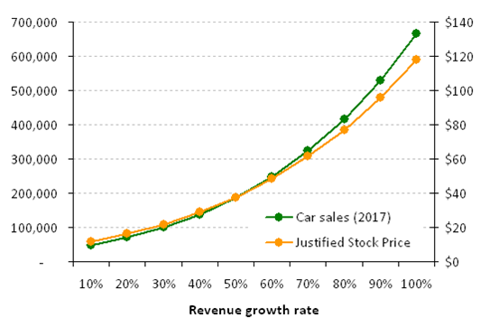 As of the close of Friday 05/24/13, Tesla shares are trading at $97.08 suggesting that the market expects the company to annually grow its sales by roughly 90% (reaching target sales of more than 600,000 vehicles in 2017). A less demanding growth target would be required when relaxing the hypothesis on target operating margins and the tax rate. For example, an EBIT closer to 20% and marginal tax rates of just 25% would require a CAGR of 75% for total vehicle sales of 370,000.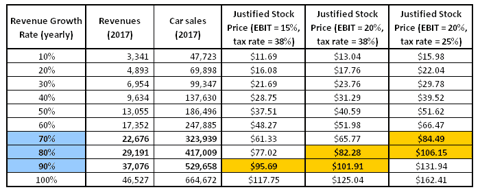 The purpose of this article is not to judge the feasibility of those growth targets but to highlight the required growth rates needed to justify a certain price level. Those convinced that Tesla will be able to deliver sales of its amazing vehicles to the tune of 400-500k might feel confident at investing in the stock at this level. On the other end, less rosy sales estimates would suggest a more prudent approach given the relevant downside risk.
An outright short position is not advisable as Tesla has concrete chances of becoming "the next big thing" but taking some profit on the recent ballistic rally seems to be wise. The same is true for opening a long put position: a Jan/14 put with strike 95 is worth $22, meaning a doubling of the invested capital if Tesla will trade below $50 by that time. Despite paying a significant premium, the put investment allows to cap the potential loss to the premium paid.
[1]: read his blog on valuation and corporate governance or his book The Little Book of Valuation
Disclosure: I have no positions in any stocks mentioned, and no plans to initiate any positions within the next 72 hours. I wrote this article myself, and it expresses my own opinions. I am not receiving compensation for it (other than from Seeking Alpha). I have no business relationship with any company whose stock is mentioned in this article.