I have previously briefly covered Cisco (NASDAQ:CSCO) as a portion of my dividend portfolio for the strong-stomached. I hold Cisco in my portfolio largely due to the fact that the company initiated a dividend program in March of 2011, with a payout of $0.06 per quarter and has increased the payout since to $0.17 per quarter for a yield of 2.6% at current valuation. That being said, at current pricing, Cisco is at a multi-year high and may be a bit expensive. The goal of this article is to determine current valuation using Cisco's free cash flow and to examine the head winds that the company may face in the near future.
Earnings
Cisco has delivered increasing sales, operating profit, and net income since 2011. In fact, the company opened its 3Q13 conference call with:
We are pleased to announce another very solid record quarter. We delivered our ninth consecutive quarter of record revenue. We also delivered record non-GAAP operating income and record non-GAAP net income. Our solid results in Q3 are the proof points of the effectiveness of our vision, strategy, differentiated value proposition and continued execution even with a challenging global macro backdrop.
This growth was driven by both the U.S. and emerging markets, with YOY performance showing double-digit increases. This occurred along with maintenance of margins, with the Americas having a margin of 62.6%, EMEA 65.3%, and APJC at 61.1%. This performance was also seen in each segment of Cisco's business model, with wireless revenue growth up 27% YOY, switching down 2%, NGN routing flat, data center up 77%, video up 30%, collaboration down 1%, and security down 4%.
The company is experiencing growth both geographically and in some of its product and service segments in a tough capital expenditure environment. This bodes well for the future if recovery in IT spending continues and even if it stays the same, as Cisco has been able to grow revenues and profit in an extremely tough IT spending environment over the last two years.
The TTM FCF for Cisco has recovered to around 2008 levels and looks to grow in the future with analyst estimates for FY 2013 EPS coming in at $1.93 to $2.19 and for FY 2014 coming in at $1.75 to $2.38.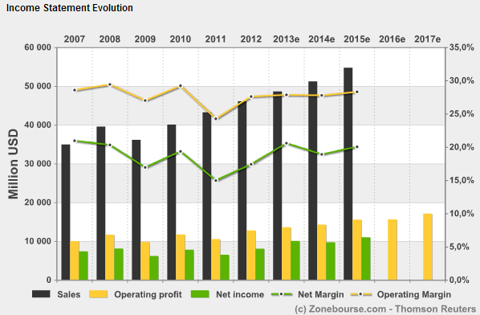 (4-traders.com)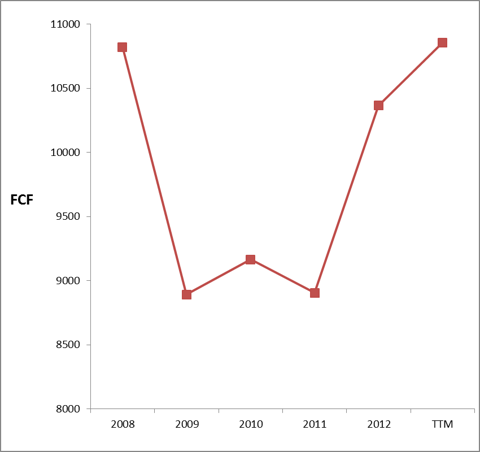 Valuation
Using a discounted cash flow valuation for the company, I calculate an intrinsic value of $27.59 share. This model uses a WACC of 5.12% and a 2013 TTM FCF of 10857. This implies a 6.8% premium over the current valuation of 25.82.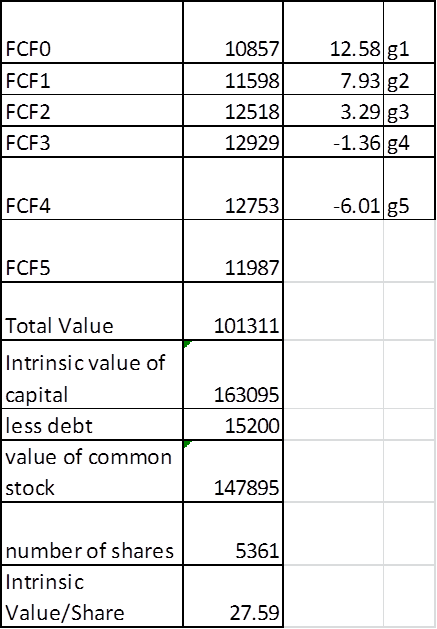 Given the recent run up of the stock price for Cisco after Q3 earnings, the company is not as great a deal as it has been in the recent past. There is still value left in the trade, and as in the past, a lot will depend on how the company guides for the future. If the outlook is cautious, you can expect an overreaction from the market and the inevitable sell-off that has seemed to occur every time Mr. Chambers has addressed an audience with less than stellar news since 2010. In my opinion, this reaction to a cautious outlook has hidden successful growth in revenues and maintenance of margins in an extremely tough macro environment. I will look to add to my position if Cisco drops into the 22-23 dollar range, but at current levels, I will hold until after Q4 and FY2013 earnings are reported.
Pros/Cons
Dividends and Buybacks: Cisco has an increasingly shareholder friendly board that has authorized increasing dividends and buy backs to the tune of 82 billion in 2001, of which 4.3 billion remains with no termination date and 3.8 billion occurring in the last year. Given Cisco's solid revenues and huge cash reserve, this program does not come anywhere near being unsustainable currently and should continue in the future.
Huge cash position: As of FY2012, Cisco had a cash position of 9.8 billion dollars, much of this held overseas in order to avoid taxation of repatriated income into the U.S. Over FY13 the company has continued taking a strategy of acquiring companies that can add accretive value in key sectors the company is focused in such as Merakai and Intucell. Intucell is an Israeli-based networking company and is a prime example of Cisco's strategy for growth and investment overseas without facing the taxation that accompanies repatriation of foreign revenues. As of April 2013, the cash position is sitting at 5.1 billion dollars.
Reaction of markets to cautious outlooks: There have been several instances of Cisco's price cratering after announcement of positive results that have beaten estimates that have been accompanied by a cautious outlook. Here's one instance from 2012 and another from 2011. Given the anxious market conditions and all of the bad news that has been coming about reduced IT spending this reaction has been rather unsurprising, but it is something to be aware of when considering when or if to establish a position in Cisco.
Strong competition in various segments: Cisco faces competition from the likes of Hewlett-Packard (NYSE:HPQ) on the security, data center, and wireless segments, Alcatel-Lucent (ALU) on the networking and wireless segments, and Juniper Networks (NYSE:JNPR) on the switching and wireless segments. This kind of intense competition can provide pressure to keep up with R&D in the various segments, but also can result in significant erosion of margins when a competitor releases a superior product or if customers decide that a competitor's product is better suited to where their organization is going in the future.
Overall
Cisco is an extremely competitive multinational technology company with improving revenues and significant growth in a tough IT spending environment. The company looks to still have some value at current valuations and in my opinion is a worthwhile long-term investment due to strong FCF and a 2.6% dividend yield that is in no way stretching the balance sheet. At current pricing I will continue to hold Cisco, and if a cautious statement causes a pullback, I will look to add at the $22-23 level.
Disclosure: I am long CSCO. I wrote this article myself, and it expresses my own opinions. I am not receiving compensation for it (other than from Seeking Alpha). I have no business relationship with any company whose stock is mentioned in this article.