After over a decade of caution, paired with a few false starts and missteps along the way, the world's largest advertisers, namely consumer packaged goods manufacturers, are getting serious about selling their wares online. The makers of much of what fills the shelves of our nation's grocery stores, drugstores and mass merchants are exploring new ways to use the web not just to promote their brands, but to finally sell their products directly to consumers.
Today, manufacturers of brands from Tide to Colgate to Huggies (and everything in between) derive a minuscule amount of their sales online. Inevitably, that will change as consumers look for additional ways to use technology to simplify their everyday shopping habits. Retailers like Drugstore.com, Walmart, CVS and Amazon.com hope the future is now. Amazon's Subscribe and Save program, for example, has been around for a couple years now and attracts a slowly growing, albeit modest, base of shoppers. Under the program, consumers can save 15% on specific everyday products, such as diapers, if they sign-up for automatic reordering (Amazon also offers free shipping on orders over $30.) Subscribe and Save attracted 68,000 shoppers in July, up a 21% over last year. Judging by the fairly limited assortment of eligible products, however, the effort has yet to be fully embraced by manufacturers.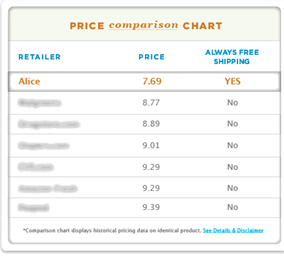 In June, a new venture dubbed "Alice" (yes, you guessed it, named after the Brady Bunch's affable housekeeper) debuted offering consumers a slick new way to purchase everyday products online and have them shipped for free. Unlike past efforts, Alice is unique in that it is does not act as a retailer. Rather, Alice serves as a conduit through which manufacturers can sell directly to consumers. The manufacturers set their own prices and receive the sales proceeds. Alice handles order fulfillment, shipping and the customer experience. Anyone who has previously shopped online for household products knows that prices are generally higher (sometimes considerably) than those found in stores. By selling directly to consumers, manufacturers are able to price their products below those found on most online retailers and more competitively to those found in stores. Alice makes money by offering brands prominent, premium placement on the site and by providing manufacturers a means for marketing directly to consumers.
To put Alice to the test this past weekend, I went to my local club warehouse and noted the prices and quantities of ten products my family purchases frequently. I then went on Alice and compared the unit costs of each item. I found that while a couple items were more expensive on Alice, a few were about the same price, and a couple were even cheaper thanks in part to the coupons Alice found for me and automatically applied.
Although currently in beta mode, Alice has grown quickly since launching in June, with its traffic doubling in July to reach 387,000 unique visitors. Much of that growth has come through word-of-mouth, fueled by bloggers trumpeting the site to deal seekers—Blogger.com was the top source of referral traffic to Alice in July, accounting for 18% of all referrals. Alice users are able to select the items they often purchase and sign-up to receive automatic reminders when they are likely due for a reorder (Unlike Amazon's Subscribe and Save program, Alice currently does not automatically send reorders to its customers, but plans to soon add the feature.)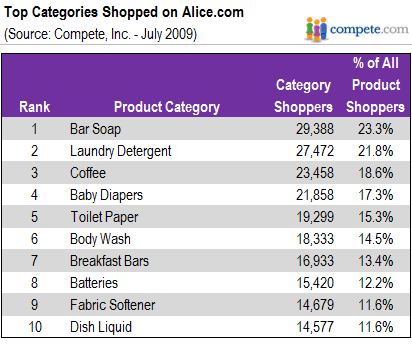 So far consumers are looking at a wide assortment of products on Alice. For the month of July, the most often shopped for products included bar soap, laundry detergent, coffee and diapers. Not only are users of Alice coming to shop, but an increasing number are coming to actually make purchases: Alice's conversion rate rose to respectful 3.5% in July. It's worth noting, however, that Alice is helping to sway cautious first time users by waving its standard six item minimum order policy. Time will tell whether or not these buyers will return and make more sizable orders from the site.
While it remains to be seen whether or not users will stick with Alice, this venture is the clearest signal yet that a market exists for the online purchase of these products. Beyond the near-term financial impact of selling directly to consumers, sites like Alice offer manufacturers a platform from which they can finally build and foster direct relationships with their consumers. For these marketers, making sales is great, but creating direct links with consumers and having a wealth of consumer purchase data to analyze is priceless.