When insiders accumulate a stock intensively, the stock can be expected to outperform the market during the next six months. Insiders tend to buy more often than usual before large price increases and to sell more than usual before price decreases.
In this article, I will feature one biotech company that has seen intensive insider buying during the last 30 days. Intensive insider buying can be defined by the following three criteria:
The stock is purchased by three or more insiders within one month.

The stock is sold by no insiders in the month of intensive purchasing.

At least two purchasers increase their holdings by more than 10%.
BioTime (NYSEMKT:BTX), a biotechnology company, focuses on regenerative medicine and blood plasma volume expanders.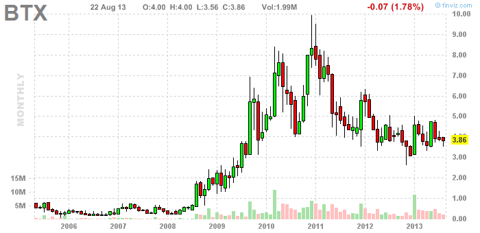 Insider buying by insider (last 30 days)
Franklin Berger purchased 500 shares on August 20 and currently holds 500 shares or less than 0.1% of the company. Franklin Berger serves as a director of the company.
Stephen Farrell purchased 4,187 shares on August 19-20 and currently holds 4,187 shares or less than 0.1% of the company. Stephen Farrell serves as a director of the company.
Insider buying by calendar month
Here is a table of BioTime's insider-trading activity by calendar month.
| | | |
| --- | --- | --- |
| Month | Insider buying / shares | Insider selling / shares |
| August 2013 | 7,687 | 0 |
| July 2013 | 0 | 0 |
| June 2013 | 0 | 0 |
There have been 7,687 shares purchased and there have been zero shares sold by the insiders since June 2013.
Financials
The company reported the second-quarter financial results on August 9 with the following highlights:
| | |
| --- | --- |
| Revenue | $1.0 million |
| Net loss | $7.5 million |
| Cash | $14.3 million |
Upcoming milestones
The company's upcoming milestones during the next 12 months include:
Initiation of HyStem -Rx clinical trial.
IND filing of OpRegen for AMD.
PanC-Dx patient study.
Corporate partnering and collaborations.
Increased revenue from LifeMap BioReagents.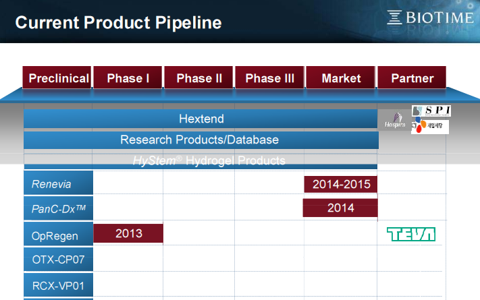 Competition
BioTime and its subsidiaries face substantial competition in both its blood plasma expander business and its regenerative medicine and stem cell business.
Products for regenerative medicine
BioTime believes that some of its competitors are trying to develop hES cell-, iPS cell-, and hEPC-based technologies and products that may compete with BioTime's stem cell products based on efficacy, safety, cost, and intellectual property positions.
Advanced Cell Technology (ACTC.OB) has obtained approval from the FDA to commence clinical trials of a hES cell product designed to treat age-related macular degeneration. If the Advanced Cell Technology's product is proven to be safe and effective, it may reach the market ahead of Cell Cure Neuroscience's, a subsidiary of BioTime, OpRegen, which is not yet in clinical trials.
BioTime may also face competition from companies that have filed patent applications relating to the cloning or differentiation of stem cells. Those companies include Advanced Cell Technology, which has had claims allowed on a patent for RPE cells.
Plasma volume expanders
BioTime's plasma volume expander solutions, including Hextend, will compete with products currently used to treat or prevent hypovolemia, including albumin, other colloid solutions, and crystalloid solutions presently manufactured by established pharmaceutical companies, and with human blood products. Some of these products, crystalloid solutions in particular, are commonly used in surgery and trauma care, and they sell at low prices. In order to compete with other products, particularly those that sell at lower prices, BioTime's products will have to be recognized as providing medically significant advantages.
The competing products are being manufactured and marketed by established pharmaceutical companies with large research facilities, technical staffs, and financial and marketing resources. B. Braun presently markets Hespan, an artificial plasma volume expander containing 6% hetastarch in saline solution. Hospira (NYSE:HSP) and Baxter International (NYSE:BAX) manufacture and sell a generic equivalent of Hespan. Hospira, which markets Hextend in the U.S., is also the leading seller of generic 6% hetastarch in saline solution, and Voluven, a plasma volume expander containing a 6% low molecular weight hydroxyethyl starch in saline solution. Sanofi-Aventis (NYSE:SNY), Baxter International, and Alpha Therapeutics sell albumin, and Hospira, Baxter International, and B. Braun sell crystalloid solutions.
As a result of the introduction of generic plasma expanders and new proprietary products, competition in the plasma expander market has intensified, and wholesale prices of both hetastarch products and albumin have declined which has forced Hospira and other vendors of hetastarch products to make additional price cuts in order to maintain their share of the market.
To compete with new and existing plasma expanders, BioTime has developed products that contain constituents that may prevent or reduce the physiological imbalances, bleeding, fluid overload, edema, poor oxygenation, and organ failure that can occur when competing products are used. To compete with existing organ preservation solutions, BioTime has developed solutions that can be used to preserve all organs simultaneously and for long periods of time.
Conclusion
There have been three different insiders buying BioTime and there have not been any insiders selling BioTime during the last 30 days. All three of these insiders increased their holdings by more than 10%. BioTime has an insider ownership of 13.00%. There is one analyst buy rating, zero neutral ratings and one sell rating with an average target price of $8.00. The next major catalyst for the stock will be the PanC-Dx CE mark approval anticipated in 2014. I have a cautiously bullish bias for the stock currently based on the intensive insider buying.
Disclosure: I have no positions in any stocks mentioned, but may initiate a long position in BTX over the next 72 hours. I wrote this article myself, and it expresses my own opinions. I am not receiving compensation for it (other than from Seeking Alpha). I have no business relationship with any company whose stock is mentioned in this article.