The move to 64-bit has been years in the making. But we did it because we wanted to put desktop-class processing power in the palm of people's hands. - Apple iPhone 5s design web page [emphasis added]
This statement is astonishing, in part because of the technological move, but even more so in that the typically play-it-close-to-the-chest Apple seems to have tipped their hand as to their future plans.
Apple (NASDAQ:AAPL) refers here to their new A7 processor found in the iPhone 5s that was released last month. This is the very first 64-bit processor cell phone. It is a major technological advance, and is truly something to be proud of.
Note:
I believe it's important for the investor to understand some technological details. Obviously not everyone can become an expert, but it's important to have a basic understanding, to separate the hot-air from valid analysis.
The 5s competes against phones using Android by Google (NASDAQ:GOOG), led by Samsung (OTC:SSNLF), and WP8 by Microsoft (NASDAQ:MSFT) led by their new acquisition, Nokia (NYSE:NOK). The competition is furious with Samsung taking the lead in units sold, but WP8 growing its share. Its flagship line, the Nokia Lumia series has proved very popular. In global smartphone market share, Android has moved to almost 80%, and Windows up to almost 4%.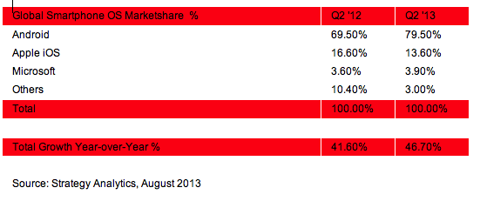 Significance
Aside from geek's techno-babble, what is the significance of the A7? There are:
Immediate implications in the smartphone wars, and
Broader, industry shaking implications
But first
Admittedly, the term "desktop class" is a bit of hyperbole. While the A7 almost doubles the speed of its predecessor in many compute intensive tasks, it is still a long ways off of true desktop performance.
If we look at the chart below, we can see the A7 in the iPhone 5s compared to several other systems.
Engineers and tech reviewers run various "benchmark tests" on systems to see how they perform relative to one another. Each test has its target set of properties. No single test tells very much about a system, and one should be very careful about any report that focuses on just one. That said, I selected the Geekbench test by Primate Labs just to illustrate my point. It focuses on the computing functions of the CPU - the "brain" of the computer which interprets the program instructions and performs some of the math operations. It is actually a set of tests, each directed at a particular functionality. (It does not measure the Graphics Processing Unit of a system.)
For a detailed set of test on iPhone 5s, see AnandTech s excellent review.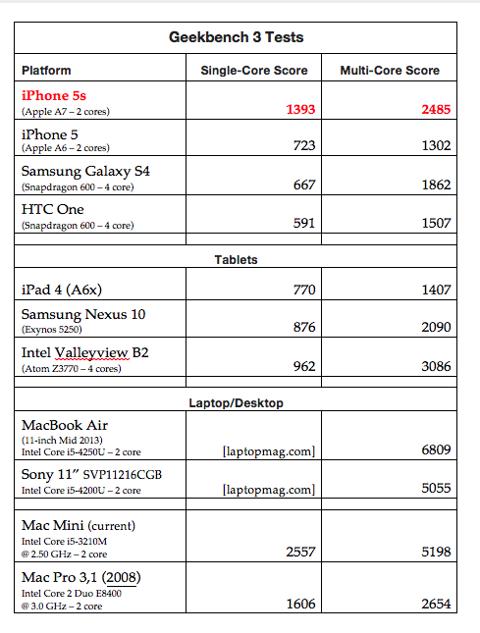 Important notes - the 5s:
is about 90% faster than iPhone 5
handily beats all current smartphones
handily beats current tablets (Intel-B2 is a reference platform for the new Atom, not a shipping device)
is only about one third of the low end MacBook Air
is about one half the low end Mac Mini
equals a 2008 Mac Pro
What it means for smartphones
The Samsung Galaxy S4 is seriously outperformed on this test by the 5s in spite of the fact that it runs 4 cores and the A7 only 2. This will up the ante in the continued performance arms race. Samsung has already said they will put a 64-bit processor in their next flagship phone. Meanwhile, Microsoft and Nokia have not said much on the topic.
There is more to the A7 than just the CPU - there is also the 4-unit GPU and that has driven most graphics benchmarks significantly above the competition. [See AnandTech review.] Additionally, it seems to have wrung extraordinary performance out of its individual cores.
It remains to be seen if an Android phone can match any iPhone in the near future since Apple also upgraded iOS 7 to 64-bit, and provides developers with the tools to upgrade their apps. This is something that Android will not be able to do for some time.
The benefits are real. FRAX is a fractal generating app that is very compute intensive. It leverages all the processing power of the CPU and all the GPU units. CNET reports:
Together, that means the 64-bit app runs nearly 90 percent faster on an iPhone 5S than the 32-bit version on the iPhone 5.
This is going to be very difficult to beat.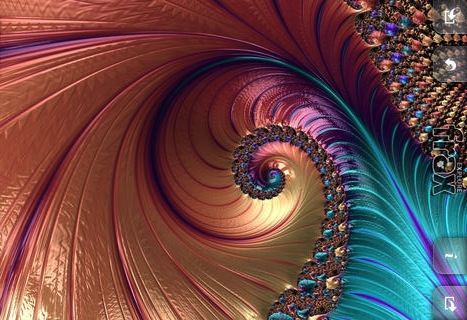 [Source: fract.al/gallery]
Wider implications
So, the last three points listed above show that the A7 does not really give you current desktop performance, BUT it comes rather close. It is incredible that this low powered chip can come to one half the raw power of a desktop.
The question is not "Where are we now?" but "Where are we going?"
Each generation of IC fabrication technology is classified by (among other things) the minimum feature size. The smaller the size, the greater the number of transistors you can get in a given area. The A7 is built on a 28 nm (28 billionths of a meter). Next year's chip is expected to use a 22 nm process allowing even more than the 1 billion transistor on the A7. The current chip has only 2 CPU cores, the new one could easily go to 4 or more.
This could push it into the desktop class for real. This is precisely what I meant that Apple was tipping its hand, at the beginning of this post.
Conclusion
Samsung already has a popular Chromebook using its ARM-based Exynos 5250 Dual Core Processor. (Unfortunately I have not been able to find any Geekbench scores for it).
If Apple can boost its upcoming chip to real desktop performance, and starts producing desktop and laptop computers with this technology, it will be yet one more revolution in the computer industry that will have fall out for many companies.
=====
Related Article: Apple devices are more responsive than Android.
====
Data for chart came from Mac World, AnandTech, Laptop Magazine, and Primate Labs.
Disclosure: I am long AAPL. I wrote this article myself, and it expresses my own opinions. I am not receiving compensation for it (other than from Seeking Alpha). I have no business relationship with any company whose stock is mentioned in this article.